Awards & Tributes
Senior of the Year Award Recipients
The Senior of the Year Awards recognizes seniors in Hamilton who have made outstanding voluntary contributions to enriching the social, cultural or civic life of our community.
Recognizing and celebrating the 10 Hamilton seniors who are being recognized for their volunteers contributions to the Hamilton community at the 27th annual City of Hamilton Senior of the Year Awards event.
Congratulations to all the 2022 Senior of the Year Award winners!
Congratulations to the
2022 Award Recipients
Rose Sands - 2022 Senior of the Year
For the past 16 years, Rose has provided client services for the Cancer Assistance Program (CAP) by supporting wig and mastectomy fittings for clients experiencing cancer diagnosis and treatment. She also helped to grow the wig and prosthesis program and genuinely cares for those she supports by providing a safe, welcoming and private space.
Approximately five years ago Rose and other CAP volunteers also established the "CAPitalizers", a group that dedicates their time to fundraising, such as gift basket raffles to help support CAP's overall fundraising efforts.
Rose is described by her nominator as having "a magnetic touch, flair for beauty; people come to her with sadness and leave with confidence." 
Rose has been a member and volunteer of All Saints Church for 25 years where she coordinates the altar for weekly services, as well as being a Sunday school volunteer. 
Rose has also dedicated 20 years to the Church of the Resurrection where she is a volunteer for the annual rummage sale and is a famous meat pie baker who helps with fundraising for the church.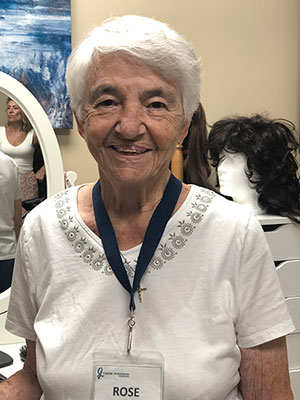 Wendy McKee-Jackson - Leadership Award
Wendy is an animal welfare role model who inspires commitment from others, contributing more than 4,000 hours in 10 years to the Hamilton Burlington SPCA. In this role, she helps with planning and facilitating events and fundraisers, provides customer service to donors and sponsors as well as administrative support and is a Board committee member. 
In 2022, Wendy was the recipient of the Dr. Jean Rumney Award, one of the first female veterinarians in Canada and the first female graduate from the Ontario Veterinary College. Wendy was recognized with this award for her outstanding commitment and dedication to animals in the community. Wendy also dedicates her time to fostering pets.
As shared by her nominator, "Wendy has a steadfast commitment to animals and their people.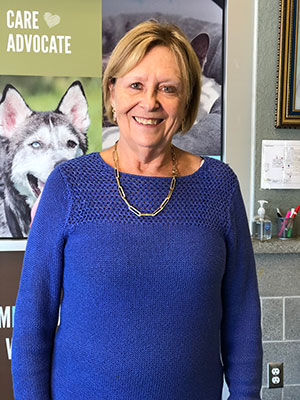 Robert Thomas - Innovation Award
For 13 years Robert has contributed countless hours in various roles to the Waterdown Legion, including coordinating several initiatives and events.
Currently, he is the lead to move Waterdown District High School's history museum to the Waterdown Legion. It will have a permanent display of the thousands of items donated by local veterans.  As past chair of the Poppy Committee, he coordinated the annual "Poppy" campaign, which included him visiting local schools wearing his veteran uniform and riding his vintage army motorcycle with the goal of helping children to understand the importance of Remembrance Day. 
Robert also established and is an active member of the Waterdown Legion Riders, a group that assists the local Legion and other community groups by raising funds to support veterans. He also created and continues to organize RED Friday (Remember Everyone Deployed), a free event dedicated to local veterans, military and first responders to give the community a chance to thank them for their service. 
 As the branch service and veteran officer, Robert helps veterans requiring financial assistance access support through the "Poppy" fund, Benevolent Fund and Veterans Affairs Canada.
For 30 years he's volunteered for the Canadian Forces Military Police Academy, acting as a liaison with veterans and the academy by encouraging veterans to donate items of historical importance to be shared with future generations.
Additionally, close to five years of Robert's volunteer work with the Flamborough Archives has focused on researching people from the Flamborough area who served in WWI and WWII.
One of Robert's references shares that he has an "infectious positivity, unparallel dedication and is the light that brings others together."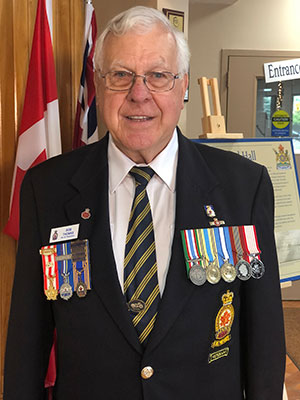 Valentino Gabriele - Behind the Scenes Award
Valentino has been a dedicated and valued member and volunteer of St. Margaret Mary Parish for 15 years as a greeter and usher at church services, as well as providing support for various church events. He also volunteers his time by driving seniors and those with disabilities to and from weekly church services.
He's also volunteered for the Alpini Association of Hamilton, helping to facilitate events which help to raise funds for those less fortunate in the community. As a part of this work, he dedicates his time to visiting members who are in the hospital, supporting elementary school fundraisers like pancake breakfasts and assisting with first holy communion and confirmation celebrations.
Valentino's nominator shares that, "his small acts of kindness make a big difference."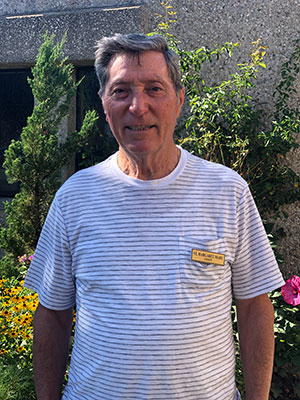 Deborah Morin-Farraway - COVID-19 Resilience Award
Deborah has been a dedicated volunteer for Neighbour to Neighbour (N2N) for close to 10 years. She's provided counselling and system navigation for vulnerable citizens, as well as delivered food boxes to those less fortunate in the community. She also leads the bingo program which raises $10,000 annually. She also leads the registration team for the annual "Walk-a-thon" fundraiser.  
As a result of the COVID-19 pandemic, Deborah was one of the first to move from her regular volunteer roles to the Emergency Food Department as a Home Delivery Driver. She also continued to support vulnerable citizens through counselling and system navigation but pivoted to phone calls versus in-person visits.
Outside of this volunteer work, Deborah also contributes her time to the Women's Centre of Hamilton where she virtually facilitates financial presentations to women who are experiencing violence. She has also supported women at both Mary's Place and Martha House by preparing meals for them. 
One of her references shares that she is a "stern and steadfast advocate who puts the needs of others first."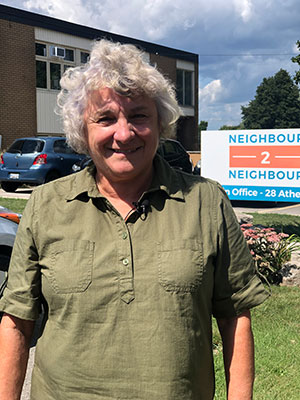 June Noonan - Compassion and Companionship Award
June has a history of dedicating her time to many organizations in the Hamilton area, some of which include Mission Thrift Store, St. Joseph's Hospital, Dundas Community Services, the Good Shepherd Men's Adult Centre, St. Vincent de Paul Thrift Store, Dundas Salvation Army Food Bank, Ancaster Senior Achievement Centre and the City of Hamilton's Senior Advisory Committee.
For 10 years, her time has been spent at both the YWCA Senior Active Living Centre and St. Joseph's Urgent Care Centre in Stoney Creek. 
Five years of her time has also been dedicated to the Victorian Order of Nurses, making phone calls to isolated seniors experiencing chronic illness or injury. 
June has also been affectionately referred to as the "Famous Cake Lady", baking and delivering numerous cakes to firefighters at the Dundas Fire Station as well as to the emergency services and nursing staff at the Urgent Care Centre on Main Street for the past two years.  
June's nominator shares that she has an influence to "expand people's capacity to get more from their own lives."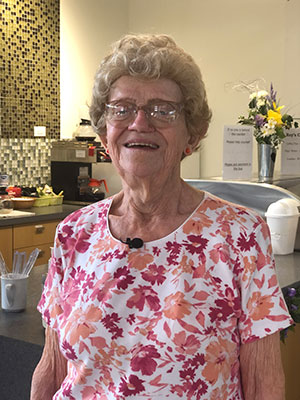 Len Varrasso - Lifetime Achievement Award
Len was an integral part of the establishment of the Cancer Assistance Program (CAP) almost 25 years ago.
As a retired teacher, principal, superintendent and Director of Education, his expertise in leadership, financial management, fundraising, volunteer recruitment and human resources made him a valuable member of CAP as a Board President and committee member.
He has also participated in countless fundraising events, including 44 golf tournaments. As an educator, Len also exposed youth to the value of volunteering by creating the "Junior CAP Board" to give youth valuable governance experience.
As described by his nominator, "Len exemplifies innovative humble leadership that can help cancer victims lives with dignity".
For the past 25 years, he has also been an Extra-Ordinary Minister for Sts. Peter and Paul's Church, including his time as a choir member for 10 years.
For 19 years, he's also committed his time to the Canadian Cancer Society as an executive committee member and canvasser.
As described by his nominator, "Len exemplifies innovative humble leadership that can help cancer victims lives with dignity"
In his spare time, Len has shared his passion for basketball, dedicating eight years to the Blessed Sacrament Elementary School basketball program and five years to Cathedral High School Boys basketball.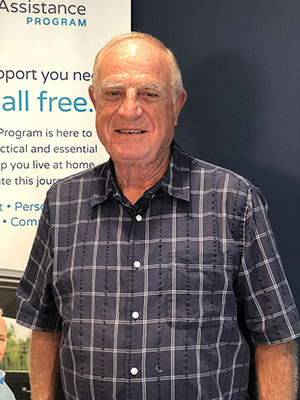 Senior of the Year Awards
Previous Recipients
The 2021 Senior of the Year Awards winners are:
Jeanne Mayo - 2021 Senior of the Year
Dr. Bill Evans - Innovation Award
Gene Fama – Behind the Scenes Award
Dr. Al Fernandez – Compassion and Companionship Award
Patti Idenouye - Healthy and Active Living Award
Mathew Kavanakudy - Economic Leadership Award
Dr. Kanwal Shankardass - Leadership Award
Helena Streun - Lifetime Achievement Award
Kiara Mech - Youth Supporting Seniors Award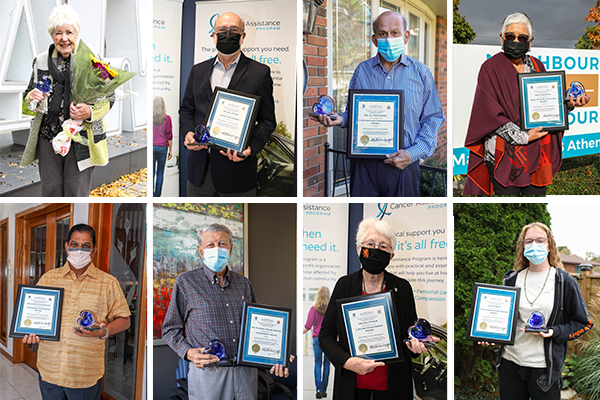 The 2020 Senior of the Year Awards winners are:
Ica Smith - 2020 Senior of the Year
Dave Davey - Behind the Scenes Award
David Dedrick - Innovation Award
Margaret Harris - Lifetime Achievement Award
Jean Lethbridge - Economic Leadership Award
Lee McKay - Compassion and Companionship Award
Archie McQueen - Healthy and Active Living Award
Dr. Sri Gopal Mohanty - Diversity and Cultural Award
Penelope Petrie - Leadership Award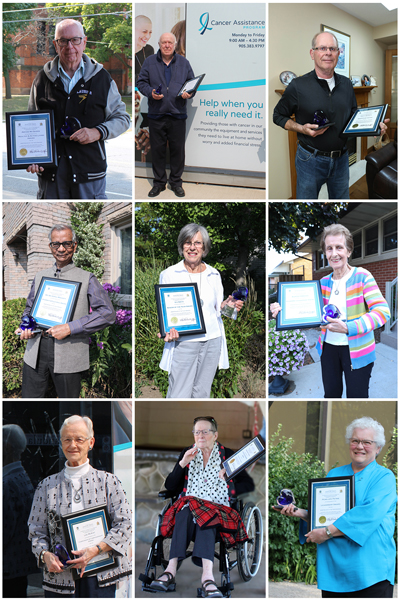 The 2019 Senior of the Year Awards winners are:
Roy Jones - 2019 Senior of the Year
Florence Binkley - Bernie Morelli Lifetime Achievement Award
Ken Dolbear - Ron Smithson Leadership Award
Gunther Kraft - Economic Leadership Award
Albert Graham  - Innovation Award
Shuja Qureshi - Diversity and Cultural Award
Rick James - Behind the Scenes Award
Walter Decker - Healthy and Active Living Award
Pat Simpson - Mary Smithson Compassion and Companionship Award
Maryam Butrus - Youth Supporting Seniors Award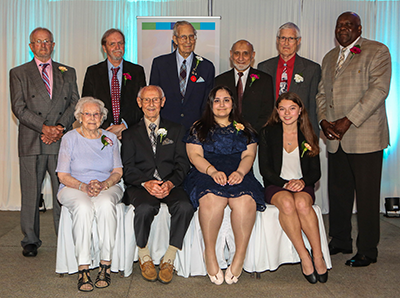 The 2018 Senior of the Year Awards winners are:
Betty Kobayashi - 2018 Senior of theYear
Sylvia Parr - Lifetime Achievement Award
Carolann Fernandes - Leadership Award
Gary Gibson - Economic Leadership Award
Patricia Smith - Healthy & Active Living Award
Leo Dunn - Behind the Scenes Award
Molly Chang - Diversity & Culture Award
Karina Kane - Compassion & Companionship
Chris Kruter - Innovation Award
Ben Weingartner - Youth Award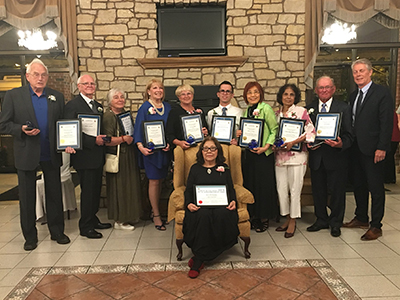 The 2017 Senior of the Year Awards winners are:
Lillian Wherry - Senior of the Year
Jake van Mil - Lifetime Achievement Award
Ruby Sarmiento Amog - Leadership Award
Wilfred Arndt - Economic Leadership Award
Mary Lou Collett - Healthy & Active Living Award
Bob Harris - Behind the Scenes Award
Mohammad Heidary - Diversity & Cultural Award
Myrtle Inwood - Compassion & Companionship
Shirley Kitchener - Innovation Award
June Pearce - Compassion & Companionship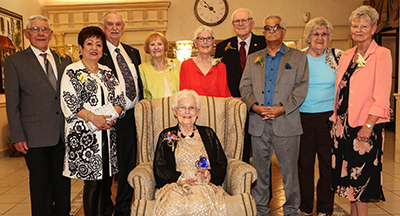 The 2016 Senior of the Year Awards winners are:
Edward Dunn - Senior of the Year Award
Anne Washington - Mary Smithson Compassion and Companionship Award
Mary Kiss - Economic Leadership Award
Marg Cheyne - Behind the Scene Award
Andrew Tallach - Healthy and Active Living Award
Claudette Joseph - Diversity and Cultural Award
Gerry Polmanter - Leadership Award
Dr. Lester Krames - Innovation Award
Frank Sullivan - Bernie Morelli Lifetime Achievement Award
The 2015 Senior of the Year Awards winners are:
Fred Miscio - Senior of the Year Award
Jan Lukas - Bernie Morelli Lifetime Achievement Award
Jean McEachern - Mary Smithson Compassion and Companionship Award
Lou DeStephanis - Healthy and Active Living Award
Chester Faulknor - Leadership Award
Dave Watts - Behind the Scenes Award
Michael Edward Grant - Diversity and Cultural Award
Bob Thomson - Economic Leadership Award
Emmy Weisz - Innovation Award
The 2015 Senior of the Year Awards winners are:
Patricia Saunders - Senior of the Year Award
Lois Goodale - Bernie Morelli Lifetime Achievement Award
Julian D'Angela - Innovation Award
William Grahlman - Behind the Scene Award
Gail Rappolt - Diversity and Cultural Award
Al Gordon - Leadership Award
Frank Ernest - Compassion and Companionship Award
Margaret Robertson - Economic Leadership Award
George Wallace - Healthy and Active Living Award
Date modified
October 19, 2022