Awards & Tributes
Sustainable Building Design Panel Discussion
The City of Hamilton is organizing a Sustainable Building Design Panel Discussion event, in advance of the 2023 Urban Design and Architecture Awards.
The panel will include experienced professionals with backgrounds in planning, architecture, engineering, and academic research whose work demonstrates a unique focus on sustainable design. The conversation will touch on current best practices and will highlight opportunities to encourage and incentivize sustainable building design in Hamilton.
Discussion Details
The panel discussion will take place at the Auditorium (room 2032) in McMaster's David Braley Health Sciences Centre, 100 Main St W, Hamilton, at 6 pm, on January 24, 2023.
The event is open to the public.
Summary will be posted after the event.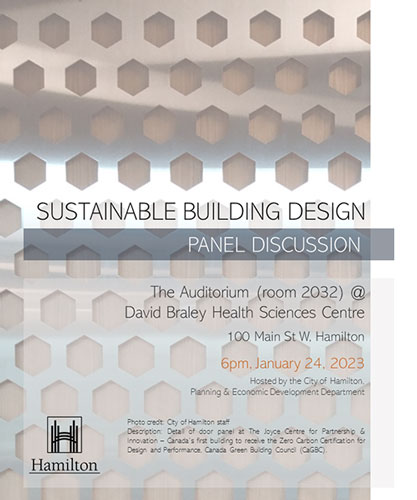 About the Panelists
Tony Cupido
As the inaugural Research Chair, Sustainability at Mohawk College, Tony provides leading-edge research that will contribute to a low-carbon economy. He engages with students using a multi-disciplinary approach to find real-world solutions to social, economic, and environmental challenges.
A professional engineer with 38 years of experience in engineering, facilities management, and capital development, Tony has considerable institutional experience, particularly with McMaster University and Mohawk College. In his leadership capacity at Mohawk College, he was responsible for the planning, design, construction, and operation of Canada's largest institutional, zero-carbon building – The Joyce Centre for Partnership and Innovation. This award-winning facility became the first to achieve dual certification under the CAGBC's Zero Carbon Building program.
Tony has a doctorate degree in Civil Engineering with a focus on green buildings and policy and is a former adjunct faculty member at McMaster.
Joanne McCallum
As Co-founder and CEO, Joanne provides direction and oversight with specific emphasis on groundbreaking educational environments, healthcare, research and multi-unit, high-rise, mixed-use developments. Her work is informed by vigorous research and careful client consultation, working from first principles in a way that thoughtfully translates her clients' needs into physical reality.
Joanne founded the firm on the principles of sustainable design, quickly establishing it as a leader in the field. This passion continues to inform all that she does, including our work with business leaders, entrepreneurs, developers and our colleagues in the engineering and consulting industry. Under Joanne's leadership, the firm remains focused on design excellence in a way that balances the social, economic and environmental sustainability of each building we create.
Joanne sits as Vice Chair on the Board of Directors for the CaGBC and she is a regular speaker, sought out nationally as a thought leader in this design specialty.
Eladia Smoke
KaaSheGaaBaaWeak | Eladia Smoke is Anishinaabekwe from Obishikokaang | Lac Seul First Nation, with family roots in Alderville First Nation, Winnipeg, and Toronto. Eladia has worked in architecture since 2002 on institutional, commercial, and residential projects at a variety of scales, guiding projects from conception to completion. Eladia is the first Anishinabekwe architect in Manitoba, Ontario, and Quebec, the third Indigenous woman licensed as an architect in Canada. She embeds the traditions, heritage, and cultures of Indigenous peoples in her designs working alongside Elders and community leaders in a participatory approach to relevant design. Eladia represented Canada at the 2018 Venice Biennale on the UNCEDED team of Indigenous architects and designers. She is a founding member of the RAIC Indigenous Task Force and taught at Laurentian University 2016-2022.
Olivia Keung
Olivia Keung's passion is in sustainable design. With a strong commitment to sharing her expertise towards affecting the industry as a whole, Olivia has spoken widely at conferences on the challenges, design process and technologies used in zero carbon buildings. In her years of working at Moriyama & Teshima Architects, Olivia has championed a number of most innovative and forward-thinking building projects to date.
Olivia played a key role in Waterfront Toronto's update of their Green Building Requirements (GBRs). MTA led the consultant team to develop and author the Version 3 update which was released in February 2021. The GBRs take a holistic approach to sustainability and form part of a larger vision to build inclusive, climate positive, urban communities that lead the city on the path to decarbonization. Olivia continually pushes herself through activism, advocacy, and meaningful participation in the AEC professional community. Distinctions which Olivia has earned include becoming a Certified Passive House designer, serving as a Member & Sustainability Advisor on the City of Toronto Design Review Panel, and becoming a Member of the Royal Architectural Institute of Canada's (RAIC) Advisory Committee for Promoting Equity and Justice.
Moderator: Ken Coit, Director Heritage and Urban Design, Planning Division, Planning and Economic Development Department, City of Hamilton
Date modified
January 19, 2023