Driving & Traffic - Vision Zero
Neighbourhood Speed Limit Reductions

Contact Us
Traffic Operations & Engineering
Public Works Department
1375 Upper Ottawa Street
Hamilton, Ontario, L8W 3L5
Call 905-546-4376
Email [email protected]
As part of Vision Zero's goal to eliminate serious injury and fatalities for all road users, The City of Hamilton is reducing speed limits on a neighbourhood by neighbourhood basis. Over the next three years, residential streets will be reduced to 40 km/hr and school zones will be reduced to 30 km/hr.
Speed is a significant contributing factor in collisions and is directly correlated to the severity of the collisions and injuries.
Risk of Fatal Pedestrian Injury Relative to Vehicle Speed
This graph showcases the risk of fatal pedestrian injury based on vehicle speed.
Reducing speed limits by 10 km/hr in areas concentrated with vulnerable populations such as school zones significantly reduces the risk of serious injury and fatality.
In order to ensure road safety for motorists, pedestrians and cyclists, the City of Hamilton reminds residents to drive with caution and obey all posted traffic signs.​​​​​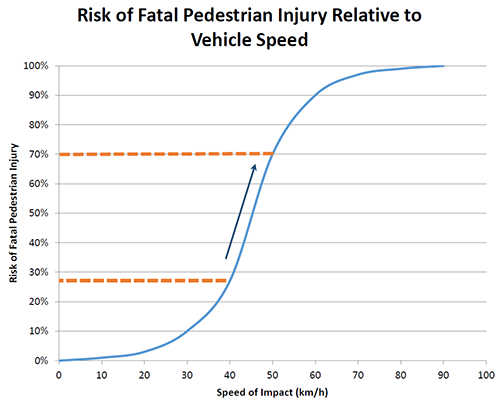 Interactive Mapping
Find Your Neighbourhood
Will your neighbourhood see new speed limit reduction signage installed between 2019 and 2022? Type your address into the search box to find your neighbourhood.
Date modified
September 01, 2022