Master Plans & Studies
Public Art Master Plan
The Hamilton Public Art Master Plan is an important tool in the ongoing implementation of public art in Hamilton. Its primary intent is to identify and prioritize potential sites and opportunities for new public art projects across the city and to outline the principles by which this art is commissioned.
About the Public Art Master Plan
Public art is defined by the City of Hamilton as original works of art created by artists, or in collaboration with artists, through a public process and existing on publicly accessible City of Hamilton property.
Public places are those that are owned and/or managed by the City including parks, trail systems, road allowances, tunnels, courtyards, building exteriors, and interior areas where everybody can go, such as community centres.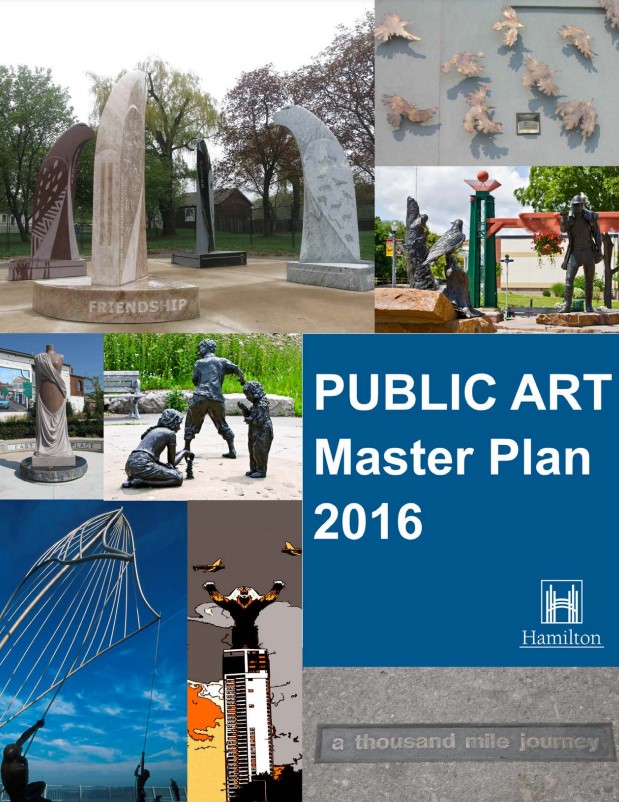 Developed in consultation with the public, councillors, City staff, and stakeholders over 2 years, the Public Art Master Plan (2016) identifies these 14 priority sites for public art:
Ancaster Arts Centre (formerly Ancaster Memorial School)
Andrew Warburton Memorial Park
Arts District - James Street North
Binbrook Branch, Hamilton Public Library
Churchill Park - Raoul Wallenberg Path
Dundas Branch, Hamilton Public Library
Johnson Tew Park and Arboretum
King Street Parkette at Highway No. 8
Hamilton the Electric City; Nikola Tesla and the 5 Johns – Beachfront Trail
Pipeline Trail at Kenilworth Avenue North
Sam Lawrence Park
Vincent Massey Park
Waterdown Rotary Memorial Park Skating Loop
William Connell Community Park
In addition to these priority sites, 85 sites are identified for future consideration should additional staff resources or funding become available.
Date modified
August 16, 2022