Master Plans & Studies
Red Hill Valley Parkway and Lincoln Alexander Parkway Feasibility Study
The City of Hamilton has initiated a feasibility study to evaluate the short- and long-term corridor needs of the Red Hill Valley Parkway (RHVP) and Lincoln Alexander Parkway (LINC).
The feasibility study is being undertaken following the Municipal Class Environmental Assessment (MCEA) process. The study will fulfil the requirements for Phases 1 and 2 for Master Plans (Approach 1) as prescribed by the Municipal Class EA process.
Study status: In progress
Classification: Master Plan (Approach 1)
Study Backgound
The Red Hill Valley Project was in various stages of planning, design and construction between 1956 and 2007. The project included an:
12-kilometre east-west leg, now known as the Lincoln M. Alexander Parkway (LINC) that opened in 1997
8-kilometer north-south leg, now known as the Red Hill Valley Parkway (RHVP) that opened in 2007
Council has over the last several years indicated a desire to consider the long-term of the LINC and RHVP to address traffic congestion. Noted considerations include opportunities to allocate capacity to enhance transit, and the potential to reduce collisions and traffic infiltration into neighbourhoods. In 2019, Council directed staff to develop a Terms of Reference (ToR) for a feasibility study and functional design of the LINC and RHVP, which addresses the long-term needs of the parkways.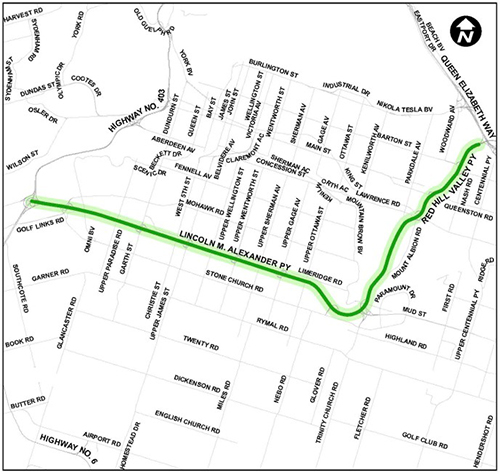 June 17, 2020: Lincoln M. Alexander Parkway (LINC) and Red Hill Valley Parkway (RHVP) Mobility Feasibility Study
February 6, 2019: LINC and RHVP Transportation and Safety Update
June 20, 2018: Transportation Master Plan Review & Update
Date modified
August 16, 2022