Driving & Traffic
Roadway Safety Tools


Traffic Signal
Report Issue or Submit Request
To report issues or to request new:
Advance left turn
Dynamic speed sign
Pedestrian signal
Pedestrian walk time
Red light camera
Traffic signal
Request Traffic Signal Timings & Drawings
For traffic signal timing information and traffic engineering technical drawings, you will need to:
Download the Traffic Signal Application Form (PDF, 228.27 KB)
Submit completed form and fee by:
Mail or in person:
City of Hamilton
Transportation Operations
Transportation, Operations & Maintenance Division - Public Works
1375 Upper Ottawa Street
Hamilton, Ontario L8W 3L5
Fax 905-318-5713
Email [email protected]
Pay the required fee. You can pay by cash or cheque (made payable to the City of Hamilton) when you submit your application or you may choose to be invoiced.
Traffic signal controller timing data
Cost is $65.28 per intersection ($73.77 including HST)
These are the controller programming sheets in raw form
Data only for use by qualified traffic  engineering personnel
Duration of red, amber, green, left turn signals and other detailed signal operation info
Traffic signal timing plans
Cost is $277.44 per intersection ($313.51 including HST)
Information is in summarized chart form
Traffic signal installation drawing
Cost is $65.28 per intersection ($73.77 including HST)
Shows poles, signal heads, pavement markings and other above and below ground signal infrastructure
Pavement marking drawing
Cost is $65.28 per intersection ($73.77 including HST)
Shows pavement markings of a road section
Traffic Counts
For any traffic counts, please visit our mapping tool (MS2) for all currently available studies.
For any location we have a count, there will be a signal or icon that when you click on it, a 24hr volume will display as a popup 
Should you require a further detailed traffic count, the cost is $70.79 ($79.99 including HST).
Turning Movement Counts 
(at intersections, signal icon, or circle on the map).
Example: Totalling the two directions on the street you are looking at will give you the 24hr volume on that street alone.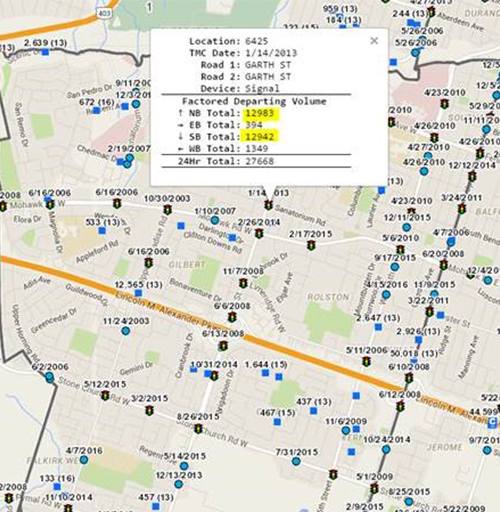 Mid blocks
(at locations between two intersections, square on the map). 
Example: the popup illustrates the 24 volume in the popup labelled as 'Count'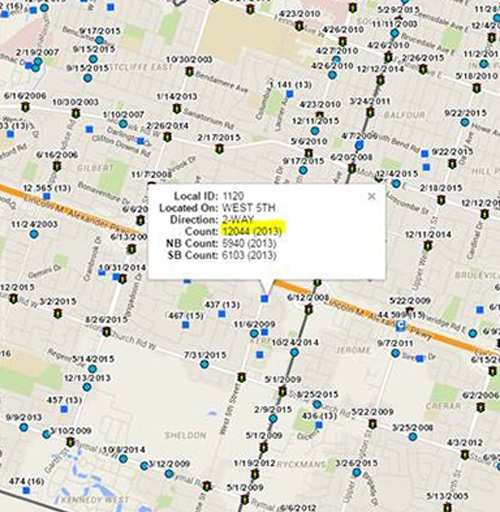 Date modified
November 24, 2022