Heritage Properties
Melville Street Heritage Conservation District Study

Project Update
The consultant team conducting the Heritage Conservation District Study have expanded their review and will be surveying and assessing the historic residential area surrounding Melville Street. This expanded review will help them to identify an appropriate boundary for a potential heritage district. Further information on this additional area of study will be shared in the coming months. For more information in the meantime, please contact [email protected]
The City of Hamilton is undertaking a Heritage Conservation District (HCD) Study of a portion of Melville Street, from Sydenham Street to Wellington Street North, in the community of Dundas. An HCD Study Area By-law No. 22-258, was passed by Hamilton City Council on September 28, 2022, limiting change in the study area for a period of one year while the study is conducted.
Background
The community of Dundas, formerly the Town of Dundas and now part of the amalgamated City of Hamilton, is an historic settlement area comprised of a significant concentration of pre-1950 buildings of heritage value or interest, historic streetscapes and natural heritage features.
In the spring of 2022, the City of Hamilton initiated an updated heritage survey of Downtown Dundas as part of its Built Heritage Inventory Strategy. Research and engagement on the Downtown Dundas BHI has begun, including the preparation of a preliminary Historic Context Statement and the calling of a Downtown Dundas Heritage Focus Group. Inventory work is pending, including updated field surveys and photography.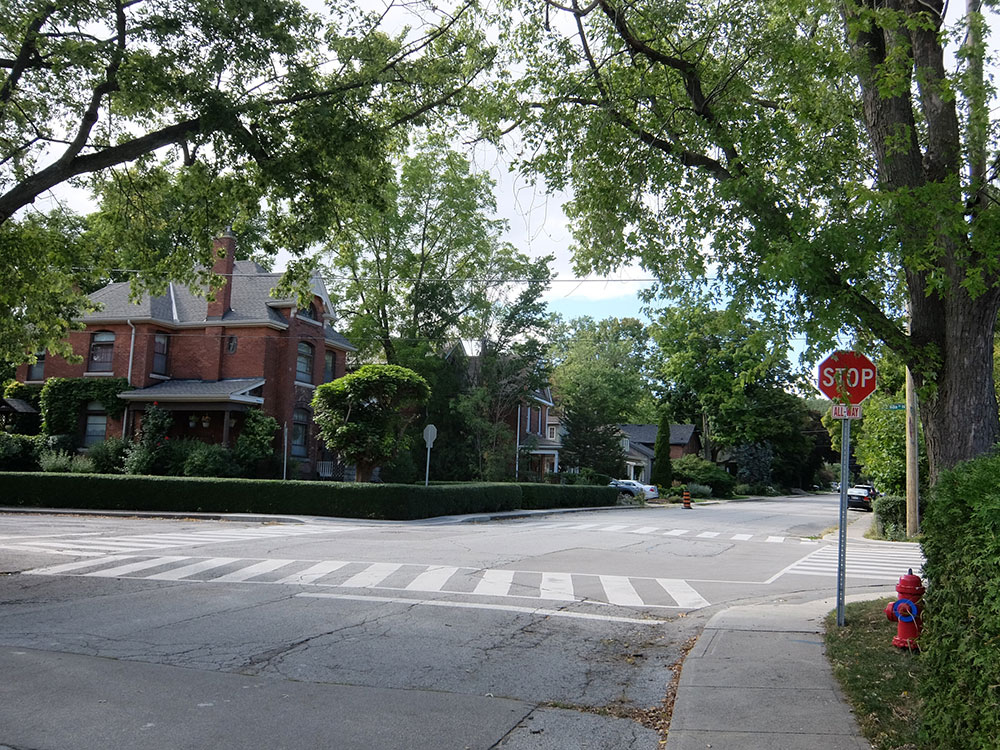 The local Ward Councillor brought forward a motion at the September 28, 2022 Council meeting which resulted in the passing of a by-law to designate a portion of Melville Street, located in the Downtown Dundas BHI project area, as a Heritage Conservation District Study Area and directing staff to initiate the HCD Study. The eastern portion of Melville Street, from Sydenham Street to Cross Street, was designated as part of the Cross-Melville Heritage Conservation District in 1990 by the former Town of Dundas By-law No. 3899-90. The western portion of Melville Street, from Sydenham Street to Wellington Street North, consists of a collection of pre-1950 buildings of potential heritage value or interest, including three properties individually designated under Part IV of the Ontario Heritage Act.
What is an HCD Study?
The purpose of the Heritage Conservation District Study under the Ontario Heritage Act is to:
Examine the character and appearance of the area that is the subject of the study, including buildings, structures and other property features of the area, to determine if the area should be preserved as a heritage conservation district;

Examine and make recommendations as to the geographic boundaries of the area to be designated;

Consider and make recommendations as to the objectives of the designation and the content of the heritage conservation district plan;

Make recommendations as to any changes that will be required to the municipality's official plan and to any municipal by-laws, including any zoning by-laws.
To learn more about Heritage Conservation Districts, refer to the Province's Ontario Heritage Toolkit –Heritage Conservation Districts.
Project Timeline
The City retained a consultant to undertake the HCD Study in fall 2022. It is anticipated that a draft of the HCD study will be ready for public review in Spring 2023.
Date modified
March 16, 2023