Parks & Trails
Permitted Tobogganing Hills
City Council has approved these hills within Hamilton as designated for tobogganing.
Interactive Mapping
Permitted Tobogganing Hills
Toboggan Hill
Safety Tips
Tobogganing is inherently dangerous, please do so at your own risk. Protect your brain. It is strongly recommended that individuals wear a certified hockey or winter multi-sport helmet and follow the posted safety tips when tobogganing. 
To reduce the risk of injury to yourself and others, follow these tips:
Before you proceed, assess the weather and physical conditions of the hill to ensure it is safe.
Avoid tobogganing on icy hills.
Do not toboggan near roadways and/or train tracks or in any other non-designated areas.
Choose a sled or toboggan that is easy to control.
Do not toboggan at night or dusk.
Construction of snow jumps and other obstacles is not permitted.
A parent or guardian should accompany children.
Call 905-546-2424 to report concerns about the hill.
Call 911, if emergency assistance is required.
Sit facing forward on the sled, not backwards, head first, or lying down.
Move out of the way quickly at the bottom of the hill.
Walk up the sides of the hill, not middle.  Watch for people sliding down as you climb.
Avoid stopping in the middle of the hill.
Avoid scarves, loose clothing. Tie up long hair that can get caught.
Children under 5 should not go down the hill alone. Use a toboggan that is large enough for an adult to go down with the child.
Teach children to roll off the toboggan if heading for danger.
Alert (shout) if you observe another slider headed for danger.
Keep your hands, arms and legs inside the sled to prevent injury.
Keep a safe distance (15 m) from the sled ahead of you.
Do not leave sleds or other obstacles on the hill.
Wear a helmet
Protect your brain. Wear a certified hockey or winter multi-sport helmet.
Make sure the helmet fits correctly and that the chin strap is done up securely so that the helmet stays on in a crash or fall.
Hockey helmet
The helmet should:
Make contact with the top of the head.
Sit 1 finger width above the eyebrow.
Allow no more than 1 finger width under the chin strap.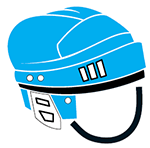 Ski/snowboard helmet
The helmet should:
Fit snug but comfortably. Pads should touch the cheeks and forehead.
Sit 2 fingers above the eyebrows.
Allow no more than 1 finger width under the chin strap.
Not touch the nape of the neck.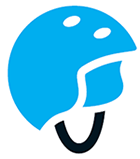 Additional helmet tips
Look for the CSA, ASTM, or SELL label on the inside. Ask your retailer.
Replace helmet after serious impact, when you see damage or every 5 years.
Fit your helmet every time you put it on.
Date modified
February 23, 2023