Home Water Services
Water Efficient Homes

Prevent water waste
Find and fix water leaks in your home
With some simple changes to how we think and act, we can all reduce our water usage and our water bills.
Water is one of our most precious resources. Preventing water waste helps to conserve this vital resource while saving you money. In homes, the main sources of water waste are from leaks, indoor overuse, and outdoor over-watering of lawns and gardens. You may not realize you have a leak until you receive your water bill. Many leaks may go unnoticed, but they can be costly.
Conserving water will go along way to saving you money, and protecting the environment.
The kitchen
The kitchen is where 15% of all water is used at home. This water is generally used for drinking, cooking and cleaning.
Tips to reduce water consumption in the kitchen
Keep a jug of drinking water in the fridge instead of letting the tap run cold for a drink
Install low flow aerators on kitchen taps
Do not rinse dishes before putting in the dishwasher; most dishwashers do a thorough job of cleaning them
Select the lowest possible cycle each time the dishwasher is used and wait until a full load is ready
If washing dishes by hand, do not let the water run continuously; use one sink for washing and the other sink for rinsing
Check for and fix any leaking faucets
Clean fruits and vegetables in a partially filled sink or bowl, then rinse them with quick blasts of water
The bathroom
The bathroom is the largest water consuming area in the home; 65% of water used is in the bathroom.
The toilet represents nearly 30% of all water used in the bathroom
The shower, bath and tap combined consume about 35% of water used in the bathroom
Tips to reduce water consumption in the bathroom
Install a dual flush (6L or 3L), HET High Efficiency Toilet (4.8 L) or 3L toilet for efficiency and savings
Do not use the toilet to dispose of garbage
Turn off the water while showering, brushing teeth, washing hands or shaving
Take a five to eight minute shower instead of a 20 minute shower
Savings from water conservation at home
Regular toilets waste as much as 20 L (4.4 gallons) per flush.

Low flow toilets can efficiently flush a bowl using only 6 litres (1.3 gallons) of water
Undetected leaks can waste several hundred litres of water per year and can easily be stopped by replacing or repairing fixtures.
Depending on your toilets' volume, you may want to install a toilet displacement bag or toilet dam into the toilet tank; the amount of water that the bag holds is the amount of water that is saved during each flush.

Switch to a low flow aerator on the bathroom sink faucet that uses less water, such as one with a 1 - 1.5 gpm (gallons per minute) flow.
Switch to a low flow showerhead.

Average showerheads use 9.5 L of water per minute (2.5 gallons), while a water efficient showerhead uses only 6.4 L of water per minute (1.7 gallons) without decreasing water pressure or performance.
Estimated savings from switching one regular toilet to a low flow toilet:
| Average toilet | Efficient toilet | Litre Savings / Year |  Dollar Savings / Year |
| --- | --- | --- | --- |
| 13 to 20L/flush | 6L/flush | 13,405L | $56.31 |
The laundry room
Washing machines Represent over 20% of all water used inside the home. High Efficiency (HE) washers use between 30% to 40% less water and as much as 70% less energy than standard (non-HE) top loading machines 
Tips to reduce water use in the laundry room
If possible, always wash with a full load of laundry
Use the shortest washing cycle available to save water
Use an High Efficiency (HE) washer
High Efficiency (HE) Washers
Considered to be gentler on clothes
They are more efficient in their spinning mechanisms
Laundry takes less time to dry
Cost to buy a HE washer is usually higher than top loading washers, but you save more money with the decreased use of water, detergent and energy
Estimated savings from switching to an HE washing machine:
| Average Washer | Efficient Washer | Litre Savings / Year | Dollar Savings / Year |
| --- | --- | --- | --- |
| 175.5L/Load | 121.5L/Load | 2,429.5L | $10.21 |
Water heaters
Insulate hot water pipes so when taps are turned on, less water is wasted waiting for the water to heat up
Install a tankless water heater for hot water on demand
Insulate the few feet of piping that extends from the heater to keep the hot water warmer for longer
Contact your manufacturer or rental company or refer to the hot water tank manual for maintenance instructions on hot water tank flushing
Replace your hot water heater

Install heat traps in your water heater to keep hot water from rising out of the heater and prevent cold water from getting in.
Heat traps stabilize water temperatures and reduces the amount of water waste while you wait for the water to become the right temperature.
Sprinkler systems
Have your sprinkler system checked for leaks and optimized to ensure you're not overwatering your lawn
Install a rain sensor to prevent unnecessary watering during and after a rainfall
Run your system manually by only turning it on and off when your lawn needs it 
Pools and hot tubs
Use a cover on your pool or hot tub to reduce the amount of water lost due to evaporation
This means that you will spend less time and water topping up your pool or hot tub
On average, swimming pools lose about a quarter of an inch of water each day
Variations in wind, humidity and sunlight can impact water loss
A properly maintained spa or pool cover can reduce evaporation and water wastage by as much as 95%
Water Conservation Recommendations from the Pool & Hot Tub Council of Canada
Below are some tips for discovering water leaks. If you find that you are experiencing a significant leak, please see the Leak Adjustment Program to determine eligibility for financial compensation.
The easiest way to know how much water you use is to calculate it from your water bill. Your water is measured in cubic metres (m3). One cubic metre (m3) = 1000 litres of water. Compare bills from same month each year for differences. You can also look for spikes—is your water use a lot higher this month than it was last month? There is also a consumption bar chart on your water bill that provides the last 12 months of water use. Large changes in usage can easily be seen here.
Learn more about your water bill by visiting alectrautilities.com/water-billing
Using your water meter to discover water leaks
You can calculate your water usage by looking at your water meter. Your water meter should be located near the front of your residence, either in the basement or crawl space where your water line comes into your home. This is also where you'll find the home's main water shut off valve. To discover water leaks in your home, follow these steps:
Locate the low flow indicator or sweep hand on the water meter face.
Turn a tap on and run the water slowly. Look at the low flow indicator and observe it rotating. Turn the tap off.
Check around the house to ensure that you are not using water. Turn off all taps, do not use any water and check to ensure outside hoses are turned off.
Go back to the water meter and observe the low flow indicator; it should not be rotating.
If the low flow indicator is not rotating, you do not have a leak.
If the low flow indicator is rotating, you may have a leak.
You may wish to contact a qualified tradesperson to help you find and repair any leaks. You can also download the Leak Detection Guide(PDF, 7.15 MB) for more water leak tips.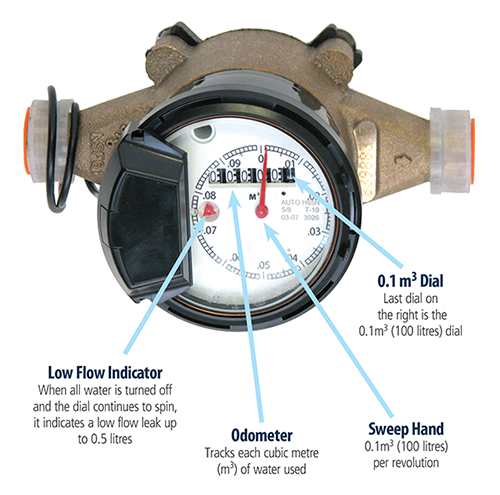 Water-using devices can leak and cause damage to walls and floors, potentially creating an environment for mold or mildew, so check for signs of moisture or mold on your walls, ceilings, and floors.
Look for continuous leaks in supply lines, fittings and valves.
Look for leaks caused by corrosion, such as a rusty water heater bottom.
Leaks may be intermittent, meaning they only occur when a water-using device is in operation. Run water-using devices, such as a clothes washer or dishwasher, to see if a leak occurs while running.
Toilets
High volume water leaks often come from toilets. They are hard to detect and are usually caused by worn or misaligned parts. Follow these steps to check your toilet for leaks.
Listen for running water.
Check the lift chain is not catching on anything.
Make sure the flush handle is functioning properly.
Put a small amount of food colouring or a dye tab in the toilet tank. Toilet dye tabs are available at all City of Hamilton Municipal Service Centres. Wait 10 minutes, then check to see if water in the toilet bowl is coloured. If it is, the toilet flapper could be leaking. This is relatively simple and inexpensive to replace.
While the toilet top is removed, look to see if the water level is close to the overflow pipe.  The overflow pipe is a plastic pipe with an open end just below the top of the tank.
If the water level is close, or overflowing into the pipe, this could be where the water is leaking. You will need to adjust the ball valve which controls the amount of water in your toilet tank.
Faucets / Taps
Check all faucets and pipes periodically.
Watch and listen for drips.
Check for moisture around faucets, showerheads and bathtubs.
Replace faulty parts.
Under the sink
Check under and around sinks for wet spots, water stains, a musty smell, bowed cabinetry or rust around joints and edges.
Showerheads
Turn on and look for drips or stray sprays. These minor leaks can usually be fixed with plumber's tape.
In the tub
Turn on the tub, then divert the water to the shower and see if there's still a lot of water coming from the tub spout; that could mean the tub spout diverter needs replacing.
Faucets / Taps
Listen for drips and tighten aerators or replace fixtures if necessary.
Check faucet sprayer to make sure water is spraying smoothly and clean openings as needed.
Under the sink
Check under and around sinks for wet spots, water stains, a musty smell, bowed cabinetry or rust around joints and edges.
Appliances
Check for pooling water underneath dishwashers and refrigerators with ice makers, which could indicate a supply line leak.
Water heater
Check beneath the tank for pooling water, rust, or other signs of leakage.
Water softeners
Check all connections are tight and for cracks or damage on hoses.
The rotor valve is the source of water into the unit (located on the top of the water softener) and is often the source of leaks.
Water Meter
Check for leaking water around water meter as well as any exposed pipes and valves.
Check all other hose bibbs, spigots and/or outdoor faucets for dripping water and/or wet spots.
Ensure tight connections with the hose. Hose washer may need replacing.
In-ground irrigation system
Check for broken sprinklers or nozzles spraying in the wrong direction.
You may want to consult an irrigation specialist for detailed inspection.
Swimming Pools and Spas
Check the pool and/or spa autofill for proper operation.
Check the float.
Visually inspect the pool and/or spa system equipment, especially around pipe joints.
Look for any wet spots, small holes or depressions in the soil, as these might indicate an underground water leak.
You may want to contact a pool contractor.
Fountains and water features
Check for leaks or cracks on water supply lines and pipes.
Look for structural cracks or damaged basins.
Adjust autofill to avoid basin overfill.
Turn off the water at the supply line before performing any work.
To help you find the right replacements, take old parts with you to the home improvement store.
Consult a qualified, licenced plumber if you are not sure and for larger jobs.
If any of your fixtures needs replacing, remember to look for the WaterSense label when purchasing plumbing products. WaterSense labeled products are independently certified to use at least 20 percent less water and perform as well or better than standard models.
For a more detailed checklist, please download the Leak Detection Guide(PDF, 7.15 MB).
TURN OFF YOUR WATER WHILE YOU ARE AWAY ON VACATION
Avoid a high water bill from an unexpected leak by turning off your water before you go away:
Shut off the inside water supply if your house is going to be unoccupied for any length of time, even if it is only for a weekend, except where water is used for heating.

Close the inside building control shut-off valve and open faucets to relieve pressure in the lines. If there is no shut-off valve, close the water supply to toilets, sinks, tubs and washing machines that often have individual shut-off valves.

If your property will be vacant for 90 days or more, call 905-546-2489 within 24 hours of leaving to arrange for the City to turn your water off at the street. Please note that there is an applicable fee for this service.

To arrange for account payments while you are away, call Alectra Utilities Customer Service at 1-833-253-2872.
THE CITY'S LEAK PROTECTION PROGRAM
The City of Hamilton's Residential Leak Protection Program administered by ServLine, provides protection to residents from a high-water bill caused by a qualifying leak.
Please refer to City of Hamilton's Leak Protection Program guidelines and qualifications(PDF, 41.28 KB) before completing the Water Leak Adjustment Form. This form must be completed no later than 60 calendar days from the billing date.
Any residential customer may request additional information concerning the City of Hamilton's Leak Protection Program administered by ServLine by calling 1-888-977-7471
Date modified
August 10, 2023