Community Environmental Initiatives
Team Up to Clean Up

Register for Team Up to Clean Up
Organize a team of volunteers to clean an area in your neighbourhood. The program provides volunteers with gloves, recycling and garbage bags.
Team Up to Clean Up is a year-round city-wide community cleanup program. This program provides all the tools you need to run a community cleanup including gloves, recycling bags and specially marked garbage bags. Approximately 25,000 volunteers participate in Team Up to Clean Up each year and invest more than 45,000 volunteer hours to help clean our community.
The program helps keep public places in your neighbourhood clean and safe for everyone. You can host a cleanup event on City property including parks, trails, alleyways, streets and parking lots.
Our Community Partners
The City of Hamilton supports local community groups and organizations that help keep Hamilton clean and green. These groups organize regular cleanups that are open to the public to participate. Contact any of these groups to join one of their cleanup teams or participate in a one-time cleanup:
To add your group to this list, contact [email protected]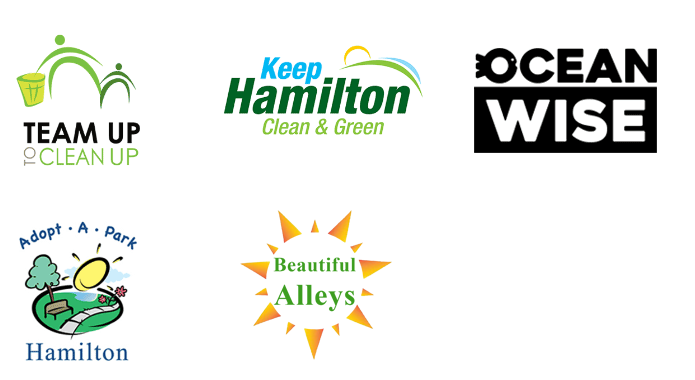 Ocean Wise Shoreline Cleanup
The City of Hamilton works with Ocean Wise Shoreline Cleanup, a conservation program by Ocean Wise Conservation that provides families, businesses and community groups the opportunity to take action to help protect waterways in their community, one bit of trash at a time. You can help keep Hamilton's shoreline litter free by cleaning up any area where land connects to water, including lakes, rivers, streams and even parks or schoolyards (near storm drains). Since 1994, the Ocean Wise Shoreline Cleanup (previously known as the Great Canadian Shoreline Cleanup) has hosted 30,542 cleanups, collecting more than 2.1 million kilograms of trash across Canada's shorelines. Register your Team Up to Clean Up event with the Ocean Wise Shoreline Cleanup to be a part of the movement to keep our shorelines clean!
Date modified
August 31, 2023