Master Plans & Studies
Airport Employment Growth District Transportation Master Plan
Notice of Update to Conceptual Cross-Section Design for Roadways
Since the first PIC in May 13, 2021, staff have developed refined conceptual cross-sections to address requirements of the AEGD Stormwater Master Plan / EcoIndustrial Design Guidelines and the recently approved Complete Livable Better Streets Design Guideline, etc. These refinements, driven by the need for roadside swales to convey stormwater and provide better opportunities for road user safety, have resulted in changes to the approved conceptual cross-sections and Right-of-Way widths within the study area. View the updated Conceptual Cross-Sections(PDF, 1009.71 KB). You may provide comments by October 28, 2022 to staff listed under Contact Us.
The City of Hamilton is undertaking a review and update of the 2011 Airport Employment Growth District (AEGD) Transportation Master Plan(TMP). The AEGD TMP is a strategic policy document developed to provide a framework which guides future transportation-related studies, projects, initiatives and decisions within AEGD.
This study is following the Municipal Class EA, which will complete Phases 1 for new Roadways and 2 for previously approved Roadways.
AEGD Transportation Master Plan Update
The objectives of the AEGD TMP update include:
Review and update of the multimodal transportation strategy that supports development and vision of the AEGD, in alignment with the guiding principles of the city-wide Transportation Master Plan
Re-affirm identified problems or opportunities and recommend alternative solutions to transportation issues anticipated for 2031 horizon year and beyond
Modify the AEGD road network to enhance network connectivity, increase redundancy; and address capacity constraints
Identify and protect future transportation corridors in relation to ongoing development since 2011/2016, implementability, road functional classification and associated Municipal Class Environmental Assessment (EA) classification.
Integrate policies, programs, funding and infrastructure needs;
Determine preliminary cost estimates for transportation infrastructure improvement projects in relation to proposed network changes;
Review and update the transit network and Transportation Demand Management (TDM) measures and guidelines previously recommended for the AEGD
Increase Cycling/Pedestrian/Trails network connectivity to support active transportation needs throughout the AEGD.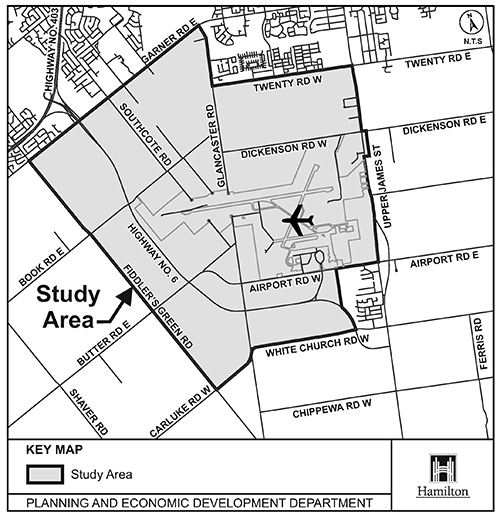 This provincially significant employment land is located southwest of the City of Hamilton Urban Area, encircling the Hamilton International Airport (HIA). The study area is characterized primarily by existing agricultural and rural residential lands. The preferred Land Use option proposed for the AEGD lands provided approximately 742 net hectares of employment land to serve the needs to 2031 and 1,271 to serve the demands beyond 2031.
Date modified
November 21, 2022