Park Projects
Churchill Park
Phase 2 Redevelopment Construction - Expected from June 20 to November 2022
During construction, soccer fields will remain open for regularly scheduled games, with specific points of access to be provided. View the Park and Trail Access Plan(PDF, 1.25 MB), which shows access points and trail detours. Most of the north end (upper tier) of the park will be closed to pedestrian traffic. Access to Churchill Park from the Princess Point and Ginger Valley trailheads in the north end of the park will be closed during construction, but the trails will continue along the forest edge. View Construction Notice for Residences & Businesses(PDF, 43.85 KB)
Churchill Park is located at 199 Glen Road, in Ward 1. It is a developed park operated by the City of Hamilton on land owned by the Royal Botanical Gardens. The park is surrounded by a natural woodlot, ravine lands and Cootes Paradise.
These lands are included within the Niagara Escarpment Plan and designated as part of the Niagara Escarpment Parks and Open Space System (NEPOSS).
Churchill Park includes two pieces of property covering 19.12 hectares (47.24 acres). The athletic fields cover 14.56 hectares (35.98 acres). The other parcel is the former Royal Botanical Gardens Teaching Gardens which cover 4.56 hectares (11.27 acres) in size. 
The athletic field parcel currently contains:
a former lawn bowling facility and clubhouse
three baseball fields
three soccer pitches
a cricket pitch
field house
spray pad
playground area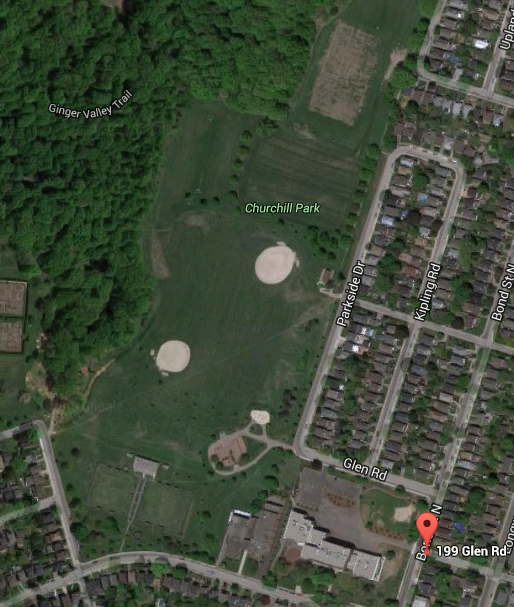 Date modified
September 13, 2022