Chedoke Golf Club
Stanley Thompson
Stanley Thompson - Canada's Legendary Golf Course Architect
Stanley Thompson was born in 1893. He was one of five brothers (Nicol, Bill, Matt, Stanley, Frank) who all caddied at the Toronto Golf Club in the early years of the 20th century, and became leading Canadian golfers in the 1920s. Nicol won the Canadian Professional Golf Championship in 1922; Bill won the Canadian Amateur Championship in 1923; Frank won championships in 1921 and 1924 and Matt was considered to be one of Manitoba's finest golfers. Stanley (considered by some to be the finest golfer of the five), led the qualifying round for the Canadian Amateur in 1925. Accordingly, the brothers came to be known as "The Amazing Thompsons."
Stanley Thompson dabbled in golf course architecture before the First World War. When he returned from the war as a lieutenant in the Canadian Field Artillery he formed Stanley Thompson & Company, a golf course design company that was soon inundated with orders for new courses from across Canada. The "Golden Age" of golf course architecture in Canada had begun and Thompson was at the forefront.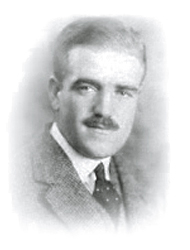 Between 1920 and 1953 he designed, remodeled, or constructed 145 golf courses in Canada, the United States, the Caribbean, and South America. He designed such renowned courses as Highlands Links (Nova Scotia), Banff and Jasper (Alberta), St. George's (Toronto), and Capilano (Vancouver). In 1927, Scottish golf course architect Alistair Mackenzie rated Jasper as the finest course he had ever played.
Stanley Thompson was shy and introverted but was known for telling "stories" that many reporters questioned but nevertheless published. He was a lover of steaks, rye whiskey, and cigars. For all these and other reasons he came to be known as "The Toronto Terror."
His first wife died in 1943, and he remarried a few years later. He was on his way to South America, having stayed the previous night at Toronto's Royal York Hotel, when he suffered an aneurysm. A day later, on January 4, 1953, Stanley Thompson died in the hospital at the age of 59. In 1980, he was elected to the Canadian Golf Hall of Fame.
Thompson's Work
Stanley Thompson was a prolific golf course architect who designed, remodeled or constructed 145 courses in Canada, the United States, the Caribbean and South America. In 1948, along with fellow designers Donald Ross and Robert Trent Jones, he founded the prestigious American Society of Golf Course Architects. In the past, noted architects Robert Trent Jones, Howard Watson, Geoff Cornish, Robbie Robinson and Bob Moote all worked for Stanley Thompson.
While he worked at Chedoke in 1948, 1949 and 1950 building the new Beddoe Course and tinkering with the older Martin Courses, he had other projects on the go in the area. At St. Catharines G&CC he built nine new holes and remodeled an existing nine, which opened in 1949 and he finished Whirlpool Golf Club in Niagara Falls, which opened in 1951 with his brother Nicol as the head professional and Nicol Jr. the greens keeper. The Beddoe Course was one of the last three or four courses he designed in Canada before his untimely death in January 1953.
Recognition of his accomplishments continues to grow and his courses remain among the top courses in Canada with 14 listed in the top 100. St. George's, Jasper Park, Banff Springs, Highlands Links and Capilano are currently rated numbers three through seven respectively.
Thompson courses ranked in Canada's Top-100
St. George's G&CC - Toronto, Ontario

Jasper Park Lodge GC - Jasper, Alberta

Banff Springs Golf Course - Banff, Alberta

Highlands Links - Ingonish Beach, Nova Scotia

Capilano G&CC - Vancouver, B.C.

Westmount G&CC - Kitchener, Ontario

Mississaugua G&CC - Mississauga, Ontario
Oakdale GC - Downsview, Ontario

St. Thomas G&CC - Union, Ontario

Summit G&CC - Richmond Hill, Ontario

Sunningdale G&CC - London, Ontario

Thornhill G&CC - Thornhill, Ontario

Burlington G&CC - Burlington, Ontario

Cataraqui G&CC - Kingston, Ontario
Briars G&CC - Jackson's Point, Ontario

Chateau Montebello GC - Montebello, Quebec

Chedoke Civic GC - Hamilton, Ontario

Cutten Club - Guelph, Ontario

Dundas Valley G&CC - Dundas, Ontario
Fort William G&CC - Fort William, Ontario
Fundy National Park GC - Alma, New Brunswick

Glendale G&CC - Winnipeg, Manitoba

Green Gables GC - Cavendish, PEI

Islington G&CC - Toronto, Ontario
Kawartha Lakes GC - Peterborough, Ontario

Lachute GC - Lachute, Quebec
Niakwa Golf Course - Winnipeg, Manitoba

Pine Ridge GC - Winnipeg, Manitoba

Royal Ottawa GC - Aylmer, Quebec
The Pines Resort GC - Digby, Nova Scotia

Truro GC Truro - Nova Scotia
Date modified
July 13, 2022