Paramedics
Public Access Defibrillation Program

Register Your Location
Automated External Defibrillator (AED) Registration
Knowing where AEDs are located in the city is vital so that 911 dispatchers, emergency responders and nearby residents can get to an AED quickly.
By registering your organization's AED, you can help save a life.
In partnership with the Heart and Stroke Foundation, the City of Hamilton has deployed Public Access Defibrillators (AED) in City owned facilities and public buildings including:
Schools
Libraries
Local arenas
Recreation centres
Senior's centres
All City buildings that have an AED will have a sign on the front door.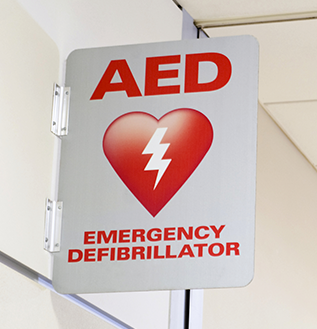 Citizens are encouraged to use Public Access Defibrillation Units
The public is encouraged to use an AED and CPR if someone collapses and shows no signs of life, like breathing or gasping.
Public Access Defibrillators aid in the CPR treatment by helping the user with verbal instruction and require no formal training to be used. The combination of AED use and CPR can increase the chance of survival by 75%.
If you notice someone is unresponsive:
Call 911

Send someone to get an AED

Check for absent or abnormal breathing and begin CPR

Place hands on the Centre of the chest – one on top of the other and interlace your fingers

Push hard and fast – compressions should be at least 100 per minute and a depth of at least two inches for adults and children

Use the AED immediately once it arrives. If no AED is available, continue with compressions until help arrives.
Date modified
July 18, 2022