Biking & Cyclists
Cargo E-Bike Pilot Program
In 2021, the Province of Ontario announced that it would begin a five-year pilot program which would permit cargo e-bikes to operate in municipalities that opt-in to the program. The goal of the provincial pilot is to evaluate the use of cargo e-bikes by assessing their ability to safely integrate with other vehicle types and determine if they should be allowed permanently.
Hamilton City Council approved by-laws 23-074(PDF, 69.44 KB) and 23-075(PDF, 83.08 KB) on April 26, 2022 that opts Hamilton into the pilot program and regulates the use of cargo e-bikes within the city.
What is a Cargo e-Bike?
A cargo e-bike, or cargo power-assisted bicycle, is defined under Ontario Regulation 141/21 a pedal-driven bicycle of exposed fork-and-frame bicycle design and appearance that:
Has two or three wheels
Is fitted at all times with pedals that are always operable to propel the bicycle, has a platform, basket or container for carrying cargo, parcels or goods
Has steering handlebars
Has a weight of more than 55 kilograms
Has a width not exceeding 1.3 metres
Has a length not exceeding 4 metres
Has a height not exceeding 2.2 metres
Has wheels that have a width of not less than 35 millimetres and a diameter of not less than 350 millimetres
Does not have any structure that fully encloses the occupant area
Has an electric motor with a continuous rated output power not exceeding 1000 watts that is incapable of providing propulsion assistance when the bicycle attains a speed of 32 kilometres per hour or more; ("vélo cargo assisté")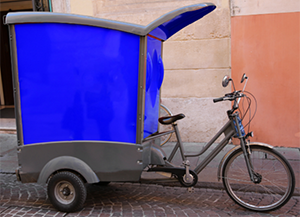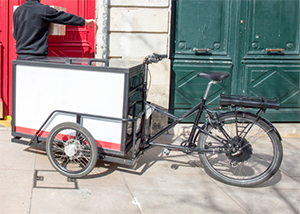 Cargo E-bikes in Hamilton
Date modified
June 13, 2023