Indigenous Relations
National Day for Truth and Reconciliation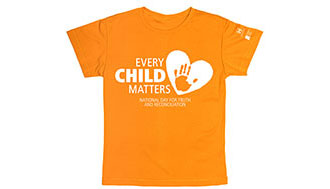 September 30, 2022
What is the National Day for Truth and Reconciliation?
The Federal Government declared September 30 as the National Day for Truth and Reconciliation to be observed annually.
This federal statutory holiday responds to the Truth and Reconciliation Commission of Canada's call to action number 80 which seeks to honour First Nations, Inuit and Métis Survivors, their families and communities and to ensure that public commemoration of their history and the legacy of residential schools remains a vital component of the reconciliation process.
What is Orange Shirt Day?
The City of Hamilton recognizes the impact done by Indian Residential Schools and supports the commitment that every child matters. By wearing an orange shirt on September 30, we can show support and commitment to reconciliation, inclusion and anti-racism.
Orange Shirt Day began by Phyllis Webstad, a residential school survivor who told the story of her shiny new orange shirt, which was taken from her when she attended her first day of school at the St. Joseph Mission residential school.
The residential school era began in the early 1870's, with the last school closing in 1996. The Mohawk Institute Residential School located in the neighbouring town of Brantford, Ontario, is one of the oldest residential schools which was established in 1828.
More than 150,000 Indigenous, Métis and Inuit children attended these schools. There are an estimated 80,000 survivors living today. 

Video: Phyllis Webstad presents her memories of Residential schools and the meaning of Orange Shirt Day.
In May 2021, unmarked graves of 215 Indigenous children — some of them as young as three years old — were found on the grounds of the former Kamloops Indian Residential School in British Columbia. Since then, hundreds more unmarked graves have also been found across Canada.  The Truth and Reconciliation Commission Calls to Action 71 – 76 specifically outline the calls to Action that pertain to missing Indigenous children and burial information who attended Residential Schools in Canada.
Learn how the Canadian Government is responding to the Truth and Reconciliation Calls to Action 71 – 76 
Date modified
March 30, 2023