Awards & Tributes
Order of Hamilton
The Order of Hamilton recognizes the exceptional voluntary contributions of individual Hamiltonians to the building of a better and improved Hamilton. Individuals that reside in Hamilton at the time of the awarding of the Order must have demonstrated an exceptional voluntary contribution to community building and/or service in Hamilton. The contributions must be determined to be over and above their professional contributions to the City of Hamilton.
"Hamilton has long been a centre of volunteerism. The Order of Hamilton recognizes and celebrates Hamiltonians who have made exceptional contributions through their volunteer efforts in building community and improving the lives of our residents." - Mayor Fred Eisenberger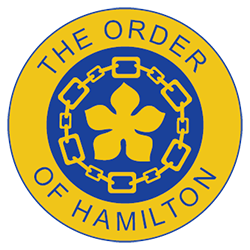 Order of Hamilton Nomination
Open to current residents who display exceptional voluntary service in Hamilton.
Self nominations will not be considered.
The nomination form must be accompanied by at least one letter of reference from someone other than the nominator and with the signed agreement of the person being nominated.
The nomination period closed December 20, 2022.
Congratulations to the 2021 Order of Hamilton Recipients.
Randy and Susan Bassett
Susan and her husband Randy have been married for over 21 years and they have 2 children, Atticus and Treva. Treva was born with a genetic disorder which resulted in her having special needs. She was the inspiration behind the start of Opening Hearts- the charity co-founded by Susan and Randy nearly 10 years ago. Starting a non-profit organization from scratch can be challenging. Susan and Randy started Opening Hearts with so much passion it was infectious. They were rarely short of volunteers for the fundraisers, programs and the board of directors. Theirs is truly a lasting legacy in the lives of the families they have served.
Margaret Bennett
Margaret's leadership and kindness while volunteering motivates and inspires others to volunteer their time. Margaret kept the community together by finding ways to keep community events going in the Stinson Community during pandemic restrictions in 2021. She organized a safe method of distributing bags and gloves to preserve the 2021 Spring Clean Up in Stinson. She advocated for the City of Hamilton when the government of Ontario dismissed the need to have pop-up vaccine clinics within the city. Her ongoing advocacy and involvement in the Stinson Community inspires many to engage in events and causes city-wide.
Zaigham Shafiq Butt
Zaigham is being recognized for his contribution over the past 10 years and more to the well-being of the community. As a young person Zaigham has grown up in Hamilton and has a great love for the city. From leading a team to clean Wagner Beach Park to graffiti removal in downtown Hamilton to being part of the Pakistan Business Association (PBA), his dedication to serving his city is evident. His latest accomplishment being the launch of PBA's mobile application, "PBAH Business Directory". Additionally, Zaigham has helped with PBA's partnership with Crescent Food Bank to help deliver monthly food hampers to families who have been struggling during the pandemic. Zaigham has demonstrated great leadership, dedication and passion for community service.
Ward Campbell
Ward is being recognized for the tremendous leadership he has provided to the capital campaign for the new Putman Family YWCA. He has tirelessly shared his personal story and connection to the YWCA through campaign videos and other fundraising materials inspiring people to join the work and give generously to the project. Through his volunteer efforts Ward has leveraged a half a million dollars to directly address the affordable housing crisis in Hamilton by creating 50 new units of permanent housing combined with wraparound support for marginalised women and families. Through his volunteer work with some of Hamilton's most critical healthcare and social service organizations Ward has been able to raise significant funds to power positive change in Hamilton.
Dr. Zobia Jawed
Dr Jawed is a member of the board of directors, chair, and Equity, Diversity and Inclusion lead for the Healthy Youth Network supporting youth in Hamilton. She is the first and only appointed female member of the board of directors of the Pakistani Business Association Hamilton where she provides guidance and support for visible minority women to achieve their business and professional goals in Hamilton. Dr. Jawed has been at the forefront of fighting the COVID-19 pandemic through her visionary leadership and volunteer contributions using a novel wastewater testing-based approach to track COVID-19 at community levels.
Alex Moroz
Alex is being recognized for his contributions to the community over the years for his work in and out of the Rotary Club of Hamilton. He has been active in providing leadership through Rotary in providing an annual Christmas luncheon to the 6600+ children at Cathy Wever Elementary School. He has also helped provide support to the Rotary Summer Literacy Camp which has assisted children from across the city with reading activities leading up to the beginning of each new school year. Alex has also served as the board chair for Hamilton Food Share. He has worked to support the Cathy Wever School neighbourhood as chair of the Wever CORE for the past 14 years providing after school programming.
Nicholas Scime
Nicholas has chaired the Santa Claus parade for two seasons. He chaired the Community Food Advisors group for 3 years and then went on to cooking school for a year and taught many groups, at no charge, healthy cooking programs. He has spearheaded 5-6 events a year in which 50-70 people attend and have fundraised for Interval House, Neighbour to Neighbour, and McMaster Sick Kids, Nicholas has supplied over the last few years over 500 toys to Sick Kids, 1000 lbs of food for Neighbour to Neighbour and over 11 cars full of toiletries and other products to Interval House. At RBG Nichola presently leads over 20 volunteers coordinating their efforts and leading them to assist with over 100 programs.
Edmund Shaker
The son of Syrian-Lebanese immigrants Edmund's commitment to community service is an inspiration because it is grounded in the core belief that we have a duty to work with our fellow Hamiltonians to help make our city a better place to live. He has been a member of the board of directors for both the Hamilton Philharmonic Orchestra and Theatre Aquarius. He has served as a director and president of the Hamilton Chamber of Commerce and the Art Gallery of Hamilton. Edmund led a major effort as volunteer president of the Chamber to negotiate with Ottawa to include the Hamilton airport as part of a divestment initiative and gave Hamilton local control. His work with the Chamber also led to an emphasis on the waterfront renewal we see today.
Mark Wu
Mark is being recognized for his long-time contribution to child and youth sports across the city. He has served since 2005 as a volunteer board member, coach and organizer for the International Children Games. He has coached or administered in youth volleyball ages 9 to 18 years old for the past 20 years. Mark has also been the founder and organizer of the city-wide Hamilton Boys and Girls High School All-Star Games promoting mental health through youth sports.He is also an active volunteer in the current campaign to secure the 2030 Commonwealth Games bid for Hamilton.
Rob Young
As a permanent resident Robert moved from Australia to Canada 5 years ago with his wife and two young children. He fell in love with the sense of community in Waterdown, particularly at the arena and began looking for ways to meet more of his neighbours and give back to the community. He quickly became involved with the Flamborough Hockey Association. As a board member Robert has been an active agent in organizing hockey teams, schedules and tournaments for over 600 young athletes. He is also a team trainer with Flamborough Girls Hockey Association. His service with the Victim Services Unit with Hamilton Police Services has had a profound impact on many citizens of Hamilton following a crime or other traumatic event.
Congratulations to the 2020 Order of Hamilton Recipients.
Rabia Saleem Awan
Rabia originally immigrated to Canada in 1996 from Pakistan. Rabia is being acknowledged with the Order of Hamilton for her tireless work as a volunteer in the Hamilton community. A pillar of the community, Rabia has been running programs both within and outside of the Muslim community. Over the past five years she has tirelessly served seniors at the Hamilton Mountain Mosque. She has secured annual funding, over $53,000 since 2015 from federal and provincial sources to take the seniors on outings to the Royal Ontario Museum, Grand River lunch cruises and Hamilton Harbour boat tours among others. Raising two children of her own, Rabia was also a legal guardian to two children aged 5 and 3. She has served on the board of several local organizations including the Hamilton Mountain Mosque Rabia has served as the Chair of the Muslim Association of Hamilton Seniors Committee, a member of the Muslim Council of Greater Hamilton, volunteered with the Canadian Muslim Vote as Volunteer lead Hamilton Chapter. Organized a Ramadan Campus Iftar (fast breaking) by creating a working bridge between anti-violence and McMaster Muslim Students Association, where Muslims and non-Muslims alike broke fast together. Rabia serves as a wonderful example to her community on the value of volunteer service.
Jim Cimba
Jim has been named to the Order of Hamilton 2020 for his contribution to a wide array of charitable causes to the benefit of the residents of the City of Hamilton. Jim is a lawyer who has built a lifelong legacy of community service. His commitment to volunteer service began over 30 years ago which included his serving as a member of the board of directors of the Children's Aid Society of Hamilton-Wentworth, the Juravinski Cancer Centre Foundation and the Hamilton Waterfront Trust. He has served as the president of the Rotary Club of Hamilton, the Hamilton Club, Theatre Aquarius and the Hamilton Port Authority. He is a founding member of the Lawyer's Legacy Fund for Children. As a member of the John Howard/Liaison College/David Lane Youth Success Fund Committee he has raised academic scholarships for youth at risk. He has also served on the boards of the Hamilton Chamber of Commerce and the Art Gallery of Hamilton. Jim's volunteerism and community service has spanned the City.
Dr. Margaret Denton
Margaret is being recognized with the Order of Hamilton 2020 marking several decades of work as a community leader and advocate for older adults in Hamilton and beyond. She has inspired through her leadership, hundreds of volunteers and thousands of volunteer hours to have been contributed to advocacy work to improve life for older adults and to forwarding projects such as Age Friendly Hamilton, Let's Get Moving and Hamilton's Senior Isolation Impact Plan to improve the life of older adults in our city. Margaret has served as the Chair of the Age Friendly Hamilton Collaborative Governance Steering Committee for six years. She has volunteered with the Hamilton Council on Aging for 15 years. She is a founding board member and has served as the president, vice -president and past-president of the Council. As a volunteer she chairs the Southern Ontario Age Friendly Network and she is the treasurer of the Ontario Council on Aging. Margaret has had a tremendous impact on life in Hamilton. She has ensured that the guiding vision of Hamilton include older adults- 'the best place to raise a child and age successfully.' To improving access to information and skills for countless older adults to positively age in Hamilton. Margaret is an Age Friendly Hamilton Champion.
Brenda Duke
Brenda is a dedicated and engaged resident of the City of Hamilton. She began by leading volunteer clean up and greeting activities in the GALA neighbourhood and her efforts have grown across the city. Brenda is the visionary and founder of Beautiful Alleys and is a tireless advocate in her keeping our community and city clean and green. She is truly a shining example of what can be accomplished by a small group of people. Benda inspires and organizes volunteers with multiple programs and projects such as the Team Up to Clean Up program, Community gardens, Pollinator Gardens and the Adopt-A-Park program. She was the lead volunteer in recruiting volunteers to help out with the Extreme Park makeovers at Birge Park, Woodlands Park and was instrumental in the recruitment of over 200 volunteers for the Extreme Park Makeover at Powell Park which was part of a TVO TV special called The Giver. She ahs also served on the Clean and Green Citizen Committee with the City of Hamilton. Brenda is the lead on the adoption of Powell Park, Birch Avenue Greenspace and co-lead on Woodlands Park and is now in the process of adopting J.C. Beemer Park. She is currently the editor of the North End Breezes community paper. From community gardens, to extreme park makeovers from alley way cleanup to community Easter events Brenda Duke is there serving her community.
Mary Elop
Mary is being recognized with the Order of Hamilton for her 40 years of service with Scouts Canada. She has held numerous positions within the organization. She has been the driving force behind the Ancaster Beaver unit held at Marshall Memorial United Church in Ancaster. Mary has inspired others to volunteer with the movement even after their own children have graduated from the program. Besides being a weekly Beaver leader Mary has served 11 years as the Hamilton-Wentworth Area Registrar, as a member of the Hamilton-Wentworth Area Service Team for 25 years, as Area Commissioner for Beavers for 4 years, Sub-Area Commissioner for Hermitage Springs for over 10 years and as a Venturer Advisor for 2 years. As a local Beaver leader Mary communicates with the families of her Beaver unit weekly. Even during the COVID-19 pandemic she is still holding weekly virtual and in person meetings for her Beaver group of children ages Kindergarten to Grade 2. Over 1,500 young people and their families have benefited from the volunteerism of Mary Elop over the past 40 years.
Anthony Frisina
Anthony has been named as a 2020 Order of Hamilton recipient in recognition of his volunteer work in support of his passion for accessibility. In 2014, Anthony was named a Mohawk College Alumni of Distinction recipient and recognized by the Rick Hansen Foundation as a Difference Maker. Anthony has created and produced a local television program that tackles accessibility awareness and inclusion in the Hamilton area. He has also founded Above and Beyond an organization helping to bridge the gap to accessibility and inclusion across the City of Hamilton. Anthony's continued commitment to serving those in need of accessibility is an inspiration to the wider community.
George Geczy
George is being recognized for his long and tremendous contribution to the Hamilton Public Library. Since 1982 George has bene an active advocate for early technology adoption, internet connectivity and digital literacy across the city. George has served as a member of the Hamilton Public Library's board for 18 years from 2001 to 2019 serving as chair or vice-chair for 9 years. He helped steer the library system through amalgamation and supported public computing through the HPL's 22 branches. As the past chair of the Hamilton Chamber of Commerce's Science and Technology Committee, former board member of the Hamilton-Wentworth FreeNet, and as member of the Hamilton Spectator Community Editorial Board he helped build a connected and future ready Hamilton. George Geczy is a digital pioneer whose support allowed the library to transform from modems and CD-ROMS to in-branch laptop lending and eBooks. he never let the board forget that everyone deserves digital access. George is a champion for digital literacy and has contributed immensely to the Hamilton we all interact with digitally.
Dr. Nadia Eva Rosa
Dr. Nadia Eva Rosa was born in Bratislava, Czechoslovakia in 1938. She lived with her mother and her maternal grandparents in the Bratislava ghetto during World War ll. Captured on Christmas Day 1945, Nadia and her mother were transported to the Sered and Terezin concentration camps. She was six-years-old when she became a prisoner in the death camps. Her grandparents and many relatives perished. Nadia now holds a PH.D. in microbiology. She and her husband fled Soviet occupied Czechoslovakia in 1968. Dr. Rosa has been a lifelong advocate on behalf of local survivors. She inspired a small group of educators to form the committee that launched an annual seminar on the Holocaust, that is now in its 22nd year, with a total of 15,000 students having participated. She has spent her life delivering education about anti-Semitism, anti-racism and bullying. She has received the Shem Tov Award for her volunteer work at Beth Tikvah Synagogue and the UJA Federation of Hamilton's highest award, the CeCe Schreiber Volunteer Excellence Award. Dr. Rosa is being recognized by the 2020 Order of Hamilton for a lifetime spent in the struggle against hatred, discrimination and her work in educating thousands of students on the powerful lessons of the past.
Raven Van Bommel
Raven is being acknowledged with the Order of Hamilton for her tremendous work on behalf of the low-income sector in Hamilton. She is the founder of Essential Aid and Family Services of Ontario; a vocal advocate for some of the most vulnerable families in Hamilton. Their mission is straightforward, to prevent hunger in children and lower health risk by providing free infant and children's essentials to families in need. Essential Aid has been serving the Hamilton area for over 10 years and is now serving over 600 families a month. Raven is a successful local entrepreneur in the tech sector. She has nonetheless made the necessary sacrifices of time, energy and treasure to launch and sustain Essential Aid. Today, Essential Aid is both a well funded and consistent contributor to the community we all live in.
Robert J. Wilkins
Robert has been named a recipient of the Order of Hamilton in 2020 in recognition of his accomplishments in support of a wide range of community projects. He has served most recently as the Public Fundraising Chair for Ancaster Performing Arts Centre inspiring many philanthropists and residents to donate time and money to the project. Robert has raised $5 million dollars in donations, pledges, and gifts in-kind to the Centre. He has helped raise money for the Music at Fieldcote program over the past 20 years. His work in the community has seen the beautification of the Ancaster Village Core, the creation of the Ancaster Farmers' Market, restoration of the Hermitage with the Hamilton Conservation Authority and the maintenance and improvement of the Fieldcote Museum. He has served the broader community for many years as a member of the Ancaster Rotary Club, six years on the board of the Ancaster Information Centre, nine years on the board of the Bay Area Trust Fund and six years on the board of the Victorian Order of Nurses of Hamilton-Dundas branch. Robert's service to Ancaster and the broader City of Hamilton has been exemplary and far ranging.
Congratulations to the 2019 Order of Hamilton Recipients.
Kathy Cooper
Kathy loves basketball. For 50 years, she has paid it forward to children in the Hamilton community as a coach, coordinator and board member for the C.Y.O. and CANUSA Games. In 2000, Kathy became a member of the CANUSA Board of Directors. She has worked tirelessly on fundraising efforts and helped organize and execute the annual CANUSA Golf Tournament. Kathy is also a proud Hamiltonian and has volunteered her time with many other games and events including the 1988 Summer Games, 1991 Disabled Games, 1992 Senior Games and the 2015 Pan Am Games.
Dave Glover
Dave has volunteered in the Hamilton sporting community for almost 60 years. ]From 1962 to 1982, he coached in 3 different sport areas at Alexander Park: Midget Boy's Baseball, Girl's Senior Softball, Bantam Boy's Hockey. He also coached the Stelco Men's Slo-pitch team, was a Board Member of Cub and Scout Troops at St. Paul's Anglican Church for 5 years and CANUSA Games girl's softball coordinator for 8 years. For the last 37 years, from 1982 to present, Dave has been on the CANUSA Board of Directors.
Kenneth Hall
Kenneth began teaching elementary school in 1955 transitioning to secondary school to become a geography department head, a vice principal and a principal. He retired in 1989 to work as a full-time volunteer. As a key stakeholder of the Hamilton Harbour Remedial Action Plan, the Fish and Wildlife Habitat Council and the Giant's Rib Discovery Centre, Ken has placed great emphasis on education. Ken was involved in the development of the Cootes Paradise Fishway, the Great Lakes first two-way fishway to prevent invasive species from entering Cootes. In the early 1990s, Kenneth was a primary leader in the formation of the Hamilton Bay Area Restoration Council and played a key role for 30 years with the Hamilton naturalist Club as their representative on the Hamilton Harbour Remedial Action Plan.
Dr. Joan Heels
At the young age of 87, Joan has been actively involved in many local community projects and has inspired many to be engaged in our community. Joan has been a strong supporter of Rotary and demonstrates the Rotary Motto "Service Above Self" inspiring younger members to become involve in volunteer and service projects that benefit children and youth. In 2013 during the 100th Anniversary of the Rotary Club of Hamilton, Joan spearheaded an initiative to engage women in Rotary. To honour and celebrate the 100th anniversary, a Rotary Remembers Calendar was created featuring Women Leaders. These women leaders put together and created a calendar and then sold the calendars to fundraise funds to support local literacy projects like the Summer Literacy Camp that offers barrier free camp to over 1000 children each year.
Nancy Hewer
Nancy has been an active volunteer for almost 40 years and held varying roles in eight different sport related organizations in the City of Hamilton. From 1981-2007 she was a past President, Treasurer, and Tournament organizer of many events including two National championships, and countless District and Provincial events for the Churchill Fields Lawn Bowling Club. She was an original member of the Sports Council (now Sport Hamilton) and involved with the Disabled Games, Senior Games, and the Grey Cup. She was also on the 1994 and 2000 hosting committees for the International Children's Games and is a past Chairman for the City of Hamilton Sport Volunteer banquet. She has been on the Board of Directors for the CANUSA Games for over two decades.
Latisha Laing
Latisha, or Tish for short, is a passionate volunteer and advocate for the LGBTQ2S+ youth community. She is involved in both HamOntYouth and acts as chair for the Rainbow Youth Collaborative. She participates in lots of events to support LGBTQ2S+ youth in the city and is a great mentor for younger LGBTQ2S+ youth. Tish works through some disabilities connected to a medical condition making her volunteerism even more impressive.
Nina Maljar
Nina is 80 years young this year. She immigrated to Canada from Italy and has lived in Hamilton since the age of 16. She has three children and nine grand children and two great grand children. She is an active volunteer community member at her church and in the community. She has volunteered for over 55 years.
Robin McKee
Robin has demonstrated through advocacy and outstanding commitment to preservation of history in Hamilton Cemeteries for over 20 years. Robin's efforts have assisted in the preservation of the history, memories and physical preservation of Hamilton Cemeteries and has been a dedicated volunteer. As a dedicated volunteer Robin conducts free walking tours each Saturday at Hamilton Cemetery. The Stories in the Stones historical walking tours help preserve the history and memories of those buried in the cemetery. The tours have well over 800 visitors each year, plus over 500 children & youth who participate in guided tours conducted by Robin.
Evelyn Myrie
Born in Jamaica, Evelyn moved to Hamilton from Windsor in 1989 and immediately embarked upon community building work in her new home. She continues to play a leadership role in social development, arts and culture with a strong focus on improving the wellbeing of newcomers, racialized Hamiltonians and women in the city. Evelyn has led the effort to successfully conduct Hamilton's first women's safety audit which resulted in the city's adoption of policies and processes to improve designs to enhance women's safety in public spaces. She is a founding member of Elect more Women – Hamilton and worked for Status of Women Canada for two decades. She has conceptualized and co-founded the John C. Holland Awards- the region's premier Black History Month celebration.
Dr. Anne Pearson
Born in Ontario and raised in a diplomatic family, Anne spent her formative years in Paris, Mexico City, Ottawa and New Delhi. After graduating from the University of Toronto, she completed a Ph.D. (1993) in Religious Studies at McMaster University. From 1996-1998, she held a Heritage Canada post-doctoral fellowship while researching the Hindu diaspora within southern Ontario. Anne is the author of a dozen peer-reviewed scholarly publications. Between 1987 and 2016, Dr. Pearson worked first as a sessional instructor, and then an Assistant Professor at McMaster. Long-term dedication, perseverance, consistency, humility and the visionary perspective have characterized her voluntary engagements. Her leadership on interfaith issues was practiced in several contexts, including Strengthening Hamilton Community Initiative, the Hamilton Wentworth District School Board, the Hamilton Interfaith Peace Group and at the Parliament of the World's Religions. She also played leadership roles in related peace activities, for example with the Gandhi Peace Festival, Culture of Peace Hamilton and the United Nations Association of Hamilton. After the torching of the Hindu temple on Sept. 15, 2001, she worked with Rev. Paddy Doran to create the poster "An Attack on One is an Attack on Us All". She was the Lead Animator on the Working Group of the Strengthening Hamilton Community Initiative for promoting interfaith and intercultural understanding and respect.
Why an Order of Hamilton?
The Order of Hamilton recognizes the exceptional voluntary contributions of individual Hamiltonians to the building of a better and improved City of Hamilton.
When and where is the Order of Hamilton awarded?
The Order is awarded at the Mayor's New Years Levy normally held at Hamilton City Hall on the Sunday following New Years Day.
How is a person nominated to receive the Order of Hamilton?
A person is nominated to receive the Order through a nomination process found online, at Hamilton City Hall, or any of the Municipal Service Centres and at any branch of the Hamilton Public Library. The nomination form must be accompanied by at least one letter of reference from someone other than the nominator and with the signed agreement of the person being nominated.
What does the awardee receive when awarded the Order of Hamilton?
The recipient of the Order receives a ¾ inch lapel pin along with a 2-inch medal and accompanying ribbon.
Who determines who receives the Order of Hamilton?
The Order is awarded by a committee consisting of the City Manager, the Clerk, and chaired by the Mayor. No more than 10 are awarded in any given year. If the judges are unable to determine a suitable candidate no award will be given in that year.
Why is someone awarded the Order of Hamilton?
Individuals resident in the City of Hamilton at the time of the awarding of the Order must have demonstrated an exceptional voluntary contribution to community building and/or service in the City of Hamilton. The contributions must be determined to have been over and above their professional contributions to the City of Hamilton.
Date modified
January 17, 2023