Waterfront Redevelopment
CHH Jamesville Redevelopment

The redevelopment of Jamesville is an opportunity to create a medium density mixed-income community on a 2.3 ha property that contributes to the vibrancy of the West Harbour neighbourhood.
The intent of this project is to bring together innovations in land-use planning, building design, financial structure and community benefit in a transformative development.
Redevelopment and Revitalization
Following a Request for Expressions of Interest (RFEOI), the City of Hamilton's social housing agency, CityHousing Hamilton ("CHH"), launched a "Request for Proposals (RFP)" process for the redevelopment and revitalization of CHH's Jamesville neighbourhood. This process began on April 8th, 2019, to seek proposals and financial bids from private sector, for-profit and not-for-profit, development and building industry companies.
Through this RFP process CHH aims to replace on the site, the existing 91-townhouse complex with a 46-unit, rent-geared-to-income (RGI) apartment building plus a broader mixed-income community. CHH's 46-unit building will be situated and integrated into the project on a portion of the existing site that will continue to be owned by CHH.
The RFP requires that the project must also include, at a minimum, a 45-unit affordable rental building, where rents must average not more than 125% of Median Market Rent. The RFP evaluation approach includes a further incentive for proposals to offer an overall proportion of affordable units within the project, of greater than 15%.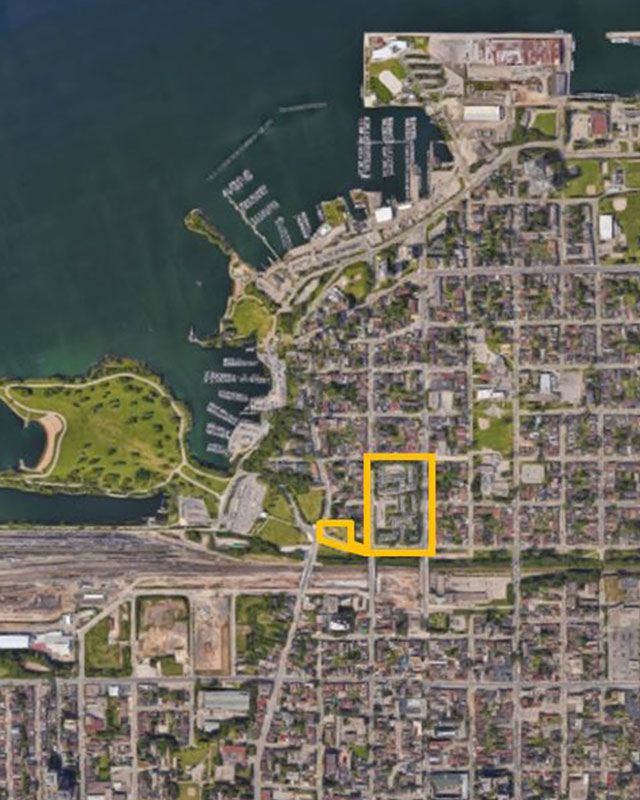 These parameters will ensure that, at a minimum, the original count of 91 affordable housing units is maintained, while promoting a diverse, inclusive, mixed income, urban community.
In addition, separate from but linked to the Jamesville development, 45 of the original RGI units from Jamesville will be accommodated nearby at the newly acquired CHH site at the South East corner of Bay and Cannon, along with 10 net new moderately affordable units.
This approach rebuilds deeply affordable units within the community and creates a spectrum of, and increase to, affordability with new moderately affordable units.
The RFP closed on June 6, 2019 and on July 22, 2019 Marz Homes was identified as the Preferred Proponent with whom CHH entered a bilateral due diligence period which was completed September 2019.
On September 24, 2019, CHH received Board approval to carry out the final negotiations with the Preferred Proponent to establish the legally binding Contract Documents, which are expected to be completed in Fall 2020.
Timeline:
March 21, 2017 Planning Committee - Report 17-005 includes a motion for Bay-Strachan lands to be included in the Jamesville redevelopment and for assistance in relocating the community garden  
May 8, 2017 Request for Expression of Interest provided opportunity for CHH to gauge interest and understand approaches of prospective development partners 
July 18, 2017 CHH Board - Report 17021(a) identified the transfer of 45 RGI units from Jamesville to Bay-Cannon 
November 28, 2017 Affordable Housing Site Selection Committee - PED17219 provided approval of properties for disposition for the purposes of affordable housing  
September 25, 2018 CHH Board - Report 17007(a) provided approval of RFP objectives, offering process, informed by the feasibility analysis. 
December 20, 2018 CHH Board – Report 17007(b) authorized the commencement of the public offering process and approval of the evaluation criteria and scoring framework 
April 8, 2019 RFP C18-07-19 launched a competitive process for providing affordability through the Jamesville land offering 
July 23, 2019 Procurement Website Notice, following an evaluation of proposals, the Preferred Proponent was identified through a limited public disclosure of the Preferred Proponent's identity being posted 
September 24, 2019 CHH Board – Report 17007(c) followed a period of due diligence and provided approval for the Preferred Proponent to become the Qualified Preferred Proponent, initiating the negotiation period 
December 10, 2019 Reimagine Jamesville microsite launch for a public open house and community engagement sessions
October 27, 2020 CHH Board – Report 17007(d) approval of the redevelopment plan and Terms of Reference 
June 3, 2021 Emergency and Community Services Report - HSC21011 provided Service Manager Consent to CHH to sell the Jamesville property for redevelopment 
December 10, 2021 Master Development Agreement executed 
June 15, 2022 ERASE Redevelopment Grant Application was approved at GIC (demolition only)
August 9, 2022 OPA and ZBA approved 
September 14, 2022 Formal appeal was filed by CNR 
Formal Appeal
In August 2022, Hamilton City Council unanimously approved the development application for the Jamesville project, however, the City of Hamilton, CityHousing Hamilton and the developer have paused demolition and remediation work as an appeal to the Ontario Land Tribunal was filed by CN Rail. CN's reasons for the appeal are centred on concerns of odour, vibration and noise.
Until the appeal has been resolved, demolition and remediation remain paused, and further details relating to the completion of this project will become available at that time.
There are no hearing dates at present.
Date modified
January 05, 2023