Emergency Ride Home
Smart Commute workplace employees can get reimbursed (up to $75) for emergency transportation costs. If you run into an emergency, arrange & pay for transportation - taxi, transit and/or rental car. Be sure to retain all transportation receipts. We'll get you home!

For Reimbursement Claims

September is Smart Commute Month
Rethink your commute and get rewarded! Find out how you can win prizes throughout the month by trying a sustainable commute.
Smart Commute Hamilton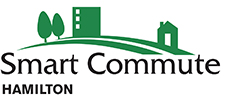 Smart Commute is a GTHA program that helps individuals and organizations travel efficiently and sustainably. We help employers and commuters explore different commute choices like carpooling, cycling and transit. Our goal is to ease gridlock, improve air quality, and reduce greenhouse gas emissions while making your commute less expensive and more enjoyable.
Join our Mailing List
Sign up for our newsletter to learn about upcoming events, special promotions and new travel options coming to Hamilton.
Subscribe to Monthly Newsletter
Missed an issue?