Park Projects
Gage Park


Legacy Project Award Winner
The Canadian Society of Landscape Architects has awarded Hamilton's Gage Park with the CSLA's Inaugural Legacy Project Award for 2016.
Gage Park is a 30 hectare multi-use park located at 1000 Main Street East in Ward 3. The site is bounded by Main Street East, Gage Avenue, Lawrence Road and the homes of Rothsay Avenue.
Built in a style reflective of the Canadian City Beautiful movement of the 1920s, Gage Park is one of Hamilton's most iconic, historical and cultural landscapes. Gage Park has outstanding gardens, a historical fountain and a large selection of trees.
Gage Park is being upgraded in accordance with the Master Plan (2010). Due to the large number, upgrades are being done in multiple stages over many years.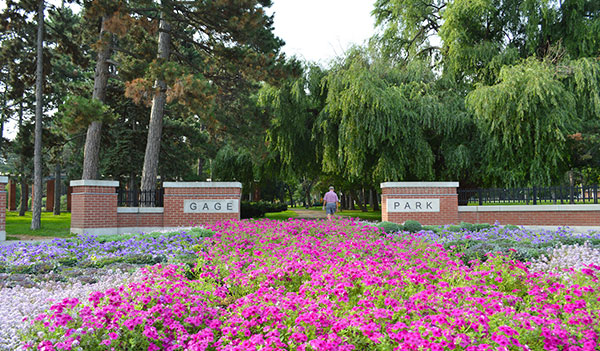 Gage Park Walkway Improvements Project
The Gage Park Walkway Improvements Project includes the paving of the main loop pathway and minor pathways to improve accessibility to key areas, such as the washroom buildings, playground area and bandshell. Review walkway improvements plan(PDF, 1022.72 KB). Thank you for you patience and understanding as we improve our parks.
March 2022 Construction Update
Between September 2021 and December 2021, existing gravel walkways were excavated and replaced with new gravel. New walkways were installed to the bandshell, and around the playground. Several concrete bench pads and waste receptacle pads were installed throughout the park, adjacent to the walkways.

In December 2021, construction on the walkway was paused for the winter season. When the spring weather allows, the contractor will mobilize to complete asphalt work, bench installation and sod/seed restoration adjacent to the walkways and disturbed areas. In order to safely complete the remaining work, a series of intermittent closures along the pedestrian pathway is required. Signs are posted on the construction fence directing users to multiple access points where users can pass through the closed portions of walkway. 

The Phasing Plan(PDF, 359.05 KB) will be posted in high-traffic areas.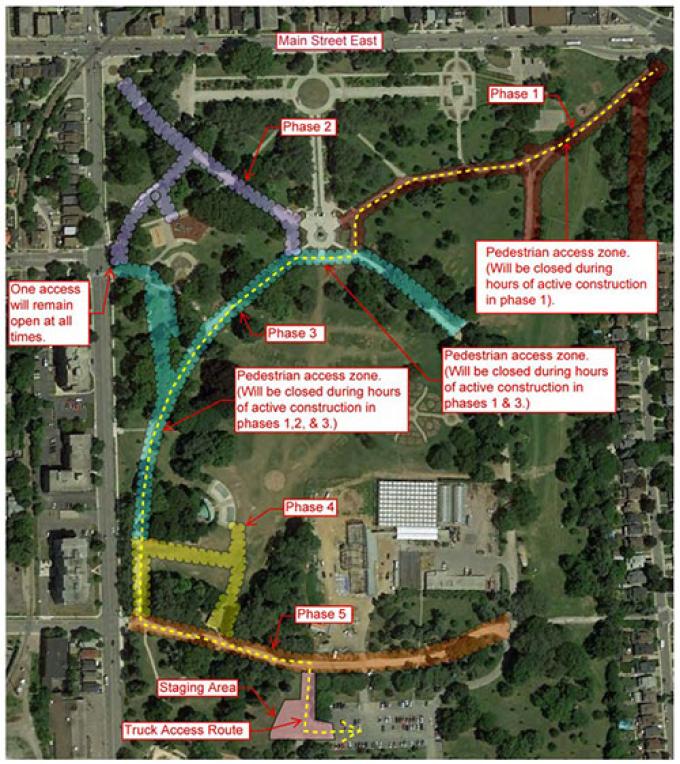 Date modified
September 13, 2022