Park Projects
Mountainbrow Trail

Jointly Funded
This project is jointly funded with Infrastructure Canada through the Investing in Canada Plan.
The Mountainbrow Trail Initiative #4 forms part of the Mountainbrow Trail Feasibility Study. The goal of the study was to assess the feasibility of a continuous and integrated route along the top of the Niagara Escarpment that begins at the Iroquioia Heights Conservation Area and terminates at the Devils Punch Bowl.
Trail initiative #4 is an existing route that runs between Sanatorium Road and Scenic Drive in Ward 14. It was identified in the Feasibility Study for redevelopment. Branding and signage created for this trail segment will serve as the template for future officially recognized Mountainbrow Trail Initiatives.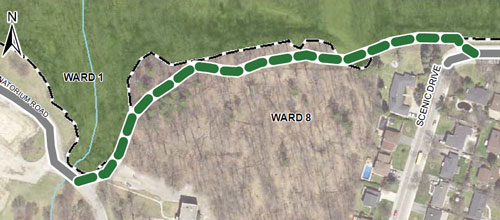 Date modified
December 20, 2022