Home Water Services
Water Meters

Alectra Utilities reads each water meter monthly and prepares the bill for the City of Hamilton. During a meter read, if from the read or inability to get a read were to happen, Alectra may suspect that there is a meter malfunction. Alectra Utilities may contact you directly to discuss unusual usage or notify the City to issue a work order to investigate the issue further. If our investigation determines that your water meter needs to be repaired or replaced due to general wear and tear, you are not charged for the cost to repair or replace the meter.
Water Meter Replacement Program
Have you received a letter from the City of Hamilton and Neptune Technology Group about your water meter? That's good news, as it most likely means your water meter is over 20 years old and it's time to be replaced and it's all free to you!
Your water meter is designed to provide many years of reliable service. Most residential meters last over 20 years but they begin to wear out over time. The City of Hamilton has a maintenance program to monitor the age of the city's water meter population and replace them when they reach an advanced age.
When your water meter needs to be replaced, you will be notified by a letter from the City and Neptune Technology Group, the contractor who completes the water meter replacement on the city's behalf. The letter will contain a reference number located under your address and advise you to book your appointment by calling 1-800-667-4387 or book online at watermeterappt.com.  The scheduling agents will endeavour to find the most accommodating time period for you to complete this. 
For more details about Neptune's role in water meter replacement, the appointment process, or the installation, please visit the Frequently Asked Questions page.
For COVID-19  Safety Measures please visit their safety page.
Property Owners Responsibilities
Please note that the owner of the home or business in which the water meter is located is responsible for:
Providing easy access to the city owned water meter for City-authorized staff or contractors to complete meter reading, repairing, installation, maintenance and removal.
Protection of the water meter from damage including freezing.
Payment of the cost of repairing a meter damaged by frost or otherwise, or the cost of replacing a meter if it's lost or stolen.
Immediately notifying the City of any problems with the water meter which appear to require repair.
Learn how to
Monitor your water usage
You should know how to read your water meter so you can monitor your water use and detect water leaks. Your water meter is usually located in your basement.
Your water meter measures water in cubic metres and displays your total water use to the nearest tenth of a cubic metre.
Your water meter is similar to the odometer in your car every 0.1 cubic metre (100 litres) of water consumed causes the sweep hand to make one complete turn and the total to increase by 0.1 cubic metres.
Monitoring water use
To monitor your water consumption:
Check the odometer reading on your meter and write it down, along with the current time. Wait 24 hours and take the reading again. The difference in the readings is your consumption for that period. You can do this at any time to check your water usage for any amount of time.
To calculate how much water is used by household appliances or activity, record the odometer reading before and after that activity. The difference is your consumption. Make sure that water is not being used by any other activity while you complete this test.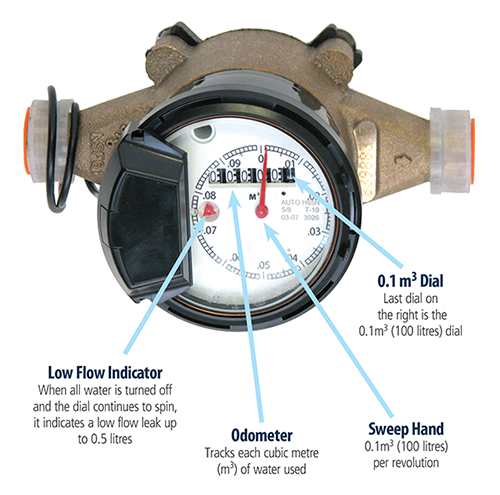 If your water use changes suddenly for no obvious reason, report this directly to Alectra Utilities billing office at 1-833-253-2872.
Check your plumbing fixtures for leaks before checking your water meter for a malfunction. Water meters may become less efficient in reading all water that goes through them as they get older. Water meters generally do not speed up and register extra water through them.
If you believe that the water meter may be the cause of your high water use readings, you can apply to have the meter tested for accuracy by filling out the Meter Testing Request Form(PDF, 392.2 KB). You can also obtain this form by contacting Alectra Utilities at 1-833-253-2872.
The water meter testing request form must be completed, signed and returned to Alectra Utilities before the test is performed.  A water meter test fee will be added to your water bill prior to the test. The fees vary depending on the size of the water meter. These fees are indicated on the meter test request form. The size of your water meter can be found on the bottom of your water bill.
For more information regarding the water meter testing procedures and the current rate for testing, contact Alectra Utilities at 1-833-253-2872.
Date modified
January 25, 2023