Accessible Transit
Accessible Low Floor Buses

Easy to use for everyone
Do you have difficulty climbing stairs? ALF buses can accommodate wheelchairs, scooters and walkers as well as bicycles, strollers and buggies.
All buses in Hamilton have Accessible Low Floors (ramps) and the International Symbol for Accessibility appears on the front and side of the bus. Accessible Low Floor buses have ramps that provide level entry and exit with no steps. These floors make it easier for everyone, especially for people in wheelchairs, scooters and walkers to get on and off the bus.
HSR buses can accommodate wheelchairs and scooters within the standard size of 30" wide by 48" in length which complies with the requirements of the Accessibility for Ontarians with Disabilities Act (AODA).
Bicycles, strollers and buggies
Bicycles, strollers and buggies can use ALF only where there is enough space on the bus to store them. They must be held securely by the passenger at all times when the bus is moving, clear of the aisle and not to disrupt other riders.
---
Wheelchairs and scooters on buses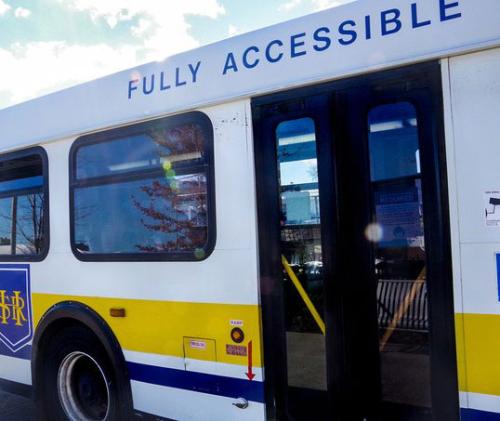 Getting on the bus
There are two rear facing wheelchair spaces on each ALF bus. One space is located directly across from the centre doors of the bus. The bus seats at the wheelchair spaces rise to make room for a wheelchair. These wheelchair spaces accommodate most wheelchairs and scooters. If passengers are sitting in the folding seats and the wheelchair space is required they will be asked to move.
Only two customers in wheelchairs can ride an ALF bus at one time. If both spaces are taken you will have to wait for the next ALF bus.
You must be able to safely manoeuvre yourself into the wheelchair spaces. A support person must accompany you if you are unable to board or exit, approach the seating area or secure your wheelchair. Passengers in wheelchairs must use the lap belt.
Getting off the bus
Push the stop request button before the bus gets to your stop. The stop request button is located on the yellow bar beside the wheelchair space. A special light on the bus dashboard tells the driver that the ramp needs to be lowered to let the person in the wheelchair or scooter off the bus.
If you are unable to use HSR buses
If you have a disability and have difficulty using the HSR, you can apply for Accessible Transit Service to use either the Taxi Scrip program or DARTS.
Date modified
September 06, 2023