Products & Services
Service Options

Hamilton Municipal Cemeteries offer a beautiful and tranquil setting to say goodbye. Our cemetery service staff team will prepare the grave area with care and respect. We believe it is a good idea to select your burial or cremation property ahead of the time of need if possible.
Selecting the cemetery and final resting place for a loved one is an important decision. Hamilton Municipal Cemeteries is proud to have the opportunity to serve you. We are honoured to know that you have placed your trust in our team to care for you and your family, while commemorating the life they lived.
All burials include (where applicable)
Roadside signage to identify the location of a service
Coco-matting at the roadside and around the grave
Artificial grass dressing
Urn burials and columbarium niche entombments include (where applicable)
A cremation stand
Roadside signage
Coco-matting at roadside
Columbarium niches faceplate holder
Tent & Chairs Service and Graveside Services
There are countless ways to honour the life of your loved one, and many options to create a personalized, unique graveside service. We offer the option to have a 10 x 10 tent and four chairs set up at the grave site. The addition of a tent and chairs offers protection from weather and comfort for immediate family members.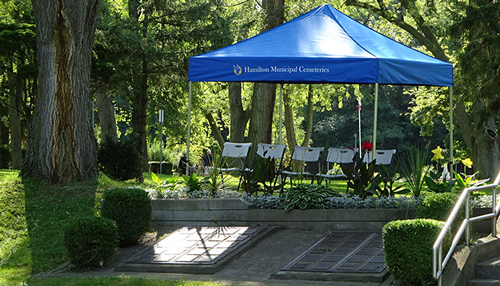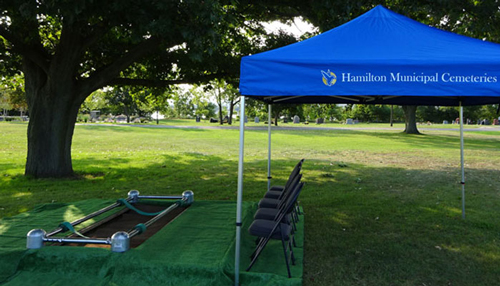 Date modified
July 12, 2022