Cycling Infrastructure
Keddy Access Trail

Keddy Trail Public Art Project
The City has commissioned a series of mural projects along the Keddy Access Trail.
About Keddy Access Trail
The Keddy Access Trail was facilitated by re-purposing a vehicular travel lane on the Claremont Access, one of the city's busiest mountain access corridors, to provide a high-quality active transportation connection between the lower city and mountain.
Completed in December 2020, the Keddy Access Trail is a 2.1 km multi-use facility. Including side connections, the total length of the project is 2.7 km.
The Trail spans between Hunter Street and West 5th Street, with side connections at four locations (including an entry point at Hunter Street and the bottom of the Claremont Access). These connections are 3m wide asphalt trails, located at:
West Avenue (near Wellington Street)
St Joseph's Drive
North and south sides of Arkledun Avenue / Jolley Cut
Tanner Street through Southam Park
The trail is fully wheelchair and stroller accessible.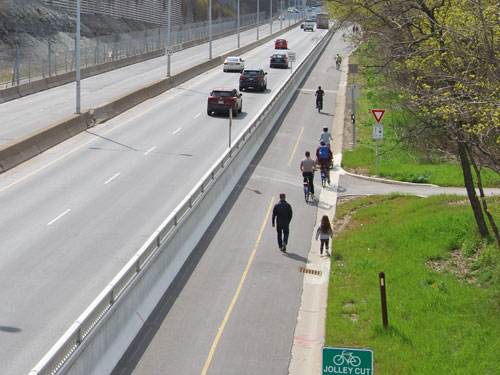 The Claremont trail is dedicated to the memory of Jay Keddy, an avid cyclist, parent and respected teacher in the Hamilton community.
Date modified
June 07, 2023