Music in Hamilton
The Anne Foster Windows
The Anne Foster Window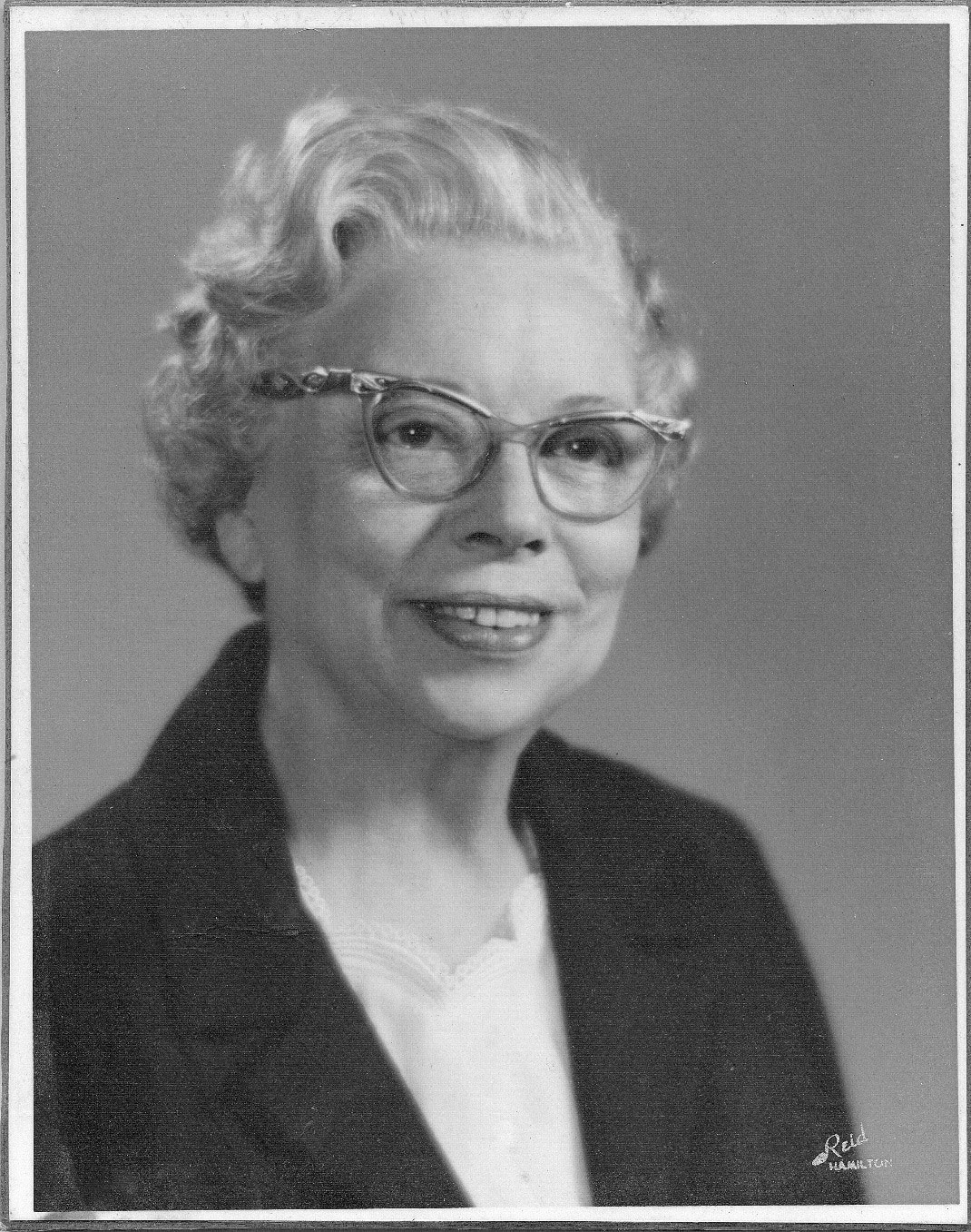 From 1942 to 1989, records, sheet music and some instruments filled the windows of a small shop in the historic Lister Block building on James Street North. This space was once the home of Anne Foster's music shop, a small business started by Foster to supply sheet music to Hamilton's music community.
Anne's entrepreneurial spirit and keen understanding of her audience fueled one of Hamilton's early women-owned and operated businesses. Her shop became the go-to place for local choirs, orchestras and musicians.
Anne died in 1969 but her vision lived on through the work of the shop's next owner, John Taylor. A former employee of Anne's and a talented organist, Taylor kept the business largely unchanged – including the sign, which was always missing the "e" from Anne's name – until it closed in 1989.
From 2017 to 2019, the Anne Foster windows housed rotating displays designed by local artists to celebrate all things music in Hamilton. Today, this space serves as a reminder that, as described in the Hamilton Music Strategy, music plays a role in a strong vibrant city. Music is part of Hamilton's economic prosperity and its identify – locally, nationally, and internationally.
Anne Foster Windows
Past Window Gallery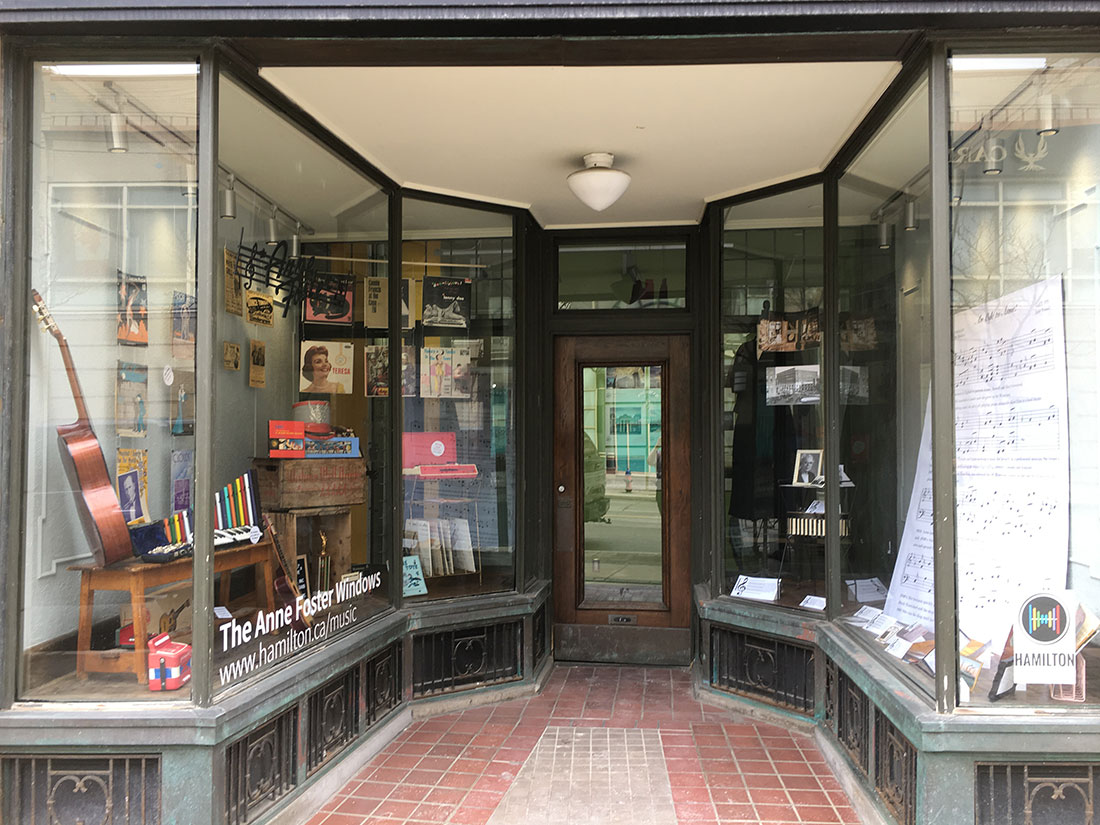 The Anne Foster windows, arranged with musical instruments on display in tribute to Anne Foster. March 2018 by Whitney McMeekin.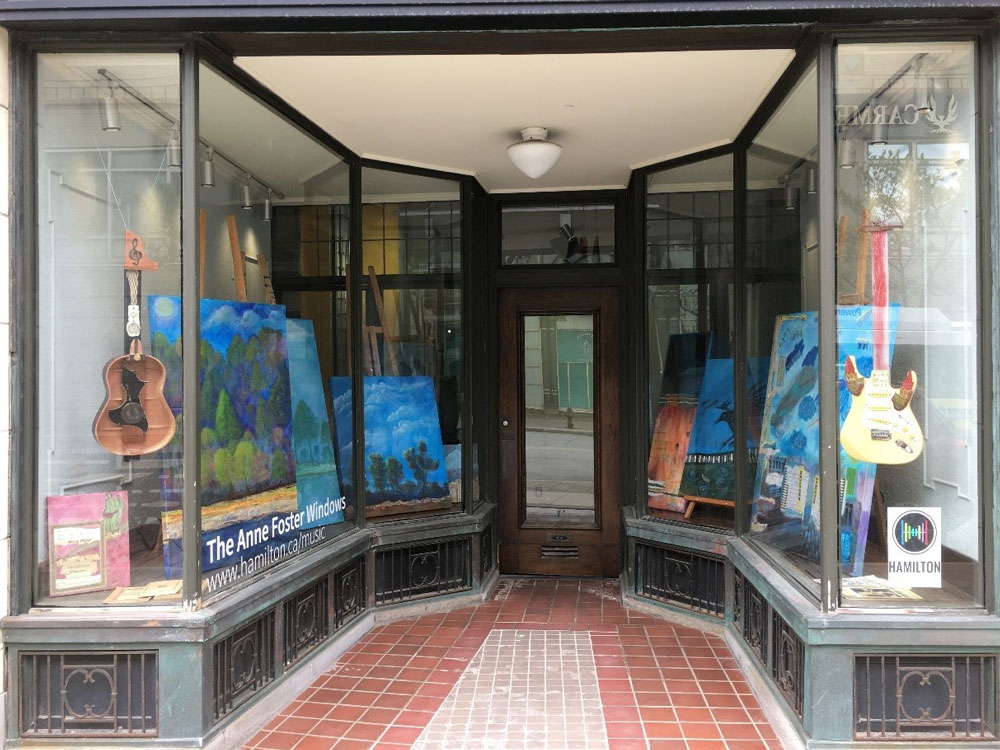 The Anne Foster windows in June 2018 with musical instruments and colourful paintings by Artist Jude Johnson on display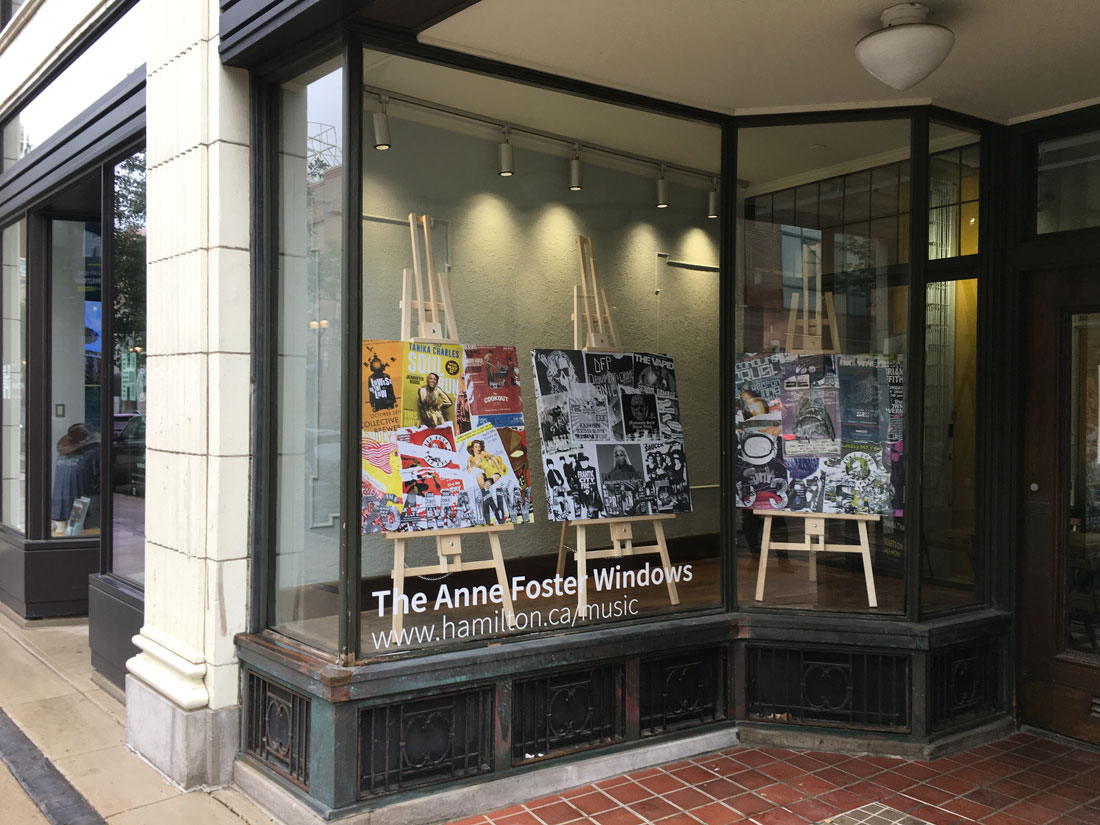 Anne Foster windows with display of art by Jeff Butters - Sept 2018
Photo 1: March 2018 window display by Whitney McMeekin showing historical artifacts from the early years of Anne's music shop (1942-1969), including newspaper clippings, photos, vintage instruments, and sheet music. The display celebrates the history of music in Hamilton and shows how music is an important part of the downtown core.
Photo 2: June 2018 window display by Jude Johnson, a local singer/songwriter and visual artist. The display incorporates old sheet music and old instruments to recall the time the artist spent in Anne Foster's music shop selecting sheet music with her father.
Photo 3: September 2018 window display by Jeff Butters. The display incorporates a vintage bicycle and old posters found on telephone poles to celebrate local musicians, venues, and musical events. The display also brings attention to the city's connection to musician David Byrne of the Talking Heads, who lived in Hamilton as a child. 
Date modified
March 20, 2023