Master Plans & Studies
Recreation Master Plan

Contact Us
Dawn Walton
Manager, Business Support
Recreation
Call 905-546-2424 ext. 4755
Email: [email protected]
Romas Keliacius
Senior Project Manager
Recreation
Call 905-546-2424 ext. 4722
Email: [email protected]
The overarching goal of the Recreation Master Plan is to ensure the City's recreation portfolio is responsive to current and future needs over the next 10 to 20 years and beyond in a responsible, equitable and cost-effective manner.
About the Recreation Master Plan
For over ten years, major recreation infrastructure investment in the City of Hamilton has been successfully guided by the Use, Renovation and Replacement Study for Hamilton Recreation and Public-Use Facilities (Indoor Study) and the Outdoor Recreation Facilities and Sports Field Provision Plan (Outdoor Study). An update is required to incorporate and address the latest research, demographics, growth and facility data.  The Recreation Master Plan is a comprehensive analysis that combines the previous indoor and outdoor studies to inform future capital planning and service delivery needs and provide alignment with the Growth Related Integrated Development Strategy (GRIDS 2) and other City initiatives.
The Recreation Master Plan evaluates a range of service and facility types, including outdoor recreation amenities, indoor recreation facilities, as well as recreation programs and services to identify needs and priorities across the City of Hamilton. The principal goal of the Master Plan is to ensure that the City's recreation portfolio is responsive to the current and future needs of the community in a responsible, equitable and cost-effective manner.
The Recreation Master Plan was created with the engagement and input of both public residents and community stakeholder organizations between summer 2021 and spring 2022, and was approved by City Council in August 2022. The Recreation Master Plan contains 85 recommendations, some of which refer to specific one-time projects or actions and others that provide ongoing guidance.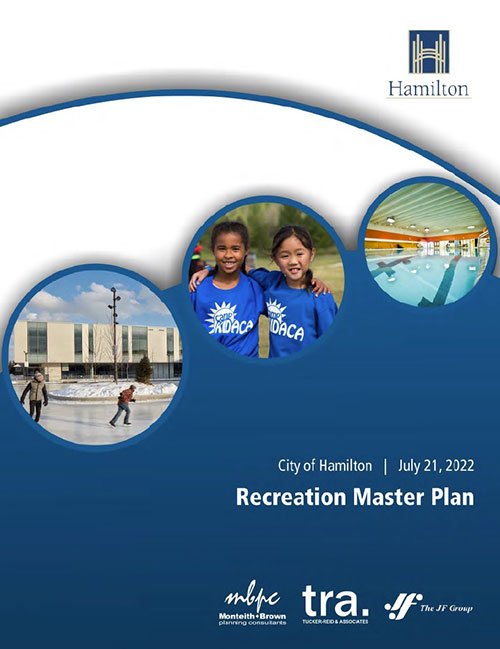 Download Recreation Master Plan(PDF, 11.64 MB)
Download Summary of Recommendations
Download the Staff Report to ECS Committee
The directions in the Master Plan will inform the City's annual budgets and long-term capital forecasts, growth planning, and related studies. The goal is to work within the City's budget process by advancing recommendations in alignment with population growth and funding opportunities, including partnerships and other external funding sources when available. The City anticipates updating the Recreation Master Plan every ten years.
Periodic updates on the progress of each recommendation in the Recreation Master Plan will be communicated and updated as they are implemented.
Date modified
November 22, 2022