Adults 55+ Services
Age Friendly Hamilton
How is Hamilton Aging?
Watch an update on how Hamilton's Age-Friendly plan has progressed in its first year. 
This show was developed in partnership with the City of Hamilton, Hamilton's Council on Aging, the City's Senior Advisory Committee and the Province of Ontario in collaboration with Cable 14.
Seniors are the fastest growing age demographic world-wide.
According to 2021 Census Data, there are 104,290 older adults age 65+ living in Hamilton, which represents 18.3% of the population. Over the next two decades this number is expected to double. Planning for the needs and priorities of older adults and seniors is necessary to ensure that they age successfully!
In 2013, the City of Hamilton partnered with the Hamilton Council on Aging (HCoA) and Seniors Advisory Committee of Council (SAC) to begin the development of Hamilton's first Age-Friendly Plan, Hamilton's Plan for an Age-Friendly City (2014). The plan was endorsed by City Council in 2014 and in 2015, Hamilton became a certified member of the World Health Organization's Network of Age-Friendly Cities and Communities.  
From 2014 to 2019, the City of Hamilton, HCoA and SAC worked in collaboration with many community partners to make Hamilton an age-friendly city by implementing many of the recommendations in the first plan. By the end of March 2019, 81 of the 101 recommendations were completed or were being implemented. In 2019, the City of Hamilton, HCoA and SAC began the process of developing Hamilton's second Age-Friendly Plan with the goal of identifying the current needs and priorities of older adults and seniors living in Hamilton.  A broad community engagement initiative included multiple methods of community consultation, including a launch event, focus groups, an "Aging in Hamilton" survey, and by attending local events to connect "one to one" with older adults who reside in Hamilton. By the end of 2019, 4,100 older adults and other community stakeholders were consulted. Hamilton's second Age-Friendly Plan was to be launched in 2020 but the COVID-19 pandemic put a pause on this goal as the pandemic became the priority.
In 2020, and in response to the COVID-19 pandemic further consultation took place to identify the impact of the pandemic on the lives of older adults and seniors residing in Hamilton. In addition, it was recognized that the needs and priorities of people living with dementia and their caregivers needed to be included in Hamilton's second Age-Friendly Plan.
Hamilton's Plan for an Age-Friendly Community (2021-2026) was launched in April 2021 and includes 7 strategic goals, 21 objectives and 61 recommendations. Like Hamilton's first plan, this plan is a guide for municipal decision-makers and community stakeholders in addressing the current needs and priorities of older adults and seniors living in Hamilton.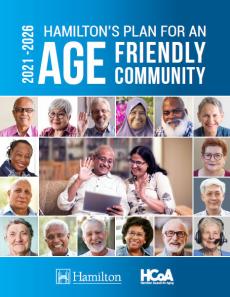 The Plan is organized around seven goals, 21 objectives and 61 actions and commits to a series of actions to achieve these goals.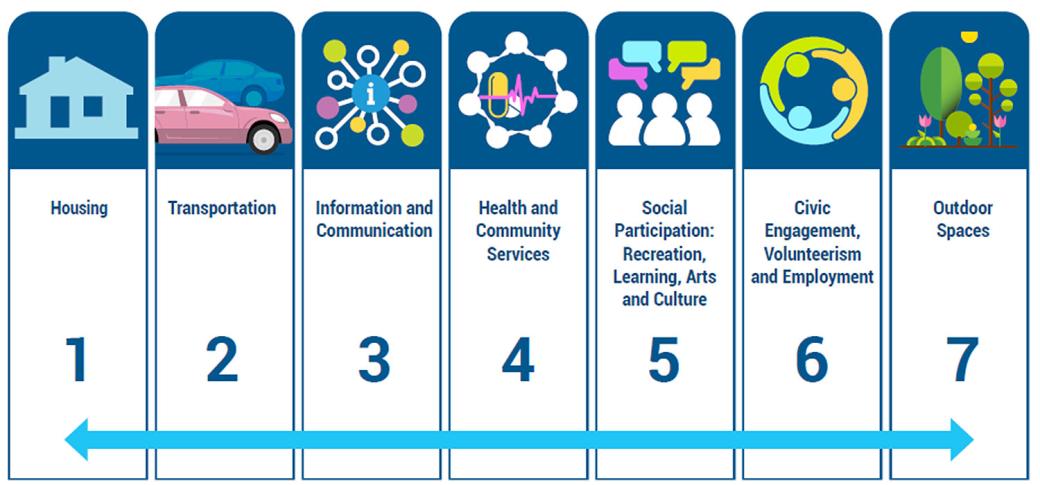 Everyone should have a place to live. People are supported in ways that make sense for their unique circumstances with a full range of housing options in their neighbourhoods.
Safe and affordable housing is fundamental to our health and well-being and represents basic needs upon which other needs are addressed and met. Increasingly, older adults want a broader range of housing options available when making decisions about where they want to live as they age. Most older adults want to age-in-place in their own homes and familiar neighbourhoods.
Objective H1: Ensure affordable, accessible and safe housing options for older adults.
Recommendations:
H1.1 Review city policies and strategies to ensure a wide range of housing options and to enable homeowners to leverage their assets.
H1.2 Explore housing options such as Naturally Occurring Retirement Communities (NORCs), co-housing, multigenerational living, lease-for-life as well as social housing in new developments.
H1.3 Increase knowledge about and awareness of housing options, modifications, supportive programs and services through information hubs, publication of existing resources (online and in print) as well as ongoing education outreach events and workshops.
H1.4 Focus on building complete neighbourhoods with a diverse housing mix that includes an increase in the availability of affordable housing, an increase in rental units as well as the development and implementation of a Second Unit14 housing strategy.
H1.5 Increase awareness within both public and private long-term care homes and in other housing initiatives of the needs and interests of diverse populations (e.g. ethno-cultural communities, LGBTQ2S+ older adults).
H1.6 Apply an age-friendly lens at the beginning of any future planning process to ensure that the housing, transportation, recreation and other needs and interests of older Hamiltonians are incorporated into a cohesive and complete plan.
Objective H2: Increase supports to facilitate aging-in-place.
Recommendations:
H2.1 Increase awareness of financial supports to enable older adults to remain in their homes.
H2.2 Design and implement a program that provides home owners with access to capital to renovate their homes.
H2.3 Explore and implement programs to better serve vulnerable older adults, enabling them to remain in their housing of choice.
The City's transportation systems, urban design and physical infrastructure enable people to participate in community life as they choose, as well as age in their community.
Transportation is important for active aging, from enabling us to participate in social activities to being able to access health and other core services.
Objective T1: Provide driver training and other supports for older adults to continue to drive safely.
Recommendations:
T1.1 Develop and offer driving workshops and refresher courses that include information about available driving aids (e.g. wider mirrors).
T1.2 Use a variety of information-sharing strategies to increase awareness about alternatives to owning a car, costs of driving and insurance and alternatives such as public transportation and taxis.
Objective T2: Create a public transportation system that is affordable and accessible to everyone living within Hamilton's geographic boundaries.
Recommendations:
T2.1 Collaborate with the HSR, Accessible Transportation Services (ATS) and transportation planning as the HSR re-envisions their plans for the future, including the customer experience, to be sure the needs of older adults are addressed.
T2.2 Provide wayfinding signage at bus stops, shelters and terminals that is readily accessible for all public transportation users including individuals living with dementia and cognitive impairments.
T2.3 Ensure improved public transportation options for people residing in areas under-served by the HSR but that are within the urban boundary.
T2.4 Ensure the accessibility, availability and affordability of transportation options outside the urban boundary, including rural areas of Hamilton.
T2.5 Ensure that public transportation is available in new areas of development.
Objective T3: Implement measures to increase pedestrian safety. 
Recommendations:
T3.1 Improve the walkability/accessibility of public spaces and streets in the winter through snow removal from sidewalks, intersections, and transit stops, shelters and terminal locations.
Older adults have access to information and systems that are better connected, and are able to influence and design the type of information systems they need; customer service and way-finding are intentional and responsive to individual needs and capacities.
Accurate and reliable information must be available, accessible and easy to find. Community information systems must be available in multiple formats to meet the diverse needs of older adults who may access information in print, online, via telephone, and on local television and radio stations. In addition, community information must be accessible by individuals who may be living with a cognitive impairment, vision and/or hearing challenges or who may have low literacy skills.
Objective IC1: Increase and improve access to information for all older adults.
Recommendations:
IC1.1 Design, implement and evaluate a public campaign to increase awareness about 211, the Red Book Community Information and the City of Hamilton website.
IC1.2 Improve customer service across all sectors to ensure that services are age-friendly and dementia-friendly.
IC1.3 Connect information portals with other existing portals (e.g. GERAS Caregiving Portal and guides [e.g. City of Hamilton Recreation Guide] to ensure a more cohesive and comprehensive flow of information).
IC1.4 Ensure that information is available in multiple formats and languages, including online and print (refer to the Accessibility for Ontarians with Disabilities Act – AODA - 2005) to ensure compliance with minimum requirements.
IC1.5 Provide affordable access to technology, initial training and ongoing support, as well as access to the Internet.
IC1.6 Provide reliable and consistent Internet service to everyone living within Hamilton's geographical boundaries.
Objective IC2: Review City of Hamilton website to make sure that it is user friendly, easy to access and navigate.
Recommendations:
IC2.1 Review the City of Hamilton website to ensure that information for older adults is up to date and easy to find.
IC2.2 Establish a process to periodically review and update the website content.
Objective IC3: Provide training to staff in the public, not-for-profit, profit and private sectors to ensure they have up-to-date information about services designed for isolated and/or vulnerable older adults in Hamilton. 
Recommendations:
IC3.1 Explore innovative ways to deliver information in multiple formats to older adults, such as by adding inserts to City mailings such as tax and utility bills.
IC3.2 Ensure print and digital information is AODA compliant so as not to exclude older adults who may be living with physical impairments, vision impairments, hearing impairments and/or cognitive impairments.
IC3.3 Create awareness and provide education and ongoing training for municipal staff, community organizations, private businesses and the corporate sector about how to communicate with individuals living with dementia and their families.
Older adults have access to a wide range of supports and services that allow them to remain in their homes and attend to their health and personal needs. Aging in community is eased by good urban design, appropriate housing, and the support of family and community.
Older adults should have access to a wide range of supports and services that allow them to remain in their homes and communities with supports that enable aging-in-place. Optimal health and access to community services is fundamental to our overall well being, the goal being to maintain good health and functional ability for as long as possible.
Objective HSC1: older adults while reducing barriers such as language, culture, affordability and transportation.
Recommendations:
HCS1.1 Encourage greater collaboration in the healthcare and community services sectors by creating a way to bring cultural groups, faith-based groups and others together.
HCS1.2 Seek solutions to systemic issues that impact accessibility to health and/or community service – e.g. siloed funding, insufficient supports to help people to remain in their homes, shortage of Personal Support Workers.
Objective HSC2: Increase awareness of available health and community programs and services.
Recommendations:
HCS2.1 Review the ways in which information is communicated (*see goal #3) and seek innovative ways to respond to both information gaps and the challenges involved in navigating multiple programs.
HCS2.2 Address healthcare barriers such as continuity of care, long appointment wait times and, with the increase in telehealth and telemedicine, the additional challenges faced by those for whom technology is a barrier.
HCS2.3 Empower older adults with tools to be their own advocates when it comes to what they need and want from healthcare and/or community services.
Social engagement opportunities are welcoming and reflect the diverse interests and preferences of older adults in the community, and are available in a variety of formats.
Opportunities for social participation and connecting with others are critical for our physical, mental and emotional well-being. Whether participating in social and recreational activities in person or through a virtual platform, opportunities should be accessible and reflect the diverse interests and needs of older adults in our community.
Objective SP1: Maximize use of available resources and spaces to increase program opportunities.
Recommendations:
SP1.1 Explore opportunities to offer older adult programs in alternative community settings (e.g. recreation centres, legions, halls, churches), at underutilized times of day and with a variety of community and private sector organizations.
SP1.2 Identify opportunities for collaboration, learning and expansion of virtual programming and digital literacy.
Objective SP2: Improve access to recreation and leisure activities that are inclusive and accessible for all.
Recommendations:
SP2.1 Promote the integration and inclusion of older adults living with dementia in the everyday activities offered in our community.
SP2.2 Foster opportunities for older adults living with chronic health conditions, vision and hearing loss and/or mental health challenges to participate in community programs.
SP2.3 Create general education modules focused on the benefits of social participation as it relates to health and wellness as well as ways to include all older adults.
SP2.4 Ensure culturally-appropriate programming (e.g. Indigenous crafts, intergenerational story-telling, etc.) as well as culturally-safe places for social interaction and programming, that is in alignment with the Urban Indigenous Strategy.
Objective SP3: Develop partnerships with a variety of transportation services to increase access to programs.
Recommendations:
SP3.1 Develop partnerships with various transportation service providers to enable participation in programs.
SP3.2 Reduce transportation barriers by creating local hubs that offer programs closer to where older adults live.
Objective SP4: Increase awareness about available programs with both older adults and service providers.
Recommendations:
SP4.1 Update, on an ongoing basis, profiles of older adults in Hamilton to share information about geographic location, needs and availability.
SP4.2 Foster alternative and creative means to communicate opportunities about social participation to ensure that more older adults are aware of programs offered.
Objective SP5: Offer programs that are affordable for all older adults.
Recommendations:
SP5.1 Provide opportunities for financial assistance/fee reduction for older adults who may require this assistance.
SP5.2 Use creative approaches to maximize existing spaces and ways for older adults to use one pass to participate in a cross-section of programs to enhance affordability.
Objective SP6: Recognizing that not all social participation involves a formal program, make sure there is a strong emphasis on developing social networks within neighbourhoods.
Recommendations:
SP6.1 Encourage social inclusion, multigenerational relationships and strengthen informal networks by supporting one another in neighbourhoods.
SP6.2 Build on Hamilton's "Do You Know Your Neighbour?" awareness campaign to create a mentorship/knowledge sharing program that is accessible to both younger and older adults.
Hamilton's vibrant civic life includes meaningful roles for older adults as leaders, influencers, employees and volunteers.
Good health, social connections and financial security all impact our overall quality of life. Civic engagement, volunteering and paid employment provide meaningful roles for older adults as community leaders, employees, employers, mentors and volunteers.
Objective CEVE1: Reduce ageism in both employment and in volunteerism.
Recommendations:
CEVE1.1 Design, launch and evaluate a campaign to reduce ageist hiring practices, increase retention of older workers and assist older workers with job seeking strategies.
CEVE1.2 Expand intergenerational knowledge transfer and information sharing by bringing younger and older people together for reciprocal mentorship/coaching.
CEVE1.3 Create resources and guidelines for businesses and other organizations that recognize and value the contributions and expertise that older adults bring to volunteer opportunities.
Objective CEVE2: Create a framework, guidelines and training to ensure age-friendly and inclusive workplaces.
Recommendations:
CEVE2.1 Design a sign/decal for businesses to message that all are welcome as one way to reduce stigma and unnecessarily labeling of older adults living with, among others, dementia/cognitive impairment, physically challenging conditions.
CEVE2.2 Design and implement Age Friendly Employer Programs that support and enable older workers to participate in employment.
CEVE2.3 Foster greater collaboration between the public, not-for-profit and private sectors.
Objective CEVE3: Create communication strategies to more effectively educate and market volunteer opportunities to both community organizations and older adults.
Recommendations:
CEVE3.1 Offer workshops and/or webinars to educate agencies about the benefits and challenges inherent in recruiting and supporting older volunteers.
CEVE3.2 Utilize existing networks, established groups and platforms (e.g. phone calls, newspapers) to market volunteer opportunities to older adults while reaching out to new markets for greater impact.
CEVE3.3 Leverage technology to take advantage of electronic platforms for information sharing.
CEVE3.4 Investigate opportunities and challenges associated with recruiting, training and supporting older volunteers.
Outdoor and green spaces should be welcoming and well-maintained in our communities. Spaces include sufficient seating and are accessible for people of all ages and abilities. They are designed with pedestrian safety, cycling and walkability in mind.
Access to safe, accessible and welcoming outdoor spaces for all older adults can have a positive impact on health and well-being.
Objective OSB1: Provide safe trails and sidewalks for walkers and cyclists of all ages and abilities.
Recommendations:
OSB1.1 Provide sufficient seating and shelters.
OSB1.2 Provide directional signage and space use guidelines that have large graphics and symbols in clear colour contrast to the background, are easy to read and situated in high visibility areas.
OSB1.3 Ensure that sidewalks, bicycle paths and trails are accessible for individuals with mobility challenges.
Objective OSB2:  Ensure that the buildings located in public spaces are safe, inclusive, accessible and well maintained.
Recommendations:
OSB2.1 Provide safe, clean, accessible and well-maintained public washrooms, including gender-neutral washrooms.
2021:  Launch of Hamilton's second plan, Hamilton's Plan for an Age-Friendly Community (2021-2026)
2018: Provincial government honours the City of Hamilton with the Ontario Age Friendly Community Recognition Award
2015: The World Health Organization's Network of Age Friendly Cities and Communities certifies Hamilton as a member of the network
2014:  Hamilton City Council endorses Hamilton's Plan for an Age-Friendly City (2014)
Date modified
June 14, 2023