Cycling Infrastructure
Bay Street Bike Lanes
In October 2017, a dedicated bike lane  was officially opened on Bay Street from Aberdeen Avenue to Strachan Street. Bay Street bike lanes created a convenient connection between the Durand neighbourhood, the downtown core, the Central neighbourhood, the new West Harbour GO Station, Bayfront Park, and the North End neighbourhood.
The bike lanes provide environmentally sustainable transport and aim to create a healthy balance of natural and urban spaces and create a safer cycling environment.
The Ontario Ministry of Transportation jointly funded the project, contributing $295,000 through the Ontario Municipal Cycling Infrastructure Program.
The design of the bike lanes varies along the length of the project:
Two-way bike lanes - between Aberdeen and Hunter Street

Protected two-way bike lanes - between Hunter Street and York Boulevard

Conventional bike lanes - at York Boulevard
Background
The City's Cycling Master Plan (2009) identified the need for an on-street cycling facility in this corridor to provide an efficient and safe network to encourage cycling.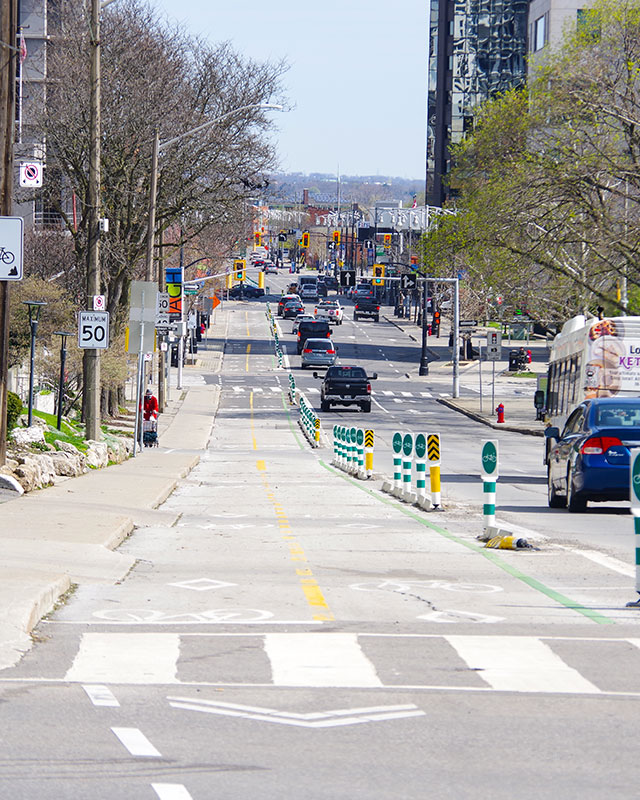 Date modified
September 01, 2022