Awards & Tributes
HMHC Heritage Recognition Award Recipients

Contact Us
For additional information or a copy of the Terms of Reference for the HMHC Heritage Recognition Awards, contact:
Hamilton Municipal Heritage Committee
Attn: Matt Gauthier, Legislative Coordinator
Call 905-546-2424 ext. 6437
Email [email protected]
This year marks the 14th annual Hamilton Municipal Heritage Committee (HMHC) Heritage Recognition Awards. As a city, we want to congratulate this year's award recipients, and celebrate the significant contributions of property owners, educators, developers and volunteers in the conservation of Hamilton's heritage.
Videos of past years can be viewed on the City's YouTube channel
Congratulations HMHC Heritage Recognition Awards
2022 Award Recipients
Multiple award recipients will be recognized across eleven 2022 award categories including
2 Ravenscliffe Avenue, Hamilton
Built in 1906 for George W. Robinson of Robinson's Department Store and designed by Hamilton architect Charles Mills in the Renaissance Revival style. Clad in brick and sandstone.
The current owners have sought to update and match the original style, echoing original Tudor elements on the exterior, including the slate roof, repointing and replacing damaged sandstone & brick. A wonderful restoration!
Heritage Status: Registered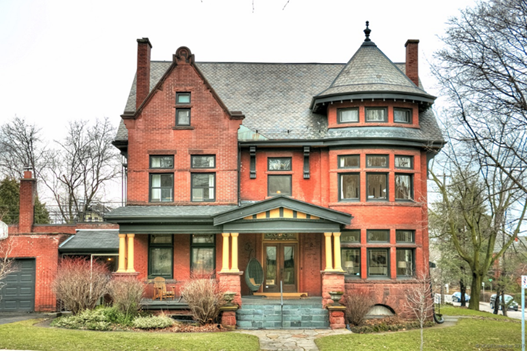 ---
44 Chatham Street, Hamilton
This stunning residence at 44 Chatham street was designed by William Palmer Witton in 1899 for local contractor George Clapman. Clapman was a local contractor who specialized in plaster work. Many of the exterior features were completed by Clapman and his workers to highlight the work of his company, John Clapman and Sons.
Heritage Status: Inventoried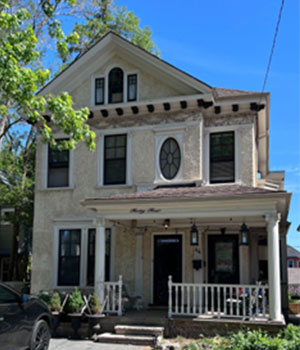 ---
22 Homewood Avenue, Hamilton
This Victorian home, circa 1891, is best described as a Queen Anne with Italianate and Gothic Revival elements. With symmetrical bay windows, generous porch, cornices, deep eaves and decorative brackets & corbels, this soaring two storey home is surrounded by lush landscaping, paying tribute to its Italianate attributes.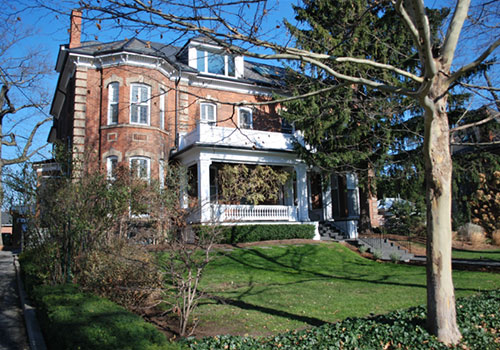 ---
79 South Street West, Dundas
This Colonial Revival home was built in 1944 for a prominent Dundas family. The present owner has restored, preserved and maintained this beautiful property since 1999. The windows, fascia, and gables are wood and original to the home. Walkways have been replaced with new flagstone to mimic the original walkway, and the exterior stucco has been painted the owner's favourite colour, Cherub Pink by Benjamin Moore.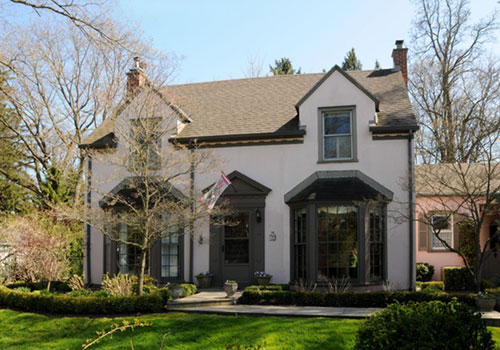 ---
263 John Street South, Hamilton
Located within this Victorian red brick home, the Law Offices of Amy Katz & Associates has undertaken improvements to enhance the use of the building, restore architectural features and improve the overall character and street presence of this modest, yet beautiful Corktown property.
Heritage Status: Inventoried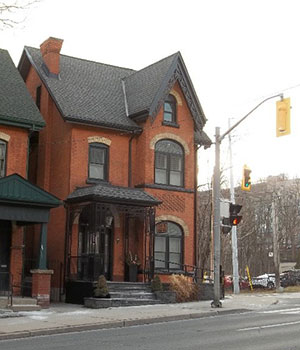 ---
Indwell – The Oaks (Royal Oaks Dairy and Dairy Lofts), 219-225 East Avenue North, Hamilton
280 Main Street East, Hamilton (Thomas Anglican Church Apartment Conversion)
29 Harriet Street, Hamilton, Aeon Studio Group 
200 Caroline St North, Hamilton
Hamilton Bridgeworks Company Ltd, built in 1872 were manufacturers of steel truss bridges for Canada's railway system, the Welland Canal, the High Level Bridge, the Burlington Canal Lift Bridge and the Burlington Skyway. Following its closure, the City used it as a Carpenter shop. Currently leased to Sonic Unyon, it hosts live music and is a community hub that is affordable, inclusive and accessible.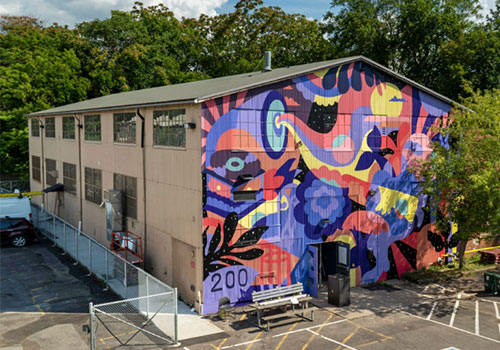 ---
366 Victoria Ave North, Hamilton
The Cataract Power Company was built in 1911  to impress and convince industries to switch over to hydro electricity as a power source. However, 123 years later it is now home to The Factory Media Centre (FMC). A grant through the Ontario Trillium Foundation allowed the Centre to build a multi-faceted space equipped with a sound stage, a 500-square foot gallery, and amenities for members, including an editing suite, sound recording and multimedia studio and equipment storage.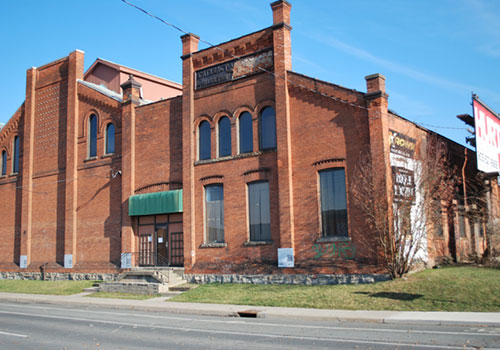 Royal Botanical Gardens – Indigenous Plant Medicine Trail, 16 Old Guelph Road, Hamilton
Hamilton Public Library - Dundas Branch, 18 Ogilvie Street, Dundas
The Dundas Library has a history dating back to 1822 operating out of a storefront until 1910 when the Carnegie opened; serving the people of Dundas until an adult branch of the HPL opened in 1970. 
An extensive renovation at the branch in 2018 added an entrance ramp, outdoor area and additional public space. Today, the Dundas branch offers collections and learning programs for all ages and introduces new technologies and spaces to meet the needs of the community.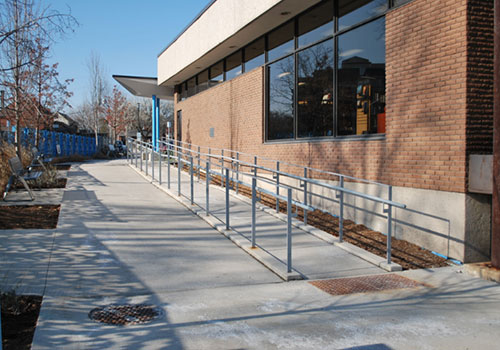 Mark McNeil, Journalist
Kevin Werner, Journalist
Woodlands Park: Ghost Landscapes, 501 Barton St E, Hamilton
Woodlands Park: Ghost Landscape is a community-led placemaking project that speaks to two 75th anniversaries in 2021 and 2022: that of the 1946 Stelco strike and of the 1947 actions by the City's Parks Board, which forever changed Woodlands Park.
This community-led project created by Sarah Sheehan and sponsored by the Barton Village BIA was inspired by Workers' City, an initiative of Workers Arts & Heritage Centre (WAHC) and motivated by a desire to see renewal at Woodlands Park, especially the return of lost trees and to its status as a gathering place.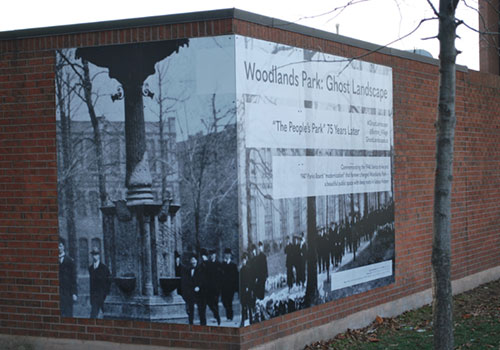 Sara Sandham, Artist
Sara Sandham is an artist who documents Hamilton through her creative doodles. Her drawings of buildings around the city use clean lines, life-like details, and bright colours. They allow viewers to pause and appreciate the buildings (and their personalities) that make up our city's heritage.
---
Gordon Leverton, Artist
Gordon Leverton, originally from Chatham, Ont, is a self-taught artist working at his practice since 2006. His art, exhibited in many shows, depicts Hamilton buildings with clean lines and blocks of colour. Leverton breaks down the city into parts in his paintings, as shadows, buildings and skylines all become part of the same plane. He uses acrylic paint and soft pastels to explore a theme of connection in an urban environment.
Friends of St. Giles
Based in Ward 3, the Friends of St. Giles are a group of neighbours and residents leading the effort to save Stewart & Witton's masterpiece, St Giles church located at 85 Holton St.
Since early 2021, the Friends have been advocating in favour of green adaptive reuse of the church building and for preserving the precious architecture, history, and community space that St. Giles represents.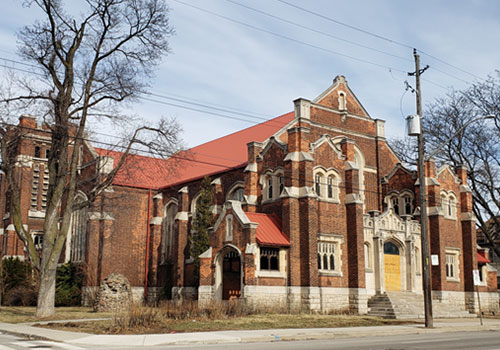 Green Venture – De-pave Paradise Projects (Good Shepherd Venture Center, De-paving Differently on Barton) 155 Cannon Street East, Hamilton, and 578-581 and 539 Barton Street East, Hamilton
Locke Street Improvement Project – City of Hamilton, Public Works
154 James Street North, Hamilton
Jim Charlton – Posthumous Award
Vivian Chang – Student Artist
Alan Stacey, Principal Conservator – Heritage Mill Historic Building Conservation
Ray Watts & Derrick Taylor - DR Masonry, 155 Ottawa St N, Hamilton
Laidlaw Memorial United Church, built in 1912 by Architect Stewart McPhie, is a temple structure in the Roman/Greek style.
A street racing incident on Ottawa Street destroyed the staircase south wingwall and one of the railings.
Ray Watts and Derrick Taylor of DR Masonry in East Hamilton, stone masons, restored the staircase to its original condition. The railings were rebuilt by Authentic Ironworks, a local Hamilton company.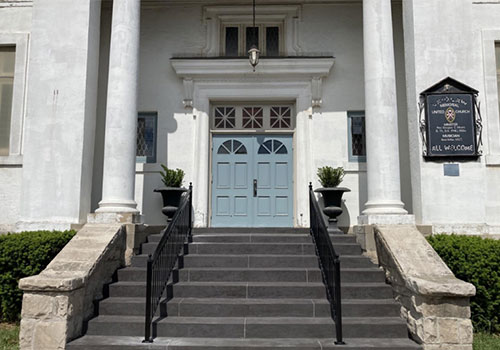 ---
Jason Schubert - Schubert Traditional Craftwork, 33 Ontario St, Hamilton
Built circa 1895, the home located at 33 Ontario Street has had several owners, was a boarding house, and almost converted to a multi-unit residence until the current owners purchased it in 2021. 
The owners were appreciative of Jason's attention to preserving what he could and adding rather than demolishing to replicate and restore.
The restoration included a complete rebuild and restoration of the double front doors and palladium windows; verge board and finial were reconstructed in shop. The details helped to recreate the original Queen Anne revival architecture.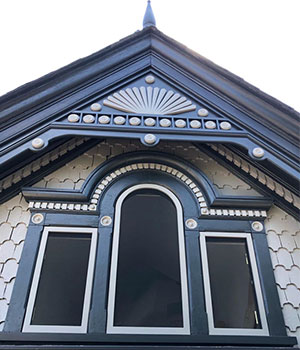 HMHC Heritage Recognition Awards
Previous Award Recipients
Find a previous award recipient
To find the location of previous HMHC Heritage Recognition Award recipient, enter an address or intersection into the search box.
2021
39 Homewood Avenue, Hamilton
174/178 Chedoke Avenue, Hamilton
254 MacNab Street North, Hamilton
1 Fallsview Road, Greensville
219 Viewpoint Avenue, Hamilton (Sacred Heart Parish)
131-135 Aberdeen Avenue, Hamilton (Gateside)
23 Undercliffe Avenue, Hamilton
2020
18 Turner Avenue, Hamilton
73 Aberdeen Avenue, Hamilton
244 Jame Street South, Hamilton - Lintack Architects
Carpenter House, 1059 Highway 8, Stoney Creek
Fifty United Church, 1455 Highway 8, Winona
Frost House, 1 Markland Avenue, Hamilton - The Golfi Team REMAX
Fletcher House at Stoneholm Farm, 2081 Upper James Street, Hamilton
Van Duzer House, 1446 Highway 8, Stoney Creek
The Parsonage, 31/33 Melville Street, Dundas
Miller House, 558 Wilson Street East, Ancaster
Fraser House, 176 Wilson Street, Ancaster
2018/2019
St. David's Presbyterian Church, 474 Wentworth Street North, Hamilton
Wissnez Law, 183 James Street South, Hamilton
Westover Baptist Church, 1149 Westover Road, Flamborough
Pearson House, 493 Dundas Street East, Flamborough
77 Creighton, Dundas
92 Melville, Dundas
96 Melville, Dundas
1379 Concession 6 Road West, Flamborough
105 Aberdeen Avenue, Hamilton
Maple Lawn, 254 Bay Street South, Hamilton
1 Turner Avenue, Hamilton
The Playhouse Cinema, 177 Sherman Avenue North, Hamilton
2017/2018
Rastrick House
2844 Governor's Road, Ancaster
Medical Arts Centre
The Slater House
Former East Flamborough Town Hall
Church of the Redeemer
The "Painted Lady"
2016/2017
Griffin House National Historic Site
15 Church Street, Dundas 
Clark Homestead
The Sail Loft
95, 105 and 105 1/2 James Street North, Hamilton
Former Hamilton Custom House
2015/2016
The Hermitage Ruins
Former Dundas Valley Curling & Skating Rink
Collins Hotel
Stone Century Home
St. Paul's Presbyterian Church
Cathedral Basilica of Christ the King
Hambly House
The Cotton Factory
Orr House
Jones House (also known as Locust Lawn)
St. George's Church and Cemetery
2014
The Smuck Homestead
Robada Cottage
The Maples
Wood-Dale
Pickwick Book Store
3146 Cemetery Road, Glanbrook
6475 Sinclairville Road, Glanbrook
St. Paul's Anglican Church (Glanford)
The Augusta House
The Pheasant Plucker
541 Eatery and Exchange
The Cooper House
The Power House
The Vicar's Vice
2013
Tisdale House
The Carnegie Gallery
Laing Apartments
Osler House
SEEDWORKS (Former Tregunno Seeds Store)
James North Studio
Capri Ristorante Italiano / Blue Grotto
Arts Centre and Lofts
Raich House
65 Murray Street West, Hamilton
Westmount Health Centre
Brigadier Smith House, "Ravenscraig Manor"
2012
Smith-Gooderman House
Copps-Smith Residence
Detour Coffee Roasters Café
Dundas Valley School of Art
Hoeflaak Residence
First Hamilton Christian Reformed Church
Couchman-Wood Residence
Former Hamilton Institute of Technology
Edgewater Manor Restaurant
2011
Dundas Business Centre (Former Post Office)
St. Thomas Lofts (Former St. Thomas Church)
Former Dominion Furniture Building
Former Edwin Pass Watchmaker
Hambly House
151 St. Clair Avenue, Hamilton
Vicar's Vice Restaurant
2010
White Brick Church
Quatrefoil Restaurant
The Old Wesleyan Methodist Parsonage
The Pearce Residence
Lister Block
The Old Powerhouse Restaurant
2009
Shaver Homestead
Old Mill Inn
DeVries Residence
Victoria Hall
Nash-Jackson House
2008
Cairn-Gorm Studio Artworks
Crozier Residence
The London Taphouse
Judy Marsales Real Estate Office
2007
2021
Core Urban Inc. – Arliss Building (The Olympia Club), 53 King Street East, Hamilton
2020
The Valour Group - The Oscar on Bold (Pasadena Apartments), 27 Bold Street, Hamilton
2018/2019
William Thomas Student Residences, 48 James Street North (James Street Residences Inc.)
Residences of the Royal Connaught, 112 King Street East (Valery Homes/ Spallacci Homes)
Westinghouse HQ, 286 Sanford Avenue North, Hamilton (Electric City Developments)
The Alley, 12 James Street North, Hamilton (Core Urban Inc.)
2017/2018
Old Weeks Hardware
McGregor House
White Tea House
Crooker House
2016/2017
Textile Building
The Right House
Templar Flats
2015/2016
2014
Dundas District Lofts
Stinson Lofts
2013
2012
Allenby Lofts (Former Allenby School)
Margaret Street Lofts
The Stone Lofts
2011
2010
2021
147 Mary Street, Hamilton

141 Park Street North, Hamilton
2017/2018
7‐11 Brock Street, Hamilton
2021
Young Family Cemetery, 1499 Upper Wellington Street, Hamilton
2020
The Durand Neighbourhood Character Project
Hamilton Cemetery, 777 York Boulevard, Hamilton
Mountain Brow Boulevard Parkway
2018/2019
Dundurn National Historic Site
2017/2018
Puddicombe Farms, Winery & Cider
Shaver Family Cemetery Stone Wall Restoration Project
2013
2021
6180 White Church Road East, Mount Hope (Case United Church)
2020
St. Stanislaus Roman Catholic Polish Church, 718 Barton Street East, Hamilton
2018/2019
Provincial Offenses Administrative Building, 50 Main Street East, Hamilton
Eva Rothwell Centre, 460 Wentworth Street North, Hamilton
2017/2018
Waterdown Memorial Hall
Binbrook Soldiers' Memorial Hall
2016/2017
2015/2016
Dundas Museum & Archives
Mohawk Trail School Museum
2021
Lance Daren Cole, Patrick Douthart, Nathan McCrory
Downtown BIA QR Code Project – Memory Lane
Leanne Pluthero
2020
2018/2019
Rob Hamilton (Former Chair of the Hamilton Historical Board)
Stephanie Dumbreck (Founder of Haunted Hamilton, 20th Anniversary)
Ray Carrol (Founder of Vintage Hamilton and Historian)
Barbara Murray (President of the local chapter of the Architectural Conservancy of Ontario, Founding organizer of Doors Open Hamilton, Member of the Beach Lighthouse Group and the Head of the Lake Society)
2017/2018
Donna Reid for the Hamilton Store
Brian Henley, Historian and Author
Nathan Tidridge, Historian and Author
2016/2017
The Jelly Brothers (Matt & Dan Jelly), Heritage Advocates and Entrepreneurs
Paul Wilson, Journalist
Sylvia Wray, Archivist - Flamborough Archives
2015/2016
Margaret Houghton, Archivist at Hamilton Public Library, Central Branch
2012   
Shannon Kyles, Professor - Mohawk College Department of Architecture
John Aikman, Curator and Manager - The Educational Archives and Heritage Centre of Hamilton-Wentworth
Julian Smith, Executive Director - Willowbank School of Restoration Arts
2021
Danuta Niton
Elizabeth Sue Hanna
2020
158 MacNab Street North, Hamilton
31 Mulberry Street, Hamilton
2018/2019
Former Office of McCallum Sather Architects, 157 Catharine Street North, Hamilton
2016/2017
McMaster Biology Greenhouse
2015/2016
8 Mayfair Crescent, Hamilton
2021
Hamilton Police Historical Society
Ancaster Village Heritage Community
Flamborough Archives and Heritage Society
2020
Stoney Creek Historical Society
2018/2019
Canadian Headstone Project Team
The Residents of 13 Inglewood Drive, Hamilton
Durand Neighbourhood Association
2017/2018
Friends of the Gore
Restoration Team for 992 King St. E at St. Clair (also 2 St. Clair Avenue)
Waterdown Mill Street Heritage District Committee
2016/2017
2021
302 James Street North, Hamilton
431-435 Barton Street East, Hamilton
2016/2017
Julie French - Creation of the HMHC Logo
Andrew Robinson - Long-time Volunteer Support
Date modified
July 12, 2023