Park Projects
Gore Park

Gore Park is located at 1 Hughson Street South, in Ward 2. Redevelopment of Gore Park is part of the Gore Pedestrianization Initiative.
Based on recommendations from the Downtown Transportation Master Plan Review in 2008, Council approved the three recommendations:
Relocate buses to the new bus terminal on MacNab Street.
Undertake a design study to see how the south leg of King would look as a pedestrianized space.
Begin the pedestrianization project as a pilot.
The design process involved comprehensive public consultation.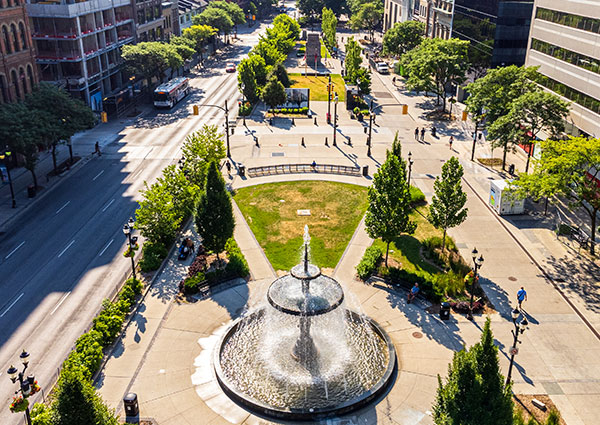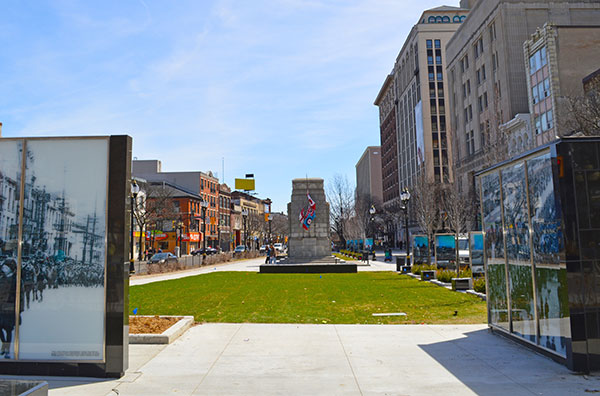 Cenotaph
The Cenotaph was refurbished, shifted south and rotated the 180 degrees. 
We refurbished the Cenotaph to prevent internal moisture damage which compromises the integrity and lifespan.
We shifted the Cenotaph south to remove an accessibility barrier along the north walkway. 
We placed the Cenotaph on a central north-south alignment to make it the dominant site line through the opening of the Memorial Wall.
Electrical enclosure
The current electrical equipment for street lights in the area is located in the decommissioned public washroom buried in Gore Park. Work to accommodate legislation relating to safe work practices includes:
moving the electrical equipment to the surface
filling the decommissioned washroom with engineered fill
Trees
Removed trees affected by Emerald Ash Borer and as required to permit the relocation of the electrical equipment. We planted new trees in the park to replace the removed trees. We selected trees to avoid a monoculture, or a grouping of trees in the same space that are the same species. Planting various species of trees reduces the potential impact of invasive species.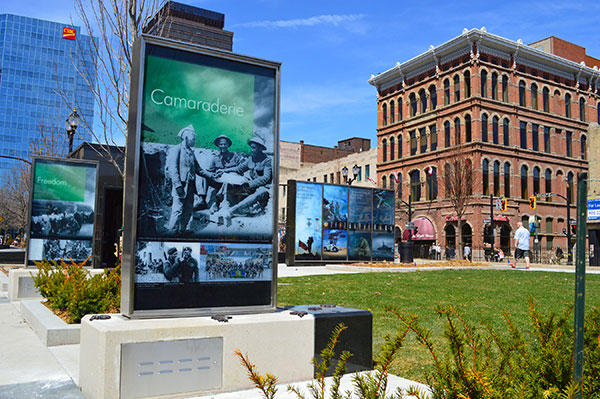 Memorial wall
The new memorial wall commemorates Veterans' service to the community and country. 
Memorial enclaves
Installed a series of memorial enclaves along the south edge of the park.
Connaught forecourt
Staff have been working with the developer of the Connaught building to ensure that the design for the space aligns with the conceptual plan developed through the Public Stakeholder Group.
Sir John A Macdonald monument
The Sir John A Macdonald monument and cannons will be relocated to the Connaught forecourt. This monument is being moved to:
provide the Connaught forecourt with an anchor
give it a pride-of-place in a dedicated court yard
allow for barrier-free access along the walkway where the monument currently stands
allow for future installation of a public art piece
July 2015 - Phase 1 construction completed
July 2014 - Public Consultation for the final design of the Memorial wall and features for Veterans' Place
Spring 2014 - Phase 1 construction begins
February 2013 - General Issues Committee directed staff to accelerate the Gore Pedestrianization Initiative
November 2012 - City Council approved the continuation of the Gore Pedestrianization Initiative
July 2012 - Implementation of the Pedestrianization Pilot between James and Hughson Streets
January 2011 - MacNab Bus Terminal opens removing bus traffic from the south leg of King Street East
January 2010 - Preferred Conceptual Plan for Gore Pedestrianization Initiative is presented to Public Works Committee
2008 - Gore Pedestrianization Initiative initiated by the Downtown Transportation Master Plan Review
Date modified
September 13, 2022