Homelessness
Point in Time Connection
From November 15 to 19, the City of Hamilton joined communities across Canada in participating in Everyone Counts: the third nationally coordinated Point-in-Time Count in Canada. This initiative, referred to locally as the Point in Time Connection, is a joint planning effort with City of Hamilton's Housing Services Division and the local Indigenous community through the Coalition of Hamilton Indigenous Leadership (CHIL).
During the initiative, staff from community-based social services organizations conducted surveys, hearing directly from unhoused residents, to better understand the needs of people experiencing homelessness in our community. 545 surveys were completed during the week at emergency shelters, drop-in programs, community agencies, and in unsheltered locations. Indigenous led magnet event was also held in Beasley Park on November 17 to provide an opportunity for Indigenous community members to be surveyed by Indigenous surveyors.
2022 Point in Time Connection Results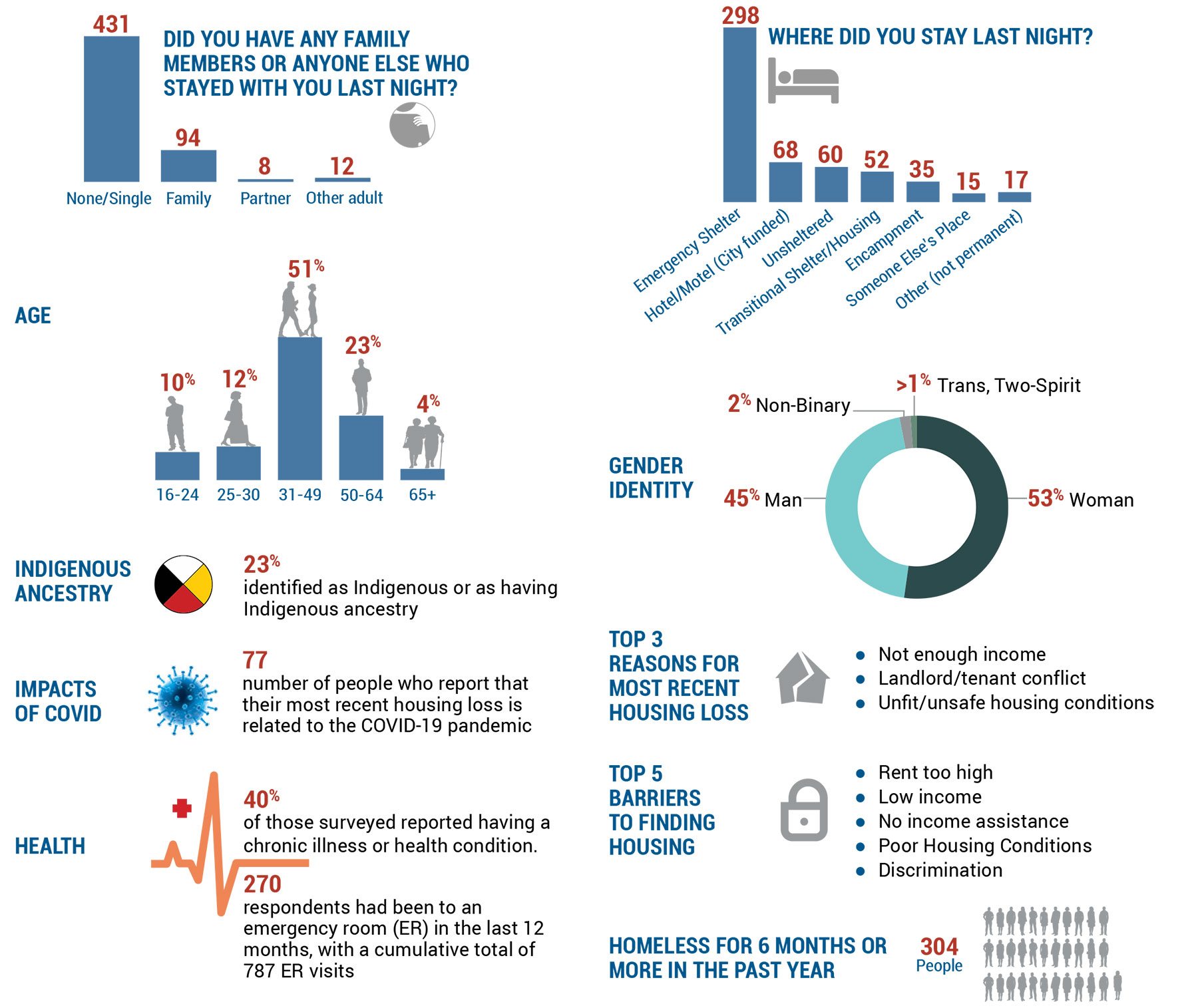 Did you have any family members or anyone else who stayed with you last night?
None / single: 431
Family: 94
Partner: 8
Other adult: 12
Where did you stay last night?
Emergency Shelter: 298
Hotel/motel - City funded: 68
Unsheltered: 60
Transitional shelter / housing: 52
Encampment 35
Someone else's place: 15
Other - non permanent: 17
Age
16-24: 10%
25-30: 12%
31-49: 51%
50-64: 23%
65+: 4%
Gender Identity
Woman: 53%
Man: 45%
Non-binary:2%
Trans, Two-spirit:1%
Indigenous Ancestory
23% Identified as Indigenous or having Indigenous ancestory
Impacts of COVID
77 people who report that their most recent housing loss is related to the COVID-19 pandemic
Health
40% of those surveyed reported having a chronic illness or health condition
270 respondents had been to an emergency room in the last 12 months, with a cumulative total of 787 ER visits.
Top 3 reasons for most recent housing loss
Not enough income
Landlord/tenant conflict
Unfit/unsafe housing conditions
Top 5 barriers to find housing
Rent to high
Low income
No income assistance
Poor housing conditions
Discrimination
Homeless for 6 months or more in the past year
The goal of Hamilton's homeless-serving System is to connect people to the housing resources that will best meet their needs to access long-term sustainable housing. The system follows the principles of housing first and relies on person-centred data to facilitate the housing process.Point in Time Connection data helps to ensure available resources are leveraged as efficiently and effectively as possible to prevent and end homelessness.
City of Hamilton Point in Time Connection Results - 2021 
In keeping with the principles of Indigenous data sovereignty, as directed by the Indigenous Community Advisory Board (ICAB), CHIL will continue to lead the analysis of Indigenous respondent data and the City of Hamilton will not use this data without the approval of the ICAB. See below for the full analysis of Indigenous respondent data, completed by CHIL and approved by the ICAB:

Background
Completion of the PiTC fulfilled requirements of both the Federal government's Reaching Home: Canada's Homelessness Strategy and the Ontario Ministry of Municipal Affairs and Housing.
The 2021 PiTC complements existing local efforts to collect and report on key data on the state of homelessness to inform homelessness prevention and reduction efforts.
Hamilton was the second community in Ontario to undertake homelessness enumeration in 2016 and one of the first to put in place a Coordinated Access system underpinned by a By-Name Priority List.
Hamilton's PiTC was initially planned for April 2020, however was subsequently postponed by the City of Hamilton and CHIL due to COVID-19 response and impacts, and to await further direction from Federal and Provincial Governments.
Unlike in previous years, no additional volunteers were recruited to support the surveying. The 2021 PiTC survey was conducted over the course of the week of November 15-19, 2021 in order to: ease the burden on agency staff working to complete the surveys and provide essential services in the community; to enable more time to safely connect with individuals and families in a variety of settings; and to avoid large gatherings to reduce the risk of infection and community spread of COVID-19 within these settings.
During the initiative, 235 volunteers and professional social service staff canvassed Hamilton's urban, suburban and rural areas, emergency shelters, drop-in programs and community agencies. Together we surveyed 338 individuals and completed 48 family surveys. This initiative continues to support the efforts of the 20,000 Homes Campaign.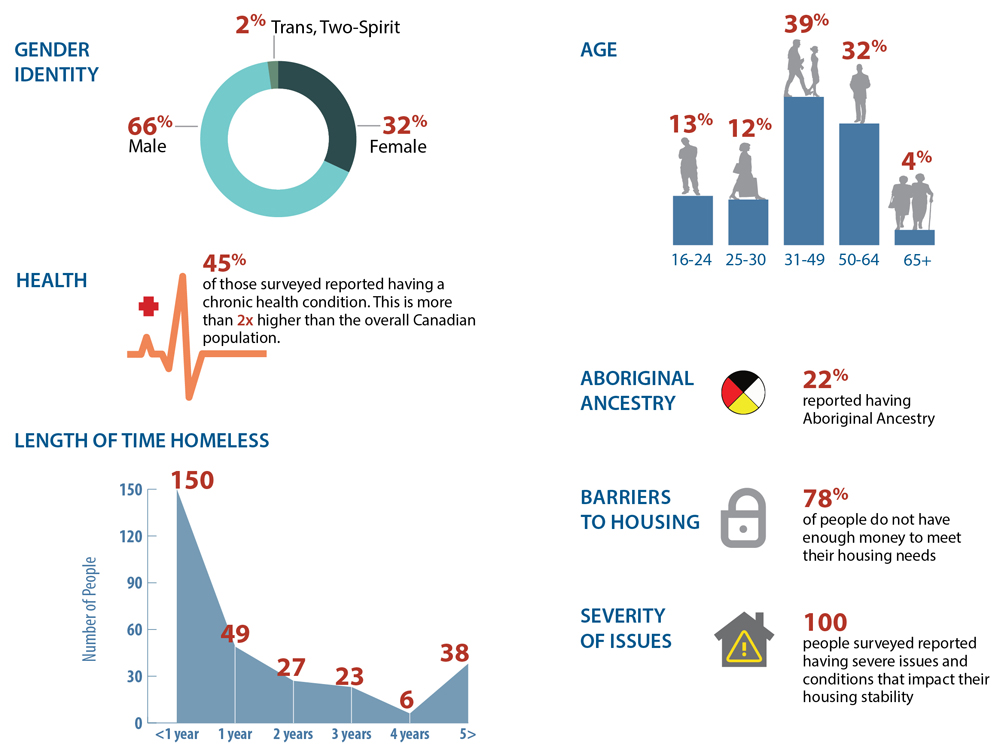 Infographic Description
Gender Identity
Male 66%
Female 32%,
Trans, Two Spirited 
Age
16 to 24: 13%
25 to 30: 12%
31 to 49: 39% 
50 to 64: 32%
65+: 4%
Health
45% of those surveyed reported having a chronic health condition. This is more than 2x higher than the overall Canadian population
Length of homelessness
Less than 1 year: 150 people
1 to 2 years: 49
2 to 3 years: 27
3 to 4 year: 23
4 to 5 years: 6
More than 5 years: 38
Aboriginal ancestory
22% Reported having aboriginal ancestory
Barriers to Housing
78% People do not have enough money to meet housing needs
Severity of Issues
100 People surveyed reported having sever issues and conditions that impact their housing stability
---
The Point in Time Connection continues to support a national campaign led by the Canadian Alliance to End Homelessness to house 20,000 of Canada's most vulnerable people experiencing homelessness by July 1, 2020. Hamilton was one of the first cities in Canada to pilot 20,000 Homes.
263 volunteers and professional social service staff canvassed Hamilton's urban, suburban and rural areas, emergency shelters, hospitals and community agencies. Together we surveyed 504 individuals experiencing homelessness. Hamilton's count continues to support the efforts of the 20,000 Homes Campaign.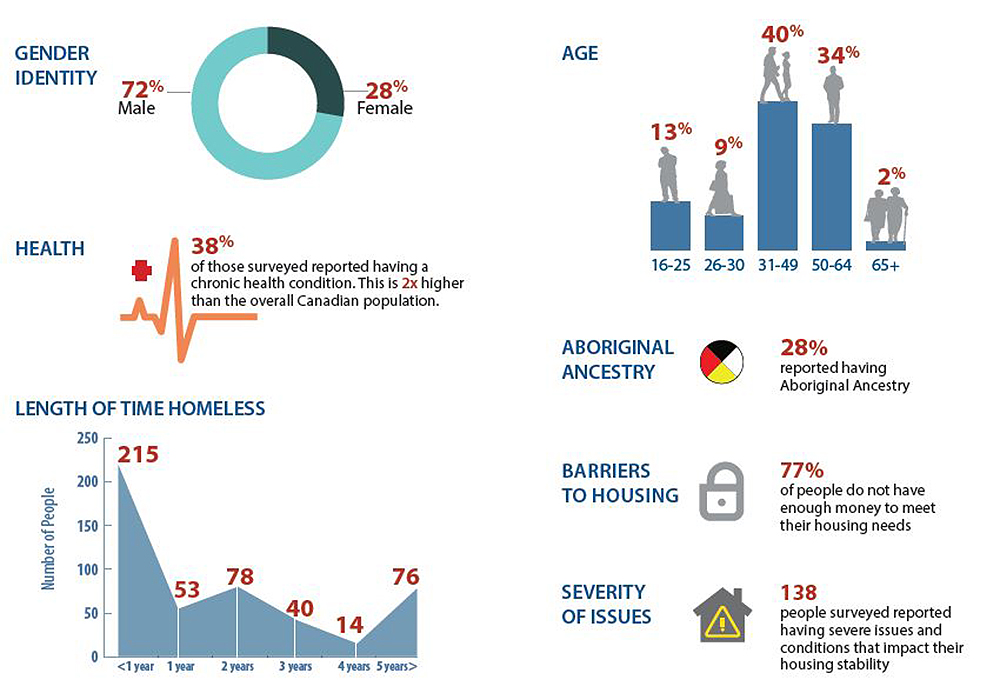 Infographic Description
Gender Identity
Age
16 to 25: 13%
26 to 30: 9%
31 to 49: 40% 
50 to 64: 34%
65+: 2%
Health
38% of those surveyed reported having a chronic health condition. This is more than 2x higher than the overall Canadian population
Length of homelessness
Less than 1 year: 215 people
1 to 2 years: 53
2 to 3 years: 78
3 to 4 year: 40
4 to 5 years: 14
More than 5 years: 76
Aboriginal ancestory
28% Reported having aboriginal ancestory
Barriers to Housing
77% People do not have enough money to meet housing needs
Severity of Issues
138 People surveyed reported having sever issues and conditions that impact their housing stability
Date modified
October 31, 2022