Environmental Illnesses
Radon
You can't see it, and you can't smell it, radon is a naturally occurring, cancer-causing gas that may be a problem in your home
While it can be found almost anywhere, it is of greatest concern when radon seeps into an indoor living space. Any building can have a radon problem, but you and your family are likely to have your greatest exposure to radon in your home, as this is where you spend most of your time.
Radon is the number one cause of lung cancer among non-smokers, and the second leading cause of all lung cancers.  According to Public Health Ontario (PHO) estimates, radon is causing 847 lung cancer deaths per year in Ontario (Public Health Ontario (2013), Radon Burdon of Illness). About 135 of these deaths occur among people who have never smoked. If you smoke and your home has high radon levels, your lifetime risk of lung cancer is especially high (Government of Canada (2010), Radon - Another Reason to Quit).
Health Canada estimates that 1 in 20 Hamilton homes will have radon levels above the recommended guideline value of 200 Bq/m3 (Becquerel's per cubic metre) Health Canada (2012), (Cross-Canada Survey of Radon Concentrations in Homes). Because radon can be found across Hamilton, any home could have a radon problem. This includes new, well-insulated homes, old drafty homes, and homes with or without basements. Radon enters the home from the ground, and the highest radon concentrations are found below the second floor. The only way to know if your home is safe is to test your home for radon.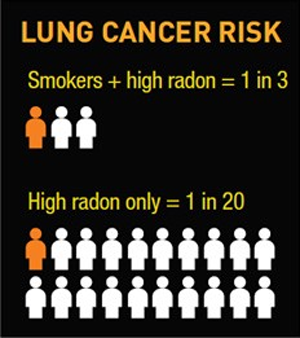 Take the True or False Radon Quiz
Date modified
November 21, 2023