Getting Around
Active Transportation Benchmarking Program
The Active Transportation Benchmarking program collects pedestrian and cycling (active transportation) activity throughout the City along sidewalks, trails, and on-road bicycle routes. Automatic counters monitor active transportation 24 hours a day at various locations for one-week durations. 
What is the data used for?
Data on usage and demand is essential to:
build long-term support for walking and cycling
improve conditions for pedestrians and cyclists
contribute to City processes including designing lighting levels, maintenance programs, planning and design studies
Hamilton Pedestrian & Cyclists Counts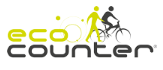 Counter Types
Hamilton currently uses four different types of automatic counters: 
Pyro-Box
Eco-Combo
pneumatic tube sensors
inductive loops
Since the program was initiated in fall 2011, data has been collected for over 250 multi-use recreational trails, footpaths, stairs, over/underpass locations, and over 60 on-road bicycle lane/route locations across this City. In addition, 110 locations include consecutive seasonal ((fall, winter, spring, summer) or variation thereof) count information. The program has also expanded to include 20 permanent count locations.
Temporary trail counts are currently rotated from location-to-location on a weekly basis.
Permanent counters are located in the following locations:

King Street West and Highway 403 (bicycle-specific counter)
Cannon Street Cycle Track (bicycle-specific counter)
Waterfront Trail near Bayfront Park (bicycle/pedestrian combination counter)
Chedoke Stairs (activity counter)
Dundurn Street Stairs (activity counter)
James Street Stairs (activity counter)
Wentworth Street Stairs (activity counter)
Kimberly Street Stairs (activity counter)
Gage Park BMX Pump Track (bicycle-specific counter)
Red Hill Valley Trail - QEW Bridge (activity counter)
Red Hill Valley Trail - Greenhill Avenue (activity counter)
Arbour Street Pedestrian/Bicycle Bridge (activity counter)
LINC Pedestrian/Bicycle Overpass (activity counter)
LINC Pedestrian/Bicycle Underpass (activity counter)
Highway 403 Pedestrian/Bicycle Overpass – Chedoke/Bruce Trail (activity counter)
Highway 403 Pedestrian/Bicycle Overpass – Hamilton-Brantford Trail (activity counter)
Coming soon (Spring/Summer 2017):

Waterfront Trail – Van Wagner's Beach Road (bicycle/pedestrian combination counter)
Bay Street North (bicycle-specific counter)
Date modified
October 03, 2022