Riding with HSR
(Re)envision the HSR

Stay up-to-date on news about (Re)envision
Email [email protected] and sign-up to receive our monthly updates.
Follow @HSR on Twitter.
Contact Jay Adams, Sr. Project Manager of Customer Experience & Innovation by phone 905-528-4200

(Re)envision the HSR
(re)Designed Network Public Engagement & Survey
Tell us what you think about the conceptual design by completing our short survey or attending a community event. Your feedback will guide any adjustments to the network before it's presented to Council in early 2024.
(Re)envision the HSR
Great transit is vital to helping Hamilton achieve its vision of being the best place to raise a child and age successfully. That's why we launched the (Re)envision the HSR project in 2019 to transform the customer experience and redesign our transit network. Our goal was to redesign the network from the ground up to ensure it meets your transit needs and to maximize the benefits of the future LRT.
We couldn't have done it without your help. Before beginning the network redesign process, we conducted extensive public consultation on the future of conventional transit service delivery in Hamilton.
Your feedback helped shape the design of the proposed network. As part of (Re)envision the HSR, we interacted with over 13,000 survey respondents, community members and stakeholders.
The (re)Designed Network marks a significant step forward for transit in Hamilton.
Read the (re)Designed HSR Network Report
Download the Re-designed Concept Network Map(PDF, 8.01 MB)
Visit us in person
Ask a Transit Planner
Hosted from 3 to 7 pm on the following dates.
Community Pop-Ups
June 3 2023 - 10 am to 4 pm
HamOnt Youth Summit - Mohawk College
June 4 2023 - 9 am to 1:30 pm
Music & Motion - Bridgeworks
June 5 2023 - 9 am to 1 pm
City Hall Forecourt
June 7 2023 - 3 to 8 pm
Green Venture - 1055 King Street E
June 8 2023 - 3 to 8 pm
Westmount Recreation Centre
June 10 2023 - 8 am to 4 pm
Ancaster Heritage Days - Old Town Hall
June 13 2023 - 3 am to 7 pm
Stoney Creek Recreation Centre
June 20 2023 - 9:30 am to 2:30 pm
Seniors Kick-off - Sackville Hill
Concept Network
The concept network includes:
A hub connectivity model for more direct trips and convenient transit access
Improvements to the rapid transit network including updates and extensions to the original corridors that were part of BLAST
Enhanced access to service through the establishment of consistent operating hours networkwide
New route types to support network efficiency and choice
Transit priority measures for improved reliability
Maximized connectivity between local transit and the LRT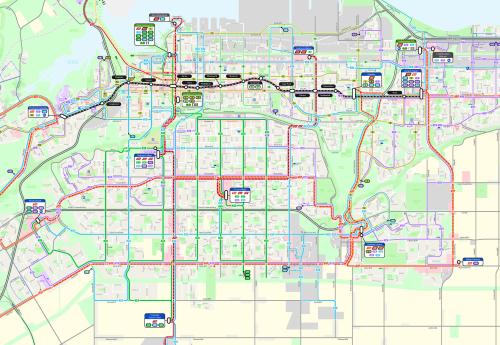 (Re)envision the HSR
Network Highlights
18 transit hubs
~309,000 residents within 800m of rapid transit
90% of fixed routes connect to LRT
At least one bus connection to each LRT stop
 
HSR (re)Designed Network
Network Features Explained
The concept network is designed using a hub connectivity model that strategically places transit hubs in communities across the city, minimizing transfers and resulting in more direct trips for customers. The hubs are placed at major trip-generating locations based on land use, employment and interregional connectivity.
Through our public consultation efforts, customers indicated a strong preference to minimize transfers. The concept network has been designed with this in mind. Travel between any two primary hubs can be accomplished without any transfers, while travel between any primary and secondary hub or between two secondary hubs can be accomplished with a maximum of one transfer, in most cases.
Proposed hubs
Primary Hubs
CF Lime Ridge Terminal
Eastgate Terminal
Heritage Greene Terminal
King & James LRT
McMaster University Terminal
Meadowlands Terminal
Mohawk College Terminal
West Harbour GO Terminal
Secondary Hubs
Ancaster Gateway
Centre on Barton
Confederation GO Terminal
Downtown Dundas
Elfrida Gateway
Hamilton GO Centre
Mountain Transit Centre
Parkdale & Queenston LRT
Stoney Creek Gateway
Waterdown Gate
By contrast, the current "hub and spoke" model is designed around a central downtown location where most routes originate. While incremental changes have been made to the current network over the years, it has remained largely unchanged for the past 100 years.
The (Re)envision the HSR project offered an opportunity to enhance the BLAST routes which form Hamilton's proposed rapid transit network. While the original plans formed a solid foundation for the expansion of rapid transit, the BLAST plan had a few gaps. The (re)Designed network enhances access to rapid transit into all communities, adding connections between Ancaster and Dundas to McMaster University, across the east Mountain and down to the lower east end at Parkdale, and from Winona into Eastgate Square. It also maximizes connections between hubs and includes direct connections between all rapid routes.
As a result of these changes, approximately 309,000 residents will be within 800m of rapid transit. This represents an approximate increase of 23% compared to the original BLAST network design.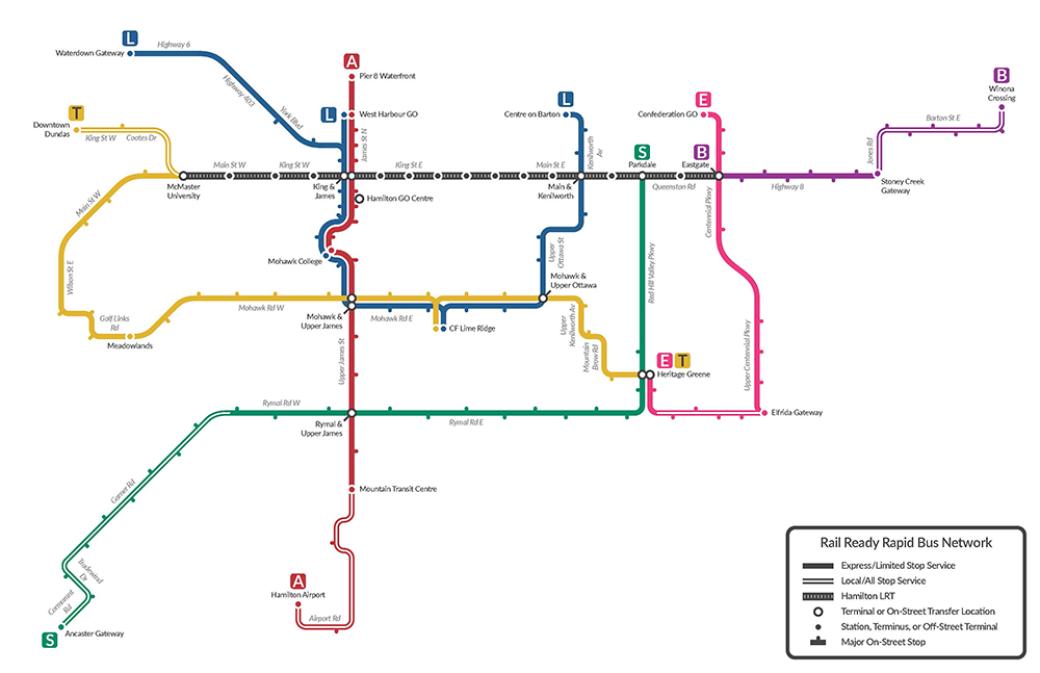 Download Large Rail Ready Rapid Bus Network Map(PDF, 595.9 KB)
The proposed network would operate standard service hours.
Weekdays, 5 am to 2 am
Saturday, 5 am to 2 am
Sunday, 6 am to 1 am
These service hours are proposed to be established as the minimum rather than maximum service as is currently the case, ensuring that all areas of the city have equitable access to service regardless of time of day or day of the week.
The inconsistency of operating hours across the network was an issue that was frequently raised during public consultation. Standard operating hours will result in greater predictability for customers.
The concept network proposes five route categories:
Rapid routes form the rapid transit network and will operate every 10 minutes or better during peak periods.
Core routes will run along arterial roadways every 15 minutes or better during peak periods.
Feeder routes are designed to connect customers to the LRT. They will operate every 15 minutes or better during peak periods.
Local routes will service a single area of the city and connect that area to the nearest hub. They would operate every 20 minutes or better during peak periods.
On-demand is a request-based transit service in areas where demand currently does not support fixed-route service.
Each route type performs a specific function within the network and enables customers to better anticipate the speed and directness of their trip, improving the customer experience. For example, a rapid route and a local route may travel between the same two points, but the rapid route will provide a quicker and more direct journey whereas the local route will offer closer stops. This also improves transit reliability as vehicles can be assigned to individual routes on a more consistent basis and can be adjusted to boost capacity or minimize impacts in residential areas as needed.
For the proposed rapid network to operate as reliably and efficiently as possible, the redesigned network identifies corridors which could benefit from the inclusion of transit priority measures such as transit signal priority, queue jump lanes and dedicated transit lanes. Each measure will be evaluated based on congestion level, available right-of-way, and installation costs. Future analysis of these rapid corridors will provide details on how the network could maximize efficiency.
The (re)Designed network is structured around the LRT, which will run along the King-Main-Queenston corridor through the lower city, spanning from McMaster to Eastgate Square. Along the LRT, each stop would connect to at least one HSR transit route and 90% of our fixed route service would connect to the LRT.
In addition, the concept network significantly increases connectivity between local transit and regional transit, particularly at West Harbour GO and Confederation GO. Service levels to Aldershot GO and Hamilton GO are also maintained. This is an important aspect of the network that supports economic prosperity by connecting people to employment opportunities and tourism.
(Re)envision the HSR
Frequently Asked Questions
A Transit Growth Strategy will be presented to Council in early 2024 and will include an updated concept network based on public consultation and funding and investment requirements.
The concept network, including any changes arising from community consultation, is intended to reflect Hamilton's transit network on the opening day of LRT operation. Following public consultation, a Transit Growth Strategy will be presented to Council in early 2024, which will include more details about implementation.
Metrolinx is currently refining the final procurement strategy for the Hamilton LRT project. More
details will be shared when available.
A well-functioning and fully accessible transit network benefits all Hamiltonians, including non-transit users. Encouraging more people to choose transit helps reduce congestion and car emissions while moving people efficiently around the city. The proposed network offers residents greater connectivity and choice to move across the City and access social and cultural supports and economic opportunities they need to succeed, feel included and contribute fully to society.
The concept network strategically places transit hubs across the City at major trip-generating locations based on land use, employment and interregional connectivity. Most planned hubs in the proposed network are located within or immediately adjacent to locations identified as Nodes or Employment Areas in the City of Hamilton's Official Plan.
The concept network is structured around the LRT to maximize connections with local transit. For example, all 17 proposed LRT stops would have connecting bus service and 90% of our fixed route service would connect to the LRT, including multiple route connections at 14 LRT stops.
Connections to neighbouring transit services will be enhanced. In addition to continuing to serve Downtown Burlington, HSR buses will also connect to Burlington GO. Burlington Transit routes 1 and 101 will continue to connect to Downtown Hamilton. Connections to GO Transit will be significantly enhanced at West Harbour GO and Confederation GO, and connections to Hamilton GO Centre and Aldershot GO will be maintained.
Transit hubs will feature enhanced amenities, where possible. Help us identify preferred amenities by participating in the survey or by sharing your feedback at one of our public engagement events.
Transit priority measures are designed to increase the reliability of transit by minimizing the impact of existing car congestion. The majority of the transit priority measures will be in the form of transit signal priority, which extends green lights or shortens red lights to help a bus through an intersection if it is running behind schedule. Other measures include queue jump lanes, which involve widening the road to provide for a dedicated transit lane through an intersection. This measure improves vehicular flow for both transit and drivers.
Changes to the network will be implemented using a phased approach over several years. An implementation strategy, including related impact mitigation, will be presented to Council in early 2024 as part of the Transit Growth Strategy.
(Re)envision the HSR
Documents & Reports
Date modified
June 02, 2023