Park Projects
Gourley Park

Gourley Park is a 5.49-hectare neighbourhood park located at 142 Duncairn Crescent within Ward 8 of the City of Hamilton. The park is adjacent to James MacDonald Elementary School, which has 4 baseball diamonds, and 2 asphalt walkway connections through School property, to Gourley Park. Gourley Park is separated into three (3) sections: The playground/amenity area in the north, a walkway block in the middle of the parcel, running east-west and connecting Duncairn Cres. with Brigadoon Drive, and finally, a 4.5 hectare woodlot block on the south end, fronting on Brigadoon Drive. The playground/amenity area includes asphalt walkways, lighting, a playground, basketball court, tennis court, two (2) large swing set bays, seating areas, concession/storage building with attached pavilion, a small storage building, and an existing 96 sq. m. spray pad.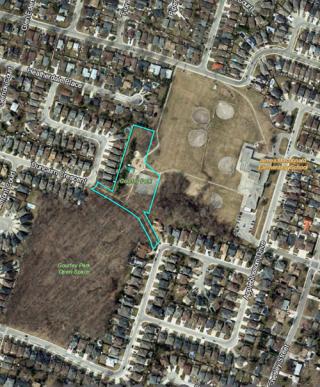 Gourley Park Redevelopment Community Engagement Survey Results
137 survey responses were received.
Majority of respondents were frequent Gourley Park users who live in the neighbourhood.
The Forest, Nature, Plants and Flowers theme was chosen.
Circular spray rings, vertical features, and toddler elements were the top 3 spray pad components. We will attempt to incorporate as many of the additional elements as possible.
Slides, climbers, balance beams, swings and spring toys were the most popular playground elements chosen. The final design will incorporate as many of the additional items as possible.
Additional requests include: more trees, a sun shelter, additional lighting, seating, and a drinking fountain with a dog bowl.
Download the Gourley Park Engagement Survey Summary Infographics(PDF, 2.03 MB)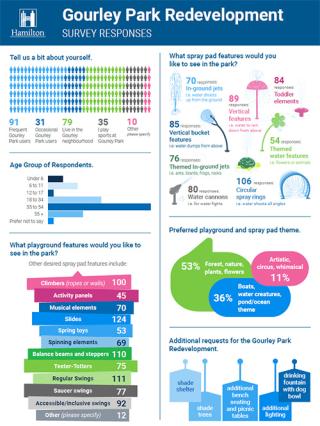 Review detailed
Project Information
Date modified
September 18, 2023