Park Projects
Albion Falls South Access and Viewing Platform

Contact Us
For questions or to submit a comment, contact:
Ken Wheaton
Landscape Architect
Email [email protected]
Hamilton Future Fund
The Hamilton Future Fund Board of Governors contributed to help fund a portion of the studies and investigations required for this project. Thank you to the task force members for their positive contributions & commitment to the project.

Engage Hamilton
You voted for Concept B: Serpentine Lookout!
In Nov. 2020, an initial viewing platform concept was presented to the public with mixed reviews.
From March 24 to May 12, 2023, we asked you to vote for your Preferred New Lookout Concept.
Almost 92% of responses voted for Concept B: Serpentine Lookout as the preferred platform concept!
Albion Falls is a 19-metre cascade waterfall located at the southernmost top of Upper King's Forest Park and forms part of the environmentally-sensitive area of the Red Hill Creek Escarpment Valley. It's a popular destination point for locals and tourists who want to view the falls and enjoy the natural landscape setting.
In 2005, the City of Hamilton built the North viewing platforms, associated trails and parking area to provide a safe and accessible location from which to view Albion Falls and to discourage the creation and use of informal trails.
Informal trails do continue to be created and used by the public on the South side of Albion Falls as there is no formal access or viewing platform. There is evidence of erosion and ecological degradation along the South slopes and safety concerns have required the City to fence off the area to protect the public. Despite the warning signs and physical barriers, there have been continued attempts to by-pass the safety measures to access and use the informal foot paths.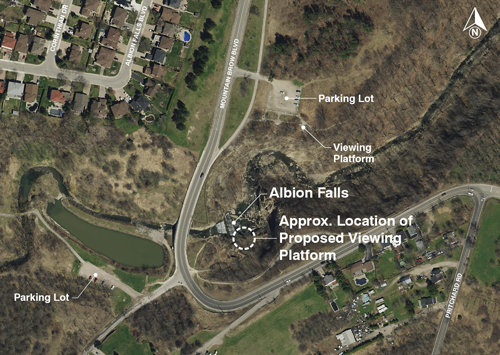 In 2017, the same year the South access was fenced, the City of Hamilton applied for grant funding and allocated capital budget to help fund the investigations and studies required to determine if and where constructing a South access and viewing platform was feasible.  The investigations include engagement of relevant stakeholders and authorities having jurisdiction and a component of the works will include functional and detailed design of an access and viewing platform.
Between November 2020 and January 2021, an initial viewing platform concept was presented to the public with mixed reviews. Two new lookout platform concepts were created that blend into the landscape better, have improved views of the waterfall/escarpment, and incorporate materials that are softer, yet still durable and maintainable.
Date modified
May 18, 2023