Planning & Design Studies
James Street North Mobility Hub Study
The Provincial Government (Metrolinx) has constructed a new GO Transit station at James Street North and Murray Street in Hamilton.  This location is identified as a Mobility Hub by Metrolinx.
Mobility Hubs consist of major transit stations and the surrounding areas, generally within a 10 minute walk/800 metres. They are centres of connectivity along the regional transportation network and have the potential to accommodate more residents and jobs in higher density development. For additional information regarding Mobility Hubs visit: www.metrolinx.com.
The James Street North Mobility Hub Study was initiated to study the area around the GO Transit station and identify opportunities and actions required to achieve a successful Mobility Hub.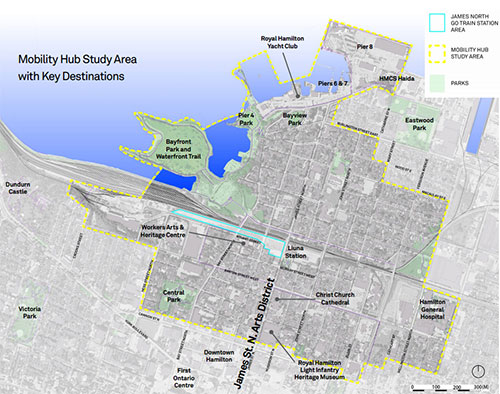 Implementation
An implementation update regarding the study was provided to Planning Committee on January 17, 2017:
Staff Report
The study was presented to Planning Committee on September 19, 2014 and approved by Council on September 24, 2014:
Date modified
July 11, 2022