Park Projects
Hamilton Amateur Athletic Association Grounds


Investing in Canada Plan
Through the Investing in Canada Plan, the Government of Canada committed over $180 billion over 12 years for infrastructure that benefits Canadians – from public transit to trading ports, broadband networks to energy systems, community services to natural spaces.

Engage Hamilton
We want to hear from you!
We are looking to implement Phase 1 of the HAAA Renwal Plan and want your input/feedback.
The Phase 1 elements are:
playground
spray pad
multi-use court
The Hamilton Amateur Athletic Association Grounds known as H.A.A.A. is a 7-acre community park located within the Kirkendall Neighborhood on the north side of Charlton Avenue West, just east of Locke St.
It's home to the Hamilton Tennis Club along its north end and is abutting Ryerson Recreation Centre and Ryerson Middle School on its east side, with private residents backing on to the park's westerly limits.
Renewal Plan of the HAAA Grounds
The parks current features are reaching the end of their service life, and to ensure the community can continue to enjoy the HAAA Grounds, these aging park features need to be replaced.
The Renewal Plan of the HAA Grounds(PDF, 1.65 MB) was completed at the end of 2021. The overall plan of the park will be implemented in a phased approach in the coming years.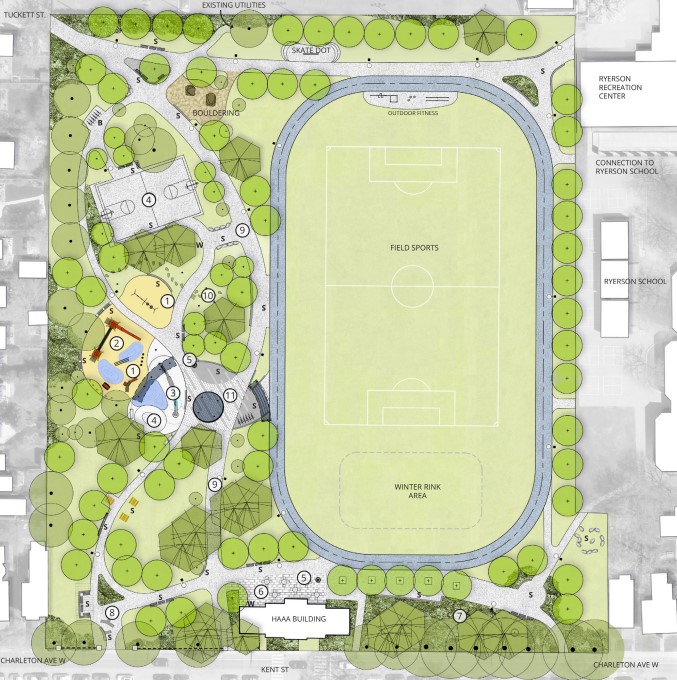 Date modified
September 13, 2022