Biking & Cyclists
Shared Commercial Electric Kick Scooter Pilot Program

Provide Feedback
Feedback on the commercial e-scooter pilot program can be sent by email to:
Starting April 3, 2023, the first year of the shared commercial electric kicker scooter ("e-scooter") pilot program will launch in Hamilton. The pilot program is part of a Provincial pilot program to evaluate the use of E-Scooters, specifically their ability to safely integrate with other vehicle types and determine whether existing rules of the road are adequate.
Bird Canada was selected as the successful commercial e-scooter operator for the pilot program through a competitive request-for-proposal (RFP).
About Bird Canada e-scooters
Bird Canada is using their newest e-scooter model, the Bird Three.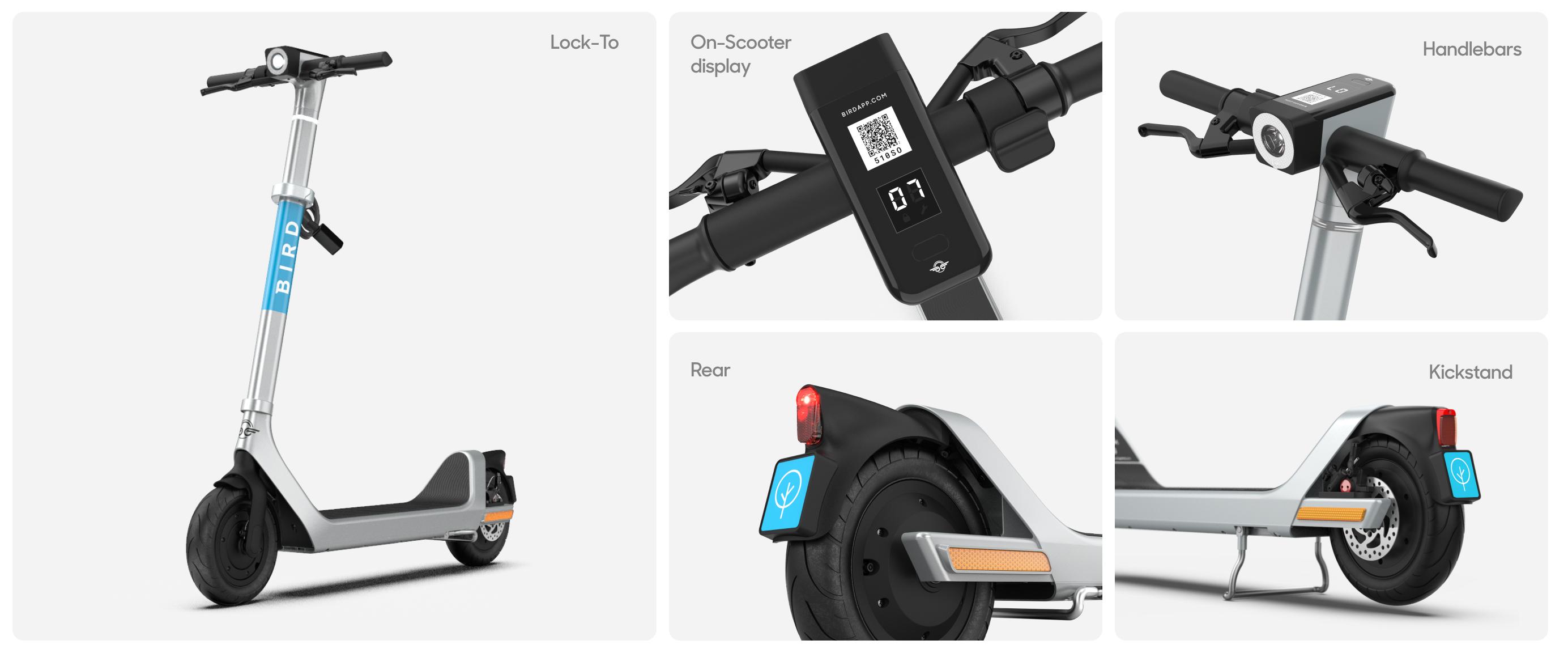 Key features of this device include:
When not used, a "lock-to" mechanism will require the device to be attached to a stationary object, like a bike rack.
A speedometer and speed governor.
On-board GPS technology.
Front and rear lighting.
10-inch puncture-resistant tires.
Unique e-scooter identifiers.
High contrast markings.
Safety decals.
Company contact information to report misparked e-scooters.
What You Need to Know about Commercial Scooters in Hamilton
Frequently Asked Questions
The pilot program includes these features:
A lower maximum speed than permitted under the Provincial pilot.
A "lock-to" mechanism requires the e-scooter to be fastened to a stationary bike rack or pole before a trip can end. This is similar to Hamilton's existing smart-bike bikeshare system.
High contrast marking on the e-scooters to make them more noticeable.
A 24/7 complaint phone number and e-mail. Each e-scooter has a large, unique ID to make it easier for anyone to report issues. The operator must address misparked e-scooters promptly.
Sidewalks will be geofenced so that e-scooters cannot operate on them. If an e-scooter is ridden on a sidewalk, the e-scooter will make an audial noise to alert pedestrians, and the motor will decelerate until it safely comes to a complete stop.
A beginner rider mode for new riders that reduces the maximum speed of new Bird Canada users. Users must go through a training module and pass a safe-use quiz to access it for the first time.
The commercial e-scooter operator is required to pay fees to the City. These include:
An Annual Administration Fee and Annual Program Improvement Fee are payable to the City to offset the cost of administering the program.
Annual Vehicle Fee per E-Scooter and Per Trip Fee is used to support the Hamilton Bike Share system, the City-owned system operated by Hamilton Bike Share Inc., to offset any lost revenue they may incur.
An Annual Device Equity Fee that supports the Everyone Rides Initiative (ERI), operated by Hamilton Bike Share Inc., that provides adaptive bikes (e.g. trikes) and programming to residents who cannot use conventional e-scooters or bike share devices.
Bird Canada has also provided funding to support the installation of bike racks within the service area.
Date modified
April 17, 2023