Biking & Cyclists
Personal Use Electric Kick Scooter Pilot Program
In January 2020, the Province of Ontario announced that it would begin a five-year pilot program permitting electric kick-style scooters (e-scooters) to operate in municipalities that opt-in to the program. The goal of the Provincial pilot program is to evaluate the usefulness of e-scooters by assessing their ability to safely integrate with other vehicle types and determine whether existing road rules are appropriate.
Hamilton City Council approved by-laws 20-269 and 20-270 on December 16, 2020 that opts Hamilton into the pilot program and regulates the use of personal and commercial e-scooters within the city. The by-law permitted personal use of e-scooters effective immediately but placed a "hold" on commercial e-scooters until a framework is approved.
What is an e-scooter?
An electric kick-scooter (e-scooter) is defined under Ontario Regulation 389/19 as a vehicle that has:
Two wheels, one placed at the front of the kick-scooter and one at the rear;
A platform for standing between the two wheels;
A steering handlebar that acts directly on the steerable wheel;
A bell or horn;
At least one white light on the front, one red light on the read and reflective materials on the sides;
A maximum wheel diameter of 17 inches; 
A maximum weight of 45 kg; and,
An electric motor not exceeding 500 watts that provides a maximum speed of 24 km/hour.
To support their safe use, e-scooters also:
Cannot be fitted with baskets, pedals or seats; and,
Lights must be used on an e-scooter any time from one-half hour before sunset to one-half hour after sunrise and at any other time when there is insufficient light.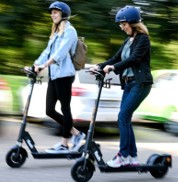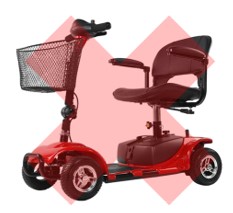 The devices in the left photo are e-scooters. The other two mobility devices are not e-scooters.
E-scooters in Hamilton
Date modified
January 06, 2023