Waterfront Redevelopment
Pier 8 Block 16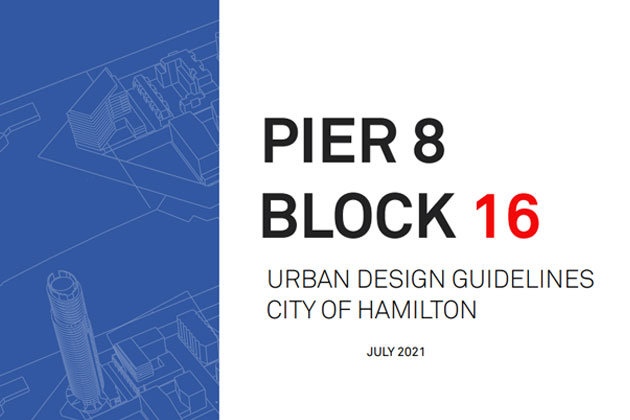 Urban Design Guidelines
Provide a design framework to promote the creation of a high-quality development of exceptional design on Block 16. Future development of this site should reflect the unique West Harbour context and create a landmark and visual anchor at Pier 8 that is emblematic of the Harbour's renewal.
The City of Hamilton has initiated Official Plan and Zoning By-law amendment applications on lands identified as Pier 8 – Block 16 located at 65 Guise Street. Through these applications, the City is revisiting a small portion (0.35 ha) of the broader Pier 8 development site that were comprehensively plannned for redevelopment in 2017 as a mixed use neighbourhood. 
These development applications, submitted under the Planning Act, propose a tall building consisting of approximately 429 residential units, contributing to the range of affordable housing and residential family-units. The overall number of units approved on Pier 8 is 1645 units. Notwithstanding the proposed increase in height on Block 16, there is no increase to the overall number of proposed units on Pier 8.
The proposed tall building is intended to achieve landmark status serving as a visual anchor within the waterfront that is emblematic of the revitalization of the Hamilton Harbour. The proposed building is organized around two cylindrical forms, conjoined below the 31st floor and with a singular cylindrical form rising to 45 storeys.
Development of Block 16 is key part of the redevelopment plan of Pier 8 and the larger West Harbour area. Over the next several years, Hamilton's waterfront will be transformed into a vibrant, mixed-use, pedestrian-friendly and transit-supportive destination.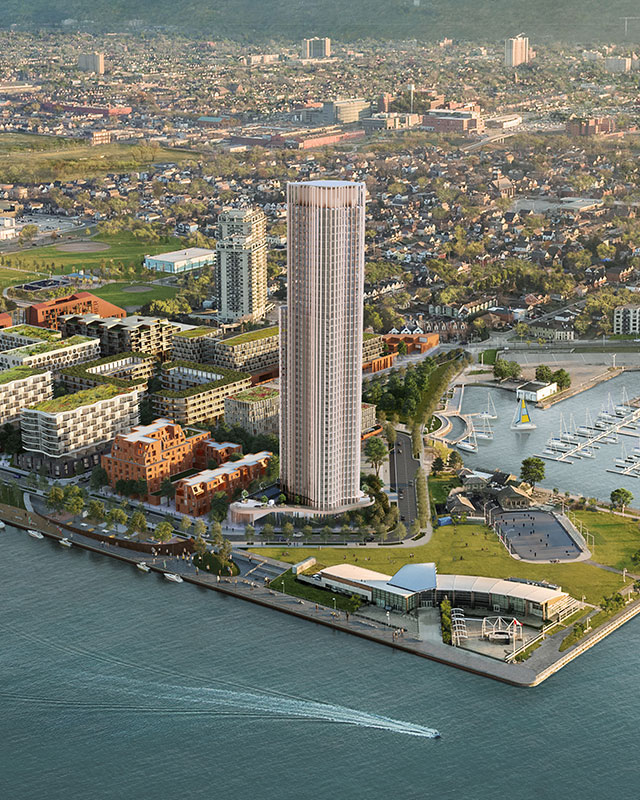 Importance of the
Development Applications
Why did the City initiate these Applications?
Block 16 lands were included in a Local Planning Appeal Tribunal (LPAT) hearing(PDF, 1.37 MB) which resulted in minutes of settlement. The settlement included direction for the City to bring forward applications for Council's consideration to amend the Official Plan and Zoning for Block 16.
There are provisions in the settlement that encourage additional family units (2 bedroom or more) within the development and for a proportionate increase of family units relative to the proposed height. These settlement terms support achieving a range of residential unit types within Block 16 and/or remaining development block on Pier 8.
What do these Applications mean?
These applications propose to:
change the Institutional land use designation to permit residential and mixed uses
establish a special policy permitting a maximum height of 45 storeys along with other policies and regulations to guide the form and development of the tall building
include affordable housing and family-unit housing options
Learn More About
Reports, Meetings & Timeline
Pier 8 Block 16 Development
Contact Us
Planning Application Questions?
Date modified
October 27, 2023