Park Projects
Victoria Park

Victoria Park is a 5.7 hectare park in the Strathcona neighbourhood of central Hamilton in Ward 1.
The park is bounded by a mixture of residential housing types, a school, and the King Street commercial shopping street corridor to the south.
This park is a well-used park with some aging amenities that require replacement, which is being conducted in a phased approach.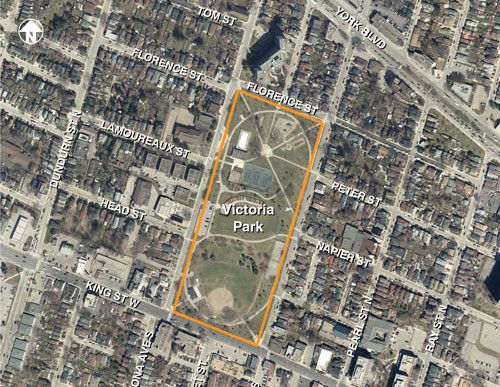 Spray Pad Replacement and Sun Shelter Construction
The existing spray pad in the Victoria park is nearing the end of its current life cycle and is planned to be replaced. In conjunction with the spray pad replacement, a sun shelter is planned be constructed in the vicinity of the spray pad area. The addition of sun shelter to the park space aligns with and is being carried out as part of the continued implementation of the Victoria Park Master Plan.
The splash pad and sun shelter construction phase includes:
Replacement of the existing spray pad
Construction of a new sun shelter
Construction of a new plaza area with seating
Park lighting upgrades
The Improvement of Victoria Park is funded in part by the Government of Canada through the Federal Economic Development Agency for Southern Ontario (FedDev Ontario).

Spray Pad and Sun Shelter
Summer 2023 - Construction
Fall 2022 to Spring 2023 – Archeological investigation / clearing
Fall 2020 to Summer 2021 - Required Studies and Investigations: Archaeological investigation, topographic survey, and geotechnical investigation
Winter 2021 - Public engagement and user survey. Feedback will be used for selecting and designing spray pad elements.
Winter 2021 to Spring 2021 - Site analysis, site planning, conceptual design
Summer 2021 to Fall 2021 - Detailed design
Preferred Design Concept (Feb 7, 2022)
Virtual Public Meeting #1 (Feb 18, 2021)
Date modified
March 15, 2023