Riding with HSR
Using HSR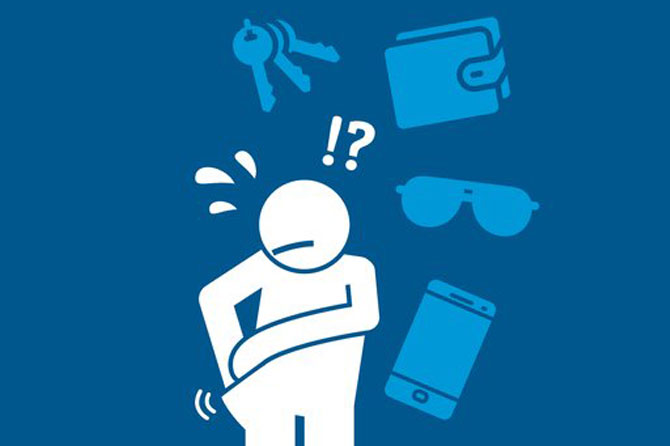 Lost & Found
If you leave something on the bus call 905-546-2424 Ext.1882.  
If you find something on the bus, give it to the driver.

Bus Safety
You are entitled to a safe bus trip
Tell the driver if you do not feel safe riding the bus.
Do not enter into verbal or physical confrontations with other passengers.
The driver can refuse the boarding and remove passengers who are misbehaving or being disorderly.
All HSR buses have a two way radio, an automatic vehicle location system and a silent alarm system.
About Hamilton Transit By-Law 16-111
The City of Hamilton's Transit By-Law 16-111 has been passed. Rules and regulations dealing with authorized fare media vendors, fares, animals on board, priority and courtesy seating, support persons and passenger conduct may have changed. Read through carefully. Failure to comply could result in refusal of service and/or monetary fines.
We all play a role in keeping transit and our community safe. If you witness or experience harassment or hate, please "Speak Up, Speak Out" by reporting it to Hamilton Police.  
"Speak Up, Speak Out" encourages transit customers to report any harassment or hate incidents to Hamilton Police.
HSR supports the City of Hamilton's focus to make Hamilton a more welcoming, equitable and inclusive community.
HSR condemns racism in all forms and is opposed to any imagery, speech or action that is hate-motivated or discriminatory in any shape or form.
HSR is committed to a welcoming, equitable and inclusive community and condemns any imagery, speech or action that is hate-motivated or discriminatory in any shape or form.
Make sure you are at your bus stop at least five minutes before your bus is scheduled to arrive. Be alert to your surroundings and look up to check if your bus is approaching. Each bus has an electronic sign that shows the route number and name and the final destination. Check the sign to make sure you are boarding the right bus.
When your bus is approaching, step outside the shelter and wait near the curb next to the bus marker, and in plain view of the bus driver. Crowding the edge of the curb can result in serious injury, so please wait a safe distance back from the edge of the curb. It can help the driver if you wave to let them know you're waiting for them, especially at stops where multiple routes go by.
If you smoke, please dispose of your cigarette butt before the bus arrives and do not blow smoke at the driver or in the bus. There is no smoking in all HSR transit shelters.
Be prepared and have your fare payment and/ or Photo ID ready. Remember that Bus drivers do not give change.
Each bus has an electronic sign that shows the route number and name and the final destination. Check the sign to make sure you are boarding the right bus.
Stand near the curb at the bus marker so the driver can see you. Stand back when the bus approaches the stop. Crowding the edge of the curb can result in serious injury. While waiting at a bus stop used by several routes, stand back until you see your bus.
Do not board unattended buses. Wait for the driver to return.
Be careful when using the bike rack.
Put your cash or ticket into the fare box, show the Bus driver your pass or tap your PRESTO card. Photo ID and Golden Age Pass must be shown to the driver when boarding.
Ask for a transfer if you need one or tell the driver if you require Trans-Cab service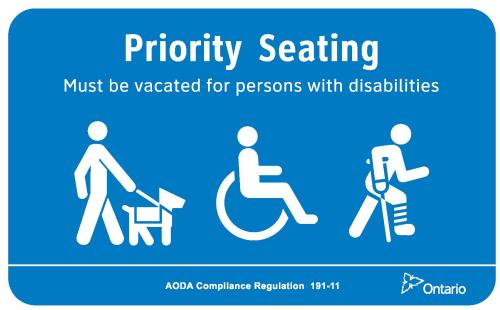 Priority Seating is for HSR passengers with a disability. These seats are at the front of the bus. If you are sitting in one of these designated seats, you should give the seat to a passenger with a disability.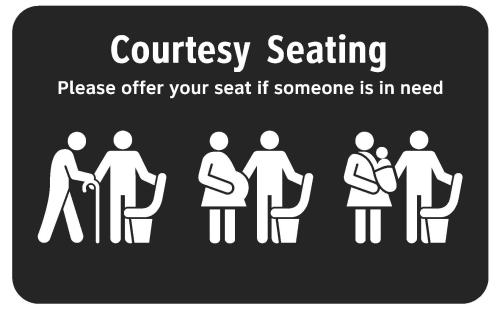 Courtesy Seating is for people who would benefit from a front seat including seniors, expectant mothers or people with small children.
Bus drivers do not enforce this seating arrangement or intervene in any dispute related to Priority or Courtesy Seating. They will try their best to tell passengers what the policy is and ask them to give these seats up if someone else needs them.
All HSR buses are equipped with an automated stop announcement system that provides both internal and external next stop and destination announcements. This assists customers who have visual or hearing disabilities or who have difficulty recognizing their location. The bus speakers will announce the approaching bus stop and the LED sign will display the stop name.
If the automated system stops working, you can request that the Operator assist you by calling out the stops and notifying you of your final destination.
If the automated system is not working, the bus will be removed from service as soon as possible and replaced with a bus that has a working system.
After 8 pm, the driver will let passengers off between regular bus stops. Simply ask the driver at least one stop ahead of where you want to exit. These locations must be safe to stop in. If you use Request Stop, please leave by the front door. This program is not usually provided for Route 10 - B Line or Route 20 - A Line since they are express service routes. The driver will decide if special accommodations should be made for infirm, elderly or special needs passengers.
If a stop is not accessible or a temporary barrier exists, customers (including persons with disabilities) can board or exit a transit vehicle at the closest available safe location along the same transit route.
The Operator will determine an appropriate safe location but will consider the preferences of the person with a disability.
Stops that are temporarily inaccessible will be reported for repairs.
Yellow safety line
Stay behind the yellow line at the front of the bus so the driver can see around the bus. Do not distract the driver with questions or conversation.
Follow directions from the bus driver. The driver will ask you to move if you are in the way.
Bus safety for seniors
Follow these tips to stay safe when you ride the bus:
Travel during off-peak hours when buses are less crowded.
Be careful when travelling in poor weather conditions. Snow, ice and rain can make roads and sidewalks unsafe.
Be seated when the bus starts moving.
Sit at the front of the bus if you are unsteady.
Use the handrails to move to the back of the bus if there are no seats at the front.
If you need more assistance getting around call Accessible Transportation Services at 905-529-1212 and ask about Taxi Scrip and DARTS programs. 
For the safety of our customers and operators, some items may not be allowed on HSR vehicles. This may include dangerous chemicals, weapons, illicit drugs, explosive materials, or items that may disrupt the safe operation of the vehicle. Customers with these items in their possession may be asked to leave the vehicle. If the item is deemed as a danger or threat to others, the proper authorities may be notified.
Wheelchairs and scooters
All HSR buses are accessible to customers who use mobility devices such as wheelchairs and scooters. Ask the driver to lower the bus or ramp if needed. There is an area on the bus for passengers with wheelchairs, scooters or walkers.
Vacate Priority Seating, even if you have a stroller or buggy, when someone in one of these devices gets on the bus.
Buggies, strollers, packages and sporting gear
You can bring your buggy or stroller on the bus as long as it does not block other passengers. If your buggy or stroller is in the way of other passengers, you may need to collapse it.
Place buggies or strollers in the wheelchair area if possible. The stroller should face the back of the bus. If a passenger with a wheelchair or scooter gets on the bus, you will have to move to the back of the bus.
Exit the bus using the centre doors so passengers can board at the front of the bus. Step down first then back the stroller off the bus for the safety of your child.
Packages and sporting gear must not interfere with the safety of other passengers.
You may bring service animals on the bus at all times.  Proper identification should be visible or provided. Relevant legislation: City of Hamilton By-Law No. 16-111 and AODA Part IV.2, s 80.45, ss (3) and (4)
All other animals are allowed on board only if they are contained in an animal-carrier device, the bus is not crowded and it doesn't inconvenience other passengers.
If you leave something on the bus call 905-546-2424 ext.1882.  If you find something on the bus, give it to the driver.
General

Items that are found on the bus, are labelled, logged and securely stored at the garage. During regular working hours (Monday – Friday) the items get transported to the HSR Customer Service Centre at the Hamilton GO Centre, 36 Hunter Street East and are available to be claimed after 11 am.
Items are kept ten days. After ten days items will be disposed of, or donated to a local charity

Perishable Item

If the item lost is perishable (food for example) will be disposed of immediately.

Illegal substances

 Illegal substances are turned over to the police immediately.

Bicycle

If a bicycle is left on a bus, it will be labelled, logged and locked into a secure garage facility.  If you have lost a bicycle, call 905-546-2424 ext. 1885 to provide a description of your bike to see if it has been turned in and how to get it back into your hands.
The HSR provides a safe and harassment-free environment. Follow these rules when riding the bus.
No aggressive behaviour or coarse language.
Do not smoke, litter, solicit, possess alcohol or cause a disturbance.
Priority seats are for people who have difficulty standing.
Do not take up more than one seat. Place your briefcase, backpack or parcels on your lap.
Use headphones to listen to music.
You must wear shoes on the bus. Do not wear skates or roller blades. Hold skates and skis carefully.
Do not put your feet on the seats.
Eating, drinking and music
Do not bring open cans, bottles or beverage containers on the bus.
Do not bring open containers of food, ice cream or chips on the bus.
Use headphones when listening to music.
An emergency evacuation may occur where it is not safe for customers to remain on a transit vehicle. Emergency evacuations may occur in any of these situations:
The vehicle is on fire.
There has been a serious collision.
The vehicle is stalled in a dangerous location such as on railway tracks, crest of a hill, sharp bend, etc.
Any unusual situation where the evacuation of the bus would be considered advisable.
In cases where an emergency evacuation is required, these actions will be taken by the Operator:
Stop the vehicle immediately in a safe location and secure it.
Open both front and rear doors and deploy ramps where possible.
Advise all customers to leave the vehicle and move to a safe location. If exiting the vehicle by the door(s) is not possible, customers may exit via the side windows marked emergency exit which can be released by pulling the handle and pushing out at the bottom of the frame. Customers may also exit via the emergency roof hatch which can be pushed out, if the vehicle has one and it is appropriate for evacuation.
Provide assistance to customers who are using a mobility device.
Contact 911 if emergency services are required.
Date modified
March 16, 2023