Planning & Development
Waterfront Redevelopment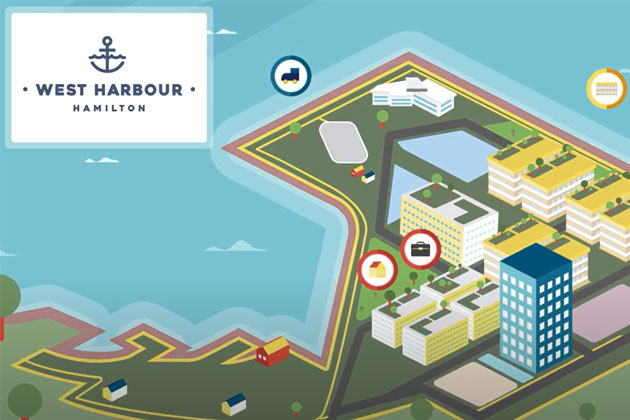 History of West Habour
Want to know how the Hamilton's West Harbour waterfront was developed into the people-friendly destination it is today?

Waterfront Redevelopment
Project Overview & Pier 8 Greenway Rezoning
On May 18 event, City staff & consultants:
provided an update on various projects & initiatives within West Harbour
consulted with neighbourhood about application submission to permit parking within the below grade portion of Pier 8 Greenway
informed about the Pier 8 Greenway pedestrian-connection design project
The City of Hamilton's strategic focus for the West Harbour is guided by the principles and goals in Setting Sail Secondary Plan and West Harbour Recreation Master Plan.
Plans for the West Harbour include:
enhancing cultural, residential, commercial & recreational uses

providing a greater range of attractions year-round

bringing economic opportunity through new construction, employment, tourism, cultural & commercial development
The $140 million redevelopment project will transform the West Harbour into a vibrant, mixed-use, transit supportive and pedestrian-friendly community that is the jewel on Hamilton's waterfront. 
Waterfront Redevelopment
Current Projects
Waterfront Redevelopment
Ongoing Work
Pier 5-7 shoreline, boardwalk, commercial village and public piazza
The reconstruction of the Pier 5-7 will include constructing a new boardwalk at the water's edge for public use and planning a vibrant commercial village and public piazza at the foot of James Street North for public, commercial and cultural uses. 
Macassa Bay
Future development plans for Macassa Bay includes creating a generously dimensioned trail for recreational uses right at the edge of the shoreline, security gates between a publically accessible boardwalk and the private areas for Yacht Club members. Repair to the shoreline at Macassa Bay will create a wetland area or natural aquatic habitats.
Central Park
The Barton-Tiffany Urban Design Study identified Central Park for redevelopment. The redeveloped park will include: an accessible play structure, ball diamond, tennis courts, multi-purpose courts, a splash pad, asphalt pathways, sheltered areas, a SoBi Hamilton Hub at the park entrance on Bay Street North.
Marina Reconstruction and Expansion
The construction and installation of the new docks and 440 slips.
Barton Tiffany
The Barton-Tiffany area is an important environmental remediation and redevelopment opportunity in the West Harbour. The Barton-Tiffany Urban Design Study envisions Barton-Tiffany as a mixed-use area, with commercial and residential land uses.
Bayfront Park Beach
Bayfront Park is a 40-acres park constructed on top of a former industrial landfill site. The park's beach was designed as a place where Hamiltonians could enjoy water activities but high levels of E. coli bacteria made the area unsafe for swimming 78% of the time during the 2015 swimming season. The beach was permanently closed for the 2016 swimming season. In mid-2016, the City and Hamilton Waterfront Trust began a study on water quality issues.
Waterfront Redevelopment
Contact Us
In Person
Municipal Land Development Office
Hamilton City Hall
71 Main Street West, 7th Floor
Hamilton, ON
Date modified
May 23, 2023