Park Projects
Sam Lawrence Park

Sam Lawrence Park is a 7.53 hectare (18.6 acre) park situated at the top of the Niagara Escarpment where the Jolley Cut meets Concession Street and Upper Wellington Street. It is best known for its panoramic views of the Lower City, the Dundas Valley, and Lake Ontario.
The City is planning for future park upgrades to Sam Lawrence Park. In September 2020, Hamilton City Council approved the Sam Lawrence Park Master Plan, led by a team of City staff and consultants. The Master Plan is an important first step in considering existing and future uses for the park.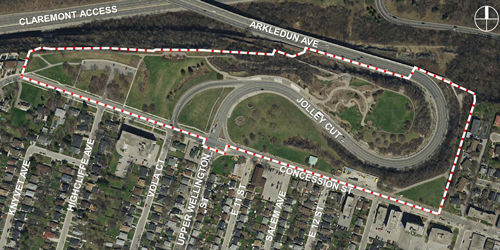 Many of Sam Lawrence Park's existing features are in decline due to age, weathering, slope movements and vandalism and are in need of upgrade. As such, the City has the opportunity to re-examine the park's existing uses and re-imagine future uses, through a Master Plan process: a process that was last undertaken in 1994. As the City and region continue to grow, this valued public space will take on more significance as a prominent city-wide park, serving local residents and those in the Hamilton region. The outcome of the Master Plan will serve as the blueprint for future park improvements in both the short term and long term.
Date modified
September 13, 2022