Smart Commute
Find Your Carpool Match

Ride Matching Tool
Download SmartCommute.ca App
Driving is a lot more fun when you have someone to talk to! Find a carpool partner and save yourself some money by splitting the cost of gas and parking.
How might you find a carpool partner? Use our app!
Carpooling not only reduces traffic congestion and vehicle emissions, but regular carpooling will help you save money.
Carpooling can also reduce your total commuting time, opening access to those high-speed HOV lanes on the 403. Saving time, money and the environment.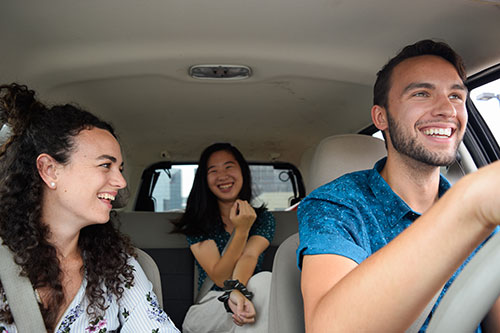 Workplace Carpool Programs
Preferred carpool parking is offered by a number of Smart Commute Hamilton workplaces across Hamilton in public and private lots. To use these spots, you must be registered and present a valid carpool parking hanging tag or transponder.
Smart Commute Hamilton workplaces with preferred carpool parking:
McMaster University has a well-established carpool parking program where two or more individuals can register for a carpool permit from Parking & Transit Services. Carpooling is available at Main Campus, the Downtown Centre and the Ron Joyce Centre.
All parking spaces at Mohawk College Fennell and Stoney Creek campuses are eligible for carpool parking. Share your parking permit with up to three others by adding additional license plate numbers to the permit.
Only one registered vehicle may use the permit to park on campus at any one time.
Visit the Parking and ONE card office for more information, or call Parking Services at 905-575-2121.
Hamilton Health Sciences operates carpool spots and/or preferential parking at:
McMaster Children's Hospital
Hamilton General / Ron Joyce Children's Health Centre / PHRI
Juravinski Hospital/Cancer Centre
If you are an HHS employee that carpools to one of these sites, you may be eligible to apply for a carpool tag or transponder access.
Hamilton Health Sciences carpool registration process
To apply for a carpool permit number, you will need to follow these steps:
All carpool group members must register an account on the Smart Commute Tool and join both the Hamilton Health Sciences network and the Smart Commute Hamilton network.
At least one member of the carpool group must have or purchase a parking pass.
Complete the online application form.
Once your application has been reviewed and you have a carpool permit number, you will need to take your carpool permit number to the parking office at your worksite to receive your parking pass or update your transponder. 
An authorized hanging tag will be issued to one member of the carpool group to be shared between drivers.
You will be required to renew your pass on an annual basis.
Please allow up to two business days for Smart Commute Hamilton staff to review your application and provide you with your carpool permit number.
Carpool Lots and Carpool/HOV Lanes in your area
You can find a designated carpool lot using the MTO Carpool Parking Lot interactive map of the GTHA.
Carpool Tips
Communication - Ensure everyone has a copy of home, work or cell numbers in case of illness or a change in plans. Don't forget to give notice of vacation, personal or overtime plans.
Route and schedule - Establish the morning pickup point(s) and designate a place to meet for the trip home.
Waiting times - Decide as a group how long you'll wait for a passenger. The usual waiting time is two to three minutes.
Cost-sharing -  If your carpoolers don't share the driving equally, decide how the costs will be shared and agree on payment dates.
Driving schedule - If all members of your carpool alternate driving, decide among yourselves if you want to alternate on a daily, weekly or monthly basis.
Driving - Keep the car clean, in good repair, filled with enough gas for each trip and drive carefully and responsibly.
Insurance - Check your policy if you will be a driver in the carpool. Your insurance rates may rise or fall if you carpool on a regular basis.
Give your carpool time to work - It usually takes a few weeks for everyone's routine to come together. You don't have to carpool every day. Find out what works best for you.
Discuss the ground rules - Discuss what can be done in the car, like smoking, eating or drinking. Some passengers may be sensitive to strong perfumes or colognes, so check if these are okay to wear. Do you all want to stop for coffee on the way to work? It's probably best to save side trips for days you don't carpool, or the weekend. Will you discuss work, current events or the newest novel? Decide which radio stations and music types are acceptable, or if riders prefer quiet rides.
Date modified
September 21, 2022