Recreation Customer Service
How to Register

Online registration
December 6 & 7
Winter Online Registration for all programs begins at 8 am.
Browse the online system for courses and lessons before the registration period.
recreation registration
Frequently Asked Questions
All transfers are subject to availability and any fee difference must be paid at time of transfer. Effective date of program transfer is the date received by the City of Hamilton and not the date the participant stopped attending.
You have the option of adding a participant to a waitlist for any program that is full at the time of registration. When a space becomes available, waitlisted customers will be contacted via email and have 24 hours to confirm enrollment and provide payment. After 24 hours has lapsed, the offer is cancelled, and we will continue down the waitlist. Ensure your email is current and added to all family members accounts.
Age requirements are specified across all our programs to ensure the ability of participants and course content is balanced. We will accept registration of a participant if they will be turning the required age during the course. Individuals that have provided an incorrect birthdate to enter a program may have their registration cancelled.
Adults 55+ of age or older will be eligible for a 20% reduction on most adult registered recreation programs. Some exceptions apply. Qualified registrants registering online, or in-person will automatically receive the appropriate discount. Proof of age may be required. Discounts will not be backdated. Discounts do not apply to memberships or programs or services at Sackville Hill Seniors Recreation Centre, Ancaster Seniors Achievement Centre, or Flamborough Seniors Centre or the Seniors' Clubs.
Login to account on http://rec.hamilton.ca
Drop down 'My Account'
'Accounting Details'
Click 'statement'
Enter the dates from and to in the options
Then 'Search' to view results
Once satisfied with the information select 'Build Detailed Statement'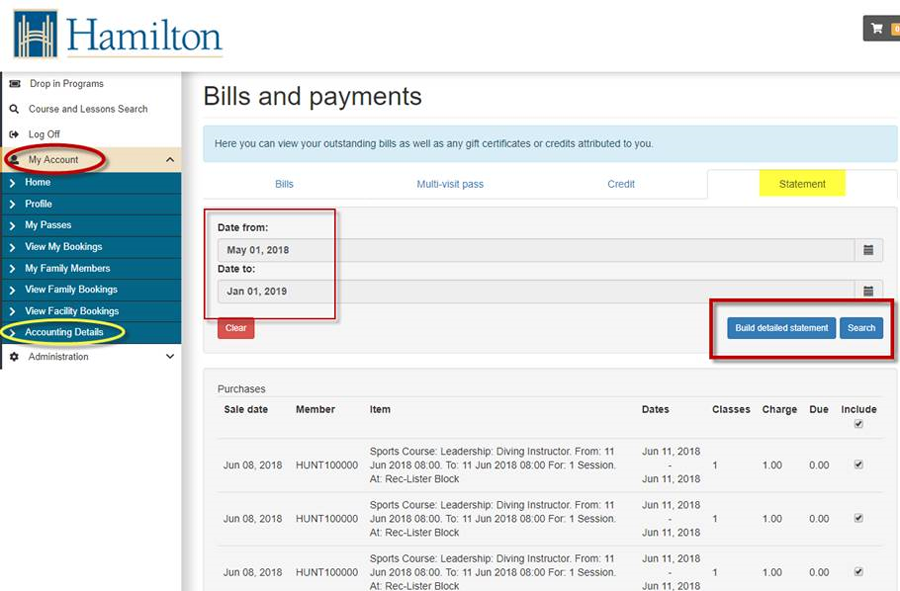 Withdraw from a program prior to the start date to receive a full credit or refund. Please call 905-546-3747 or email [email protected] or visit any recreation centre in-person to withdraw. Once the program has started you will receive a partial credit based on the value of the classes remaining from the time the withdraw request is received and will be subject to a program cancellation fee if you are not transferring to another program. Effective date of program withdraw is the date received by the City of Hamilton and not the date the participant stopped attending.
Private Swim Lessons and Advanced Leadership Course Withdraws
Withdraw from the program 14 days prior to the start date of the course to receive a full credit. If the notification is received after that time and up to the start of the program a withdraw fee will be charged. After the program has started programs become non-refundable. Course material and Lifesaving Society Exam Fees are non-refundable, one materials have been received.
Visit our Recreation Refunds page to learn more about how to request a refund.
Make-up classes, credits or refunds are not available for participants that miss classes due to illness, vacation or other reasons.
Whenever possible, make up classes will be offered for program cancellations due to inclement weather, unplanned facility closures or instructor issues. Every effort will be made to reschedule single date cancellations. If the participant is unable to attend the rescheduled date a credit will not be provided.
The Recreation Assistance Program provides City of Hamilton residents living with a low income the opportunity to participate in organized sports and recreation programs. For more information, contact the Recreation Assistance Office at [email protected].
Subsidy amounts and balances are viewable in your online account. Please contact us for assistance.
The non-resident surcharge applies to participants at the City's recreation facilities who are not residents or taxpayers in the City of Hamilton to help subsidize the operating cost of providing these services. Proof of residency may be requested by staff.
Non-Residents will be charged an additional fee to the total fee of:
All registered courses and lessons
When purchasing Memberships
By Phone
help with your online account
to speak to the Recreation Assistance Program
general questions about recreation registered programs
By Email
help with your online account
questions or concerns about your registration
send a completed refund request form for approval
general questions about recreation registered programs
In-person
apply payment to your account
process a refund that has been approved
general questions about recreation registered programs
drop off a completed refund request form for approval
Date modified
November 10, 2023