Hamilton Civic Museums
Fieldcote Memorial Park & Museum

Fieldcote is a cultural heritage centre with an emphasis on the collection, preservation and exhibition of local history, the promotion of fine arts and the celebration of natural heritage through beautiful landscaped gardens and walking trails. 
Explore 'Stories From the Edge', an exhibition celebrating the history of Ancaster. Set on the edge of the Niagara Escarpment, with a bounty of water and resources, Ancaster has attracted humans since the retreat of the last glacier over 10,000 years ago. Using 31 stories and artifacts, one for every year the museum has been open, this exhibition offers snapshots of Ancaster's history from the earliest human occupants to present day.
Adult workshops and children's activities are available upon request. Fieldcote offers:
Award-winning pesticide-free gardens
A summer concert series
Rotating art and history exhibits
A meeting place for local groups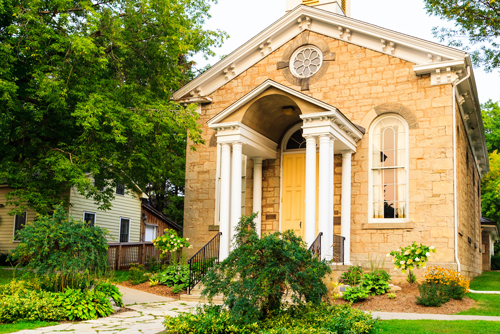 Ancaster Old Town Hall
Fieldcote manages historic Ancaster Old Town Hall. Built in 1870, it's one of the finest pieces of stone architecture in Ancaster and a unique venue for hosting wedding ceremonies and receptions, family gatherings and public events.
Admission rates
Regular admission rates and hours of operation apply to all events unless otherwise indicated.
FREE - Infants five years old or younger
$3 - Children ages 6 to 12
$4.25 - Students ages 13 to 17, must show valid student ID
$5 - Adults ages 18 to 59
$4.25 - Seniors ages 60 and above
$13.75 - Family of two adults and unlimited dependent children under 18 years old
Hours & Holiday Closures
Tuesday to Sunday from 12 noon to 4 pm.
Closed on Mondays, Good Friday, Canada Day, Christmas Day, Boxing Day and New Year's Day.
Guests are welcome to wander through the gardens any time.
Photography
The purchase of a $205 permit is required for all outdoor photography involving 10 or more people. Please call the museum to book your time.
Explore Hamilton Civic Museums
Featured Programs & Services
Date modified
October 27, 2022