Home Water Services
Water Service Line Replacement

The pipe that extends from your home to the water main in the street is called the water service line or alternately the water service pipe. You own the water service pipe from inside your home to the property line. The City owns and maintains the water pipe from the property line to the water main.
Replacement of public and private water service pipes
Replacing old water service pipes that are undersized usually increases water flow and removes service pipe materials that are no longer acceptable such as lead and lead alloy. The City of Hamilton Hamilton has implemented a Corrosion Control Program to help protect residents from potential lead exposure in drinking water where lead water pipes, lead based fixtures and lead solder are present.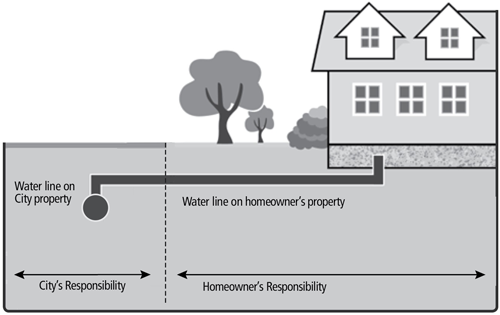 Schedule a Check Size and Type Inspection
A Check Size and Type Inspection helps you determine the size and type of the pipe that is used to provide your water service. If you suspect that you have undersized or lead water service pipe, call the City of Hamilton at 905-546-2489 and arrange to have a Check Size and Type Inspection of your water service.
Purchase a Permit
If the Check Size and Type Inspection determines that you have sub standard service (undersized or lead) you will need to email [email protected] or visit our storefront located at 330 Wentworth Street North, Hamilton ON L8L 5W2 to purchase a water service replacement permit. This permit covers the cost to turn the water off before the work is done, turn the water on after the work has been completed and a full inspection of the completed work before the hole is backfilled.
If a lead water service line is found there is funding assistance available to the property owner to have it replaced. Learn more about the Lead Water Service Line Loan Program
If it is determined that the public side water service line requires upgrading, your address will be added, and the public portion will be replaced in 12-16 weeks.
The City's replacement of the public portion service pipe will be scheduled providing the property owner meets the following conditions:
The property owner, at their expense, replaces or installs a new approved private water service pipe in accordance with the permit requirements.
The property owner has a properly installed water meter.
When there is a shared service pipe, the property owner eliminates all plumbing interconnections between their property and any other properties.
The property owner must have the private water service pipe replacement inspected and approved in accordance with the permit requirements.
Date modified
December 08, 2022